Broadcom

Broadcom (NASDAQ:AVGO) is a leading global supplier of a broad range of analog and digital semiconductor connectivity solutions,built on 50 years of engineering excellence with roots based in the rich technical heritage of technology powerhouses AT&T/Bell Labs, Hewlett-Packard, Lucent, LSI and Broadcom Inc.Broadcom's product portfolio serves multiple applications within four primary end markets namely wired infrastructure, wireless communications, enterprise storage and industrial.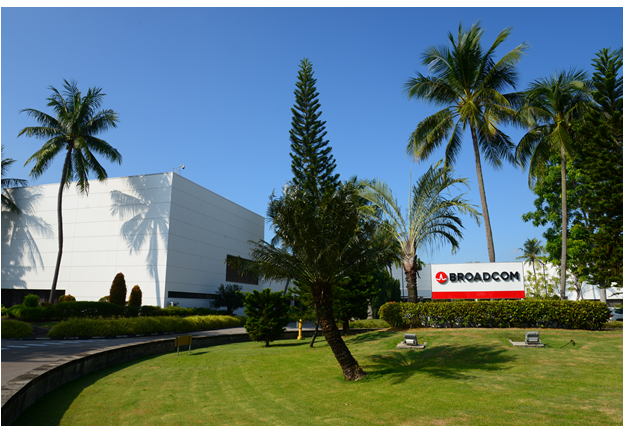 Formerly known as Avago Technologies Limited (AVGO), Broadcom Global Operations grew in Malaysia from 2015-2018 through the centralization of its back end operations in Penang, with the primary focus on Package Design, SW Test Development, Product Engineering and Global Supply Chain. In September 2017, Broadcom established it's only Global Distribution Hub in Batu Kawan, Penang, Malaysia. This distribution centre was able to ship greater than 95 per cent of our revenue and it is reputed to be the largest export value for Malaysia's GDP. This demonstrates our trust in Malaysia and unrivalled commitment to further spearhead significant supply chain automation and logistics spin-off in Penang and the northern region of Malaysia. Broadcom operations' success is largely backed by capable MNC/SME partners, based in Penang such as Inari Technology, ASE Malaysia, TF-AMD, Flextronics, Sanmina, Tessolve Ltd, Aemulus, MI Equipment, PSDC, Invest Penang and etc.
MIDA's focus on understanding the complex industry needs and precise execution has proven itself as reputable Government agency in facilitating Broadcom's success in R&D, Engineering and Supply Chain in Malaysia. An example of MIDA's execution during the early stage of a Broadcom Global Distribution Hub was between Broadcom's Senior Vice President and MIDA Management. MIDA's decisive affirmation to support all Broadcom's request was made fast within a week. In addition, MIDA played a crucial role in bringing together other Ministries and Agencies such as the Ministry of Finance (MOF), Inland Revenue Board (IRB) and Royal Malaysian Customs Department to ensure Broadcom operates at the most efficient and effective level. Furthermore, approvals from MIDA such as the Principal Hub incentive, private bonded warehouse status, exemptions for shipment from Royal Malaysian Customs Department to distribution warehouse has proven to be beneficial to Broadcom's complex supply chain framework.
Broadcom believes that long-term industry success resides upon a highly-knowledgeable talent pool. Together with MIDA, Broadcom has made numerous strategic efforts working with local universities, the Ministry of Education and Talent Corporations. This includes Broadcom's role in promoting the technical education syllabus to meet updated industrial requirements and the initiation of various advanced technical knowledge transfers through selected education institutions. Broadcom's continuous growth in Malaysia is enabled by MIDA and its collaboration with various government departments. It is our hope to position Broadcom Malaysia as an example of technology innovation to enable the aspirations of tomorrow.