Schenker
With annual sales of 8 billion euros, 39,000 employees and about 1,100 offices around the world, Schenker is one of the world's leading providers of integrated logistics services, offering land operations, air and seafreight as well as comprehensive logistics solutions and global supply chain management from a single source. Schenker is a part of the Transport and Logistics Division of Deutsche Bahn AG.
Schenker's complete range of services is designed to meet logistics and transportation demand, including customs clearance, warehousing and distribution. In Malaysia, the company offers a full range of logistics services for its global, regional and local customers.
Schenker was established in Malaysia in 1979 but over the years, the company has grown rapidly and today employs 320 full-time staff. Schenker is headquartered in Subang Jaya, with branches in Port Klang, KLIA, Penang, Kulim, Melaka, Johor Bahru, Port of Tanjung Pelepas, Ipoh and Kuantan.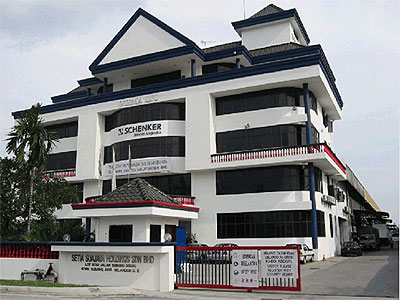 "We believe that a strong global network is a very important competitive advantage in the logistics industry and Malaysia is a key market in the Asian Region", says Wolfgang Laabs, Managing Director, Schenker Logistics (Malaysia) Sdn Bhd. "Malaysia's continuous growth and the transition of the Malaysian economy into an export-driven economy, spurred on by high technology, knowledge-based and capital-intensive industries proved our decision to be right."
The company is proud of its bonded facility in Port of Tanjung Pelepas, Johor (PTP). This facility is located only 50 metres away from the main container yard and catering for dangerous goods (DG) (except class 1 and 3), as well as temperature-sensitive cargo. The company views the Port of Tanjung Pelepas as a suitable location for customers wishing to use PTP as a regional distribution centre.
One of Schenker's best selling products in Malaysia is SCHENKER aeroparts. The company is successfully working together with aerospace companies to handle time-efficiently and reliably aircraft-and helicopter parts. Schenker in Malaysia was integrated into Schenker's global AOG (aircraft on ground) Desk Network reachable 24 hours / 7 days a week, a service which has been received by the aerospace industry in Malaysia very well.