CIDOLS Launches Its Inaugural Plant, Significantly Strengthening Malaysia's Oleochemical Downstream Capabilities
Port Klang, 3 November 2023 – CIDOLS Sdn. Bhd. (CIDOLS), a prominent player in the oleochemicals industry, takes a momentous leap forward with the successful launch of its inaugural plant today further establishing Malaysia's role in the global oleochemical landscape. The driving force behind CIDOLS's commitment to producing natural-based ingredients is rooted in its vision to foster innovation and sustainability. Malaysia has taken giant strides to strengthen its position in the downstream oleochemical industry, leveraging on the trades of millions of tonnes of fatty acid, fatty alcohol, fatty esters, and glycerin worldwide. Despite the friendly yet competitive landscape, neighboring countries are swiftly catching up, prompting a need for increased innovation and technological advancement.
The event was officiated by Datuk Dr. Ahmad Parveez Hj Ghulam Khadir, Director General, Malaysian Palm Oil Board (MPOB) and also attended by Ms. Umarani Muniandy, Executive Director, Manufacturing Development (Resource), from the Malaysian Investment Development Authority (MIDA), Mr. Eddy Chong, Managing Director of CIDOLS, Mr. Keith Tan, Sales and Marketing Director of CIDOLS, Kawan Engineering, as well as the company's Board of Directors and key stakeholders.
CIDOLS, as a local Small and Medium Enterprise (SME), introduces an incremental yet significant transformation to Malaysia's oleochemical sector by inaugurating a pioneering plant specialised in producing niche and tailor-made fatty esters. This strategic move signifies CIDOLS's dedication to serving the industry with a more targeted and professional approach, positioning itself as visionary problem solvers, providing customised solutions to meet the evolving needs of customers today and tomorrow.
The newly inaugurated plant embodies CIDOLS's commitment to innovation, focusing on the production of specialised natural-based fatty esters that drive progress towards sustainability. The extensive product range includes Dimer Dilinoleyl Dimer Dilinoleate, Phytostearyl Isostearyl Dimer Dilinoleate, PCA Glyceryl Oleate, Glyceryl Caprylate, Glyceryl Heptanoate, Glyceryl Isostearate, Isoamyl Laurate, Butylene Glycol Dicaprylate/Dicaprate, Oleyl Erucate, Coco-Caprylate/Caprate, Polyglyceryl Laurate, Polyglyceryl Oleate, among others. The production of these specialties necessitates profound expertise in ester molecule engineering, advanced processing techniques, and innovative research and development processes.
Malaysia now possesses the capability to manufacture these products, pioneered by CIDOLS, positioning the country as a global competitor in the field. Additionally, the plant has achieved FSSC 22000 certification and adheres to strict food processing and handling procedures. The latest milestone includes GMP+ certification awarded in October 2023, with hopes of obtaining halal certification by year-end. These certifications further strengthen CIDOLS's capacity to meet the diverse requirements of a global clientele.
Furthermore, CIDOLS's complies with RSPO and COSMOS standards, providing silicone-free, paraben-free, and PEG-free alternatives that align with the burgeoning demand for specialty esters in the personal care industry worldwide. At present, CIDOLS takes pride in serving customers across more than 30 countries infive continents.
Empowering Malaysian Manufacturers in High Value-Added Products: A Vision Realised
MIDA has been an essential figure of CIDOLS's ambition to be a world leader in the specialised downstream oleochemical industry. CIDOLS received the Domestic Investment Strategic Fund (DISF) from MIDA in 2021 for the purchase of R&D equipment and main processing equipment, providing CIDOLS with the necessary boost to enhance its research and development capability and improve its processing capability.
Datuk Wira Arham Abdul Rahman, CEO of MIDA, expressed his congratulations to CIDOLS on its significant milestone. "We extend our heartfelt congratulations to CIDOLS for the launch of its inaugural plant. CIDOLS has proven to us that with dedication and perseverance, an SME like CIDOLS can be a leader in its prospective industry. We, at MIDA, consistently encourage industry players to explore further downstream in their respective sectors to capture sustainable, high-value added manufacturing activities and become experts in their respective industries, which aligns with the country's New Industrial Master Plan (NIMP) 2030 and ESG agenda. CIDOLS's initiative sets a positive example for the chemical industry, and I urge other businesses to follow suit in adopting such proactive practices."
The World is Moving towards Sustainability Practices
Mr. Eddy Chong, Managing Director of CIDOLS added, "Though CIDOLS operates on a smaller scale, our facilities match those of industry giants, enabling us to produce high-quality, high-performance products. We take immense pride in being a fully Malaysian-made enterprise, from the conceptualisation phase to engineering, thanks to the remarkable partnership with Kawan Engineering." He further notes, "Today, we mark a momentous occasion by signing a Memorandum of Understanding (MOU) with MPOB for Project Pembangunan Teknologi Tambah Nilai Glycerol. Our shared goal is to establish a new plant dedicated to producing high-performance downstream products derived from glycerin, with the invaluable technological support from MPOB."
Mr. Keith Tan, Sales and Marketing Director of CIDOLS, remarked, "In a world witnessing the rapid growth of sustainability awareness, the personal care industry is gravitating towards natural and sustainable solutions. Our products and solutions align perfectly with this transformative trend, empowering customers to innovate towards a more sustainable world."
CIDOLS's impressive and promising strides in the oleochemical sector looks to enhance Malaysia's standing in the global market, addressing sustainability and innovation challenges head-on. The journey towards sustainability, guided by CIDOLS, is not just a reflection of their commitment but also a significant step towards a more environmentally responsible and sustainable world.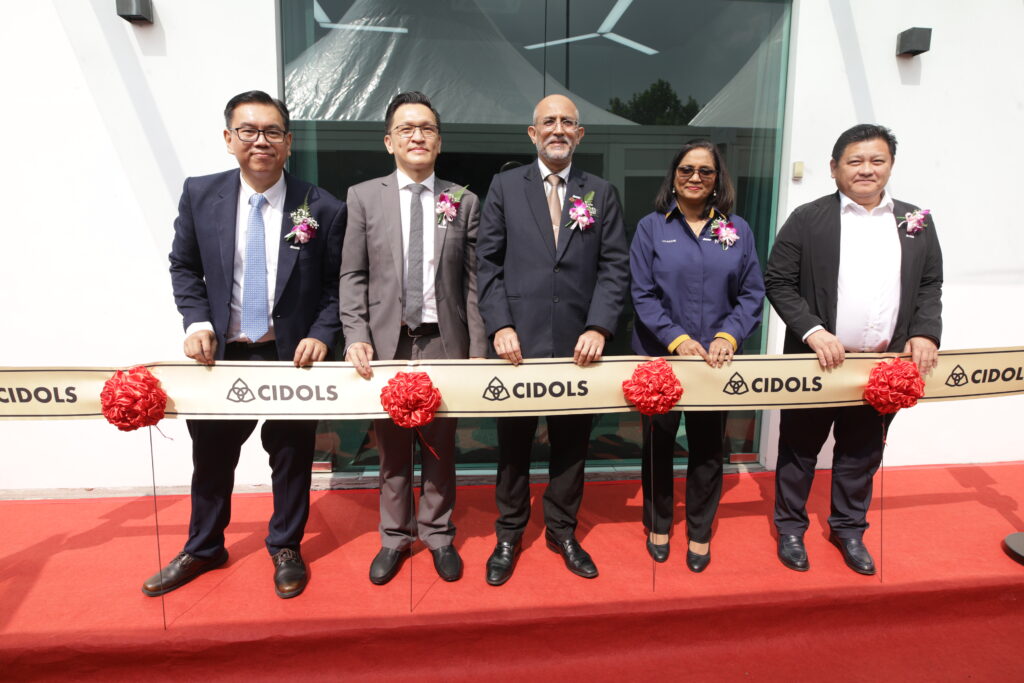 -ENDS-
About MIDA
MIDA is the government's principal investment promotion and development agency under the Ministry of Investment, Trade and Industry (MITI) to oversee and drive investments into the manufacturing and services sectors in Malaysia. Headquartered in Kuala Lumpur Sentral, MIDA has 12 regional and 21 overseas offices. MIDA continues to be the strategic partner to businesses in seizing the opportunities arising from the technology revolution of this era. For more information, please visit www.mida.gov.my and follow us on X, Instagram, Facebook, LinkedIn, TikTok and YouTube.
About CIDOLS
CIDOLS is a specialty chemicals manufacturer providing natural-based ingredients and solution especially for Personal Care and Cosmetics. Plant located in Port Klang and exporting to over 30 countries across five continents.
For media enquiries, please contact:
MIDA
Ms. Siti Halimaton Mohd Rejab
Director, Chemical and Advanced Material Division
Email : [email protected]
DL: +603 2267 6714
CIDOLS Sdn. Bhd.
Mr. Eddy Chong
Managing Director
Phone: +603 3163 1679
Mobile: +60 16 339 8959