MIDA – MPMA MyPlast Sourcing Summit Offers Supply Chain Business Opportunities to Malaysian Plastics SMEs
Petaling Jaya, 14 November 2023 – MyPlast Sourcing Summit 2023, an inaugural event held for the plastics industry, was successfully organised by the Malaysian Investment Development Authority (MIDA) and the Malaysian Plastics Manufacturers Association (MPMA) at the One World Hotel, Petaling Jaya, Selangor today. This pivotal event served as a dynamic platform to facilitate collaboration between Small and Medium Enterprises (SMEs) and Multi-National Companies (MNCs), catalysing growth and fortifying the local plastics supply chain ecosystem. The summit aimed to empower SMEs to adopt innovative approaches, thereby enhancing their plastic production capabilities, contributing significantly to the economy, and bolstering their competitiveness.
With a turnout of over 130 participants, the event brought together 10 MNCs and more than 20 plastics SMEs, including notable names like Texas Instruments Malaysia Sdn. Bhd., Nestle Manufacturing (Malaysia) Sdn Bhd, Thong Guan Industries Berhad and The Dow Chemical Company. Through initiatives like the MyPlast Sourcing Summit, MIDA and MPMA are committed to advancing the plastics industry to new heights in high-quality manufacturing, driven by advanced machinery, automation, and sustainable practices. This not only reduces dependence on foreign labour but also minimises the industry's carbon footprint, ensuring a more sustainable and resilient future.
Datuk Wira Arham Abdul Rahman, CEO of MIDA, commended the successful organisation of the MyPlast Sourcing Summit, emphasising, "The plastic products industry in Malaysia is well-established, supporting the growth of many other important manufacturing industries, such as electrical and electronics, automotive, aerospace, medical devices, and food packaging. It assumes a crucial role in driving innovation and supporting key sectors of our economy."
"By nurturing collaboration between MNCs and local plastics manufacturers, initiatives like the MyPlast Sourcing Summit drive the growth of local enterprises, facilitating strides towards innovative and sustainable plastic manufacturing, aligning with the Malaysia Plastics Sustainability Roadmap 2021-2030," he further added.
Mr. CC Cheah, President of MPMA, expressed gratitude to MIDA for their support in jointly working with MPMA to pull together resources from MNCs to participate in the event and engage in business matchmaking sessions with MPMA members. He explained, "Supplying plastic products to MNCs could be a huge challenge, as well as for MNCs in sourcing the right suppliers capable of meeting their precise requirements. Critical issues, including quality, cost and supply consistency, need to be addressed between the buyers and the sellers."
He further added, "The MyPlast Sourcing Summit is undoubtedly an eye-opener for many plastics companies, as they would learn the exact requirements for supplying to the MNCs."
The development of Malaysia's plastics industry stands as a testament to its adaptability and resilience. From humble beginnings, the industry has grown and weaved into the global value chain, offering diverse applications in consumer goods, electronics, construction materials, and automotive components. The MyPlast Sourcing Summit serves as a beacon for future collaborations, fostering connections between SMEs and MNCs that are poised to revolutionise the plastics industry in Malaysia, positioning the country as an international player in the plastics business.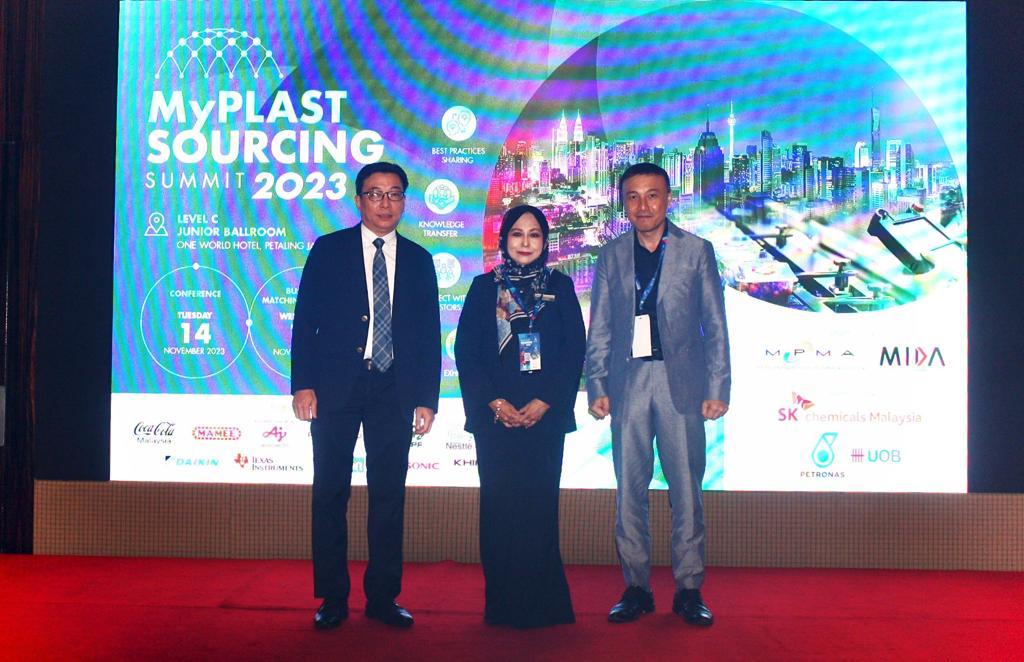 *****
About MIDA
MIDA is the government's principal investment promotion and development agency under the Ministry of Investment, Trade and Industry (MITI) to oversee and drive investments into the manufacturing and services sectors in Malaysia. Headquartered in Kuala Lumpur Sentral, MIDA has 12 regional and 21 overseas offices. MIDA continues to be the strategic partner to businesses in seizing the opportunities arising from the technology revolution of this era. For more information, please visit www.mida.gov.my and follow us on X, Instagram, Facebook, LinkedIn, TikTok and YouTube.
About MPMA
MPMA, established in 1967, is a progressive trade association providing leadership and quality service to its members and the plastics industry. MPMA is the official voice of the Malaysian plastics industry, representing its members and the industry in Government interaction, spearheading the plastics industry's growth and providing the platform to assist members to be globally competitive.
MPMA currently has about 800 members, which represent about 60 percent of plastics manufacturers in the country and account for 80 percent of the country's total production of plastics products.
For media enquiries, please contact:
MIDA
Siti Halimaton binti Mohd Rejab
Director, Chemical & Advanced Materials Division, MIDA
Email: [email protected] | Tel: +603- 22676701
MPMA
SC Chan
Manager, MPMA
Email: [email protected] | Tel: +603- 78763027