Costs of Doing Business in Malaysia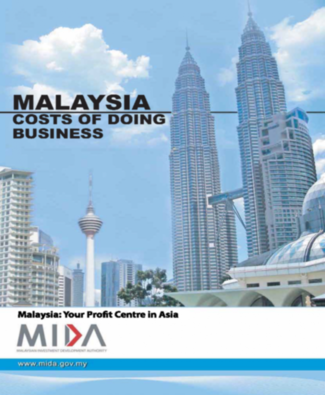 The objective of this brochure is to enable investors to make a preliminary assessment of the major costs involved in doing business in Malaysia. Investors who require more specific details can contact MIDA headquarters in Kuala Lumpur or the nearest MIDA overseas or state offices for further advice and assistance.
Published by MIDA in cooperation with The Federation of Malaysian Manufacturers(FMM) and The Malaysian International Chamber of Commerce and Industry (MICCI). Visit Costs of Doing Business section for updates.
| | |
| --- | --- |
| English | |
| Bahasa Malaysia | |
| Korean | |
| German | |
| French | |
| Spanish | |
| Mandarin Taiwan | |
| Japanese | |
| Mandarin (Simplified) | |
| Italy | |