Solar energy future looks bright in Malaysia
21 Aug 2023
Govt's strong commitment towards RE sends a strong signal to both domestic and international investors
The government recently introduced the National Energy Transition Roadmap (NETR) in July this year. This roadmap aims to change how we use energy and create new business chances in the energy sector. 
The NETR has different phases. The first step, Phase 1, includes 10 important ideas and six main ways to shift to better energy sources like renewables and technologies like hydrogen.
Economy Minister Rafizi Ramli shared that by 2050, this plan could attract investments ranging from RM435 billion to RM1.85 trillion.
According to the International Trade Administration, some of the big business chances highlighted in the NETR include a large solar plant in Asean, putting solar panels on people's rooftops, designating areas for renewable energy (RE) and creating big solar parks.
In May, Rafizi said that after looking at a plan called the RE Strategic Development Roadmap and Trade Policy, they agreed that by 2050, 70% of the country's energy should come from renewable sources. This will help create new chances for the economy and attract international companies.
Aligned with the government's aspiration, Verdant Solar Sdn Bhd applauded the aspiration and said it was highly encouraging and represented a forward-thinking approach to energy and economic policy.
In welcoming the move, the solar power company's CEO Zeth Lim said the government is fostering an environment where participation in the clean energy transition is not only feasible but also profitable by trying to change the economics of RE.
"This strategy can catalyse widespread adoption of RE technologies, fostering a vibrant and competitive market that spurs innovation, reduces energy costs and creates a wealth of new employment opportunities in the green energy sector.
"Additionally, such a commitment from the government sends a strong signal to investors, both domestic and international, that Malaysia is committed to a sustainable energy future," he told The Malaysian Reserve (TMR). 
Demand for Solar Power in Malaysia
Established in 2015, Verdant Solar's mission is to deliver world-class solar solutions and exceptional customer services, Lim divulged.
He asserted that the leading solar power company has noticed a surge in the Malaysian solar energy market over the past two years. Notably, in 2022, Lim said the residential solar industry recorded a 56% increase in installations compared to 2021.
"This trend indicates a growing awareness and acceptance of solar energy solutions among Malaysian households.
"The factors contributing to this significant increase likely include falling costs of solar installations, improved financing options, government policy and a heightened awareness of the environmental benefits of RE," he said.
Moreover, the adoption of solar energy in Malaysia has been growing steadily and quickly, and as of Aug 16 this year, it had already surpassed the full-year total for 2022 by 5%.
"We believe this continued growth is a testament to the increasing recognition of solar energy's economic and environmental benefits by homeowners.
"It is a promising sign that Malaysia is moving progressively towards a greener and more sustainable future, and it signals a robust and expanding market for solar energy solutions in the country," Lim contended.
Meanwhile, the Malaysian Photovoltaic Industry Association (MPIA) secretary Lionel Yap also said that the demand for the solar market is going up and guidelines have been set by the government.
He said it is a good start to initiate solar in the present and keep working on it, as it would be too late if more time is taken in waiting for a perfect plan.
"And from an industry point of view, we're very happy with that. There will always be a tension in terms of what the private sector wants, what is best for the country and what the public wants.
"But as long as we can keep that triangle more or less equilateral at the three points. I think we're on a good path. And from what we can see, we're on a good path," he said.
Moreover, Yap observed that the current administration is very keen on solar and determined to see the plan succeed. Putrajaya is currently setting up the promotion of solar in a clearer manner by creating an environment that makes sense for the public to instal solar. 
Promoting Solar Energy Adoption
For Verdant Solar, Lim said they are dedicated in making solar photovoltaic (PV) accessible to more homeowners and businesses, consequently playing a significant role in advancing clean energy solutions.
In addition to lowering the customers' electricity bills and at the same time reducing their carbon footprint, solar also allows them to empower their customers in making sustainable choices.
"Verdant Solar is actively promoting the adoption of solar PV installations by offering high-quality products, exceptional service and affordable financing options.
"Furthermore, we are inspired to become a net zero company and are taking proactive steps toward this goal. Recently, we enrolled in the Green Electricity Tariff (GET) programme, which allows us to offset 80% of our office's electricity consumption with clean RE," he said.
Adding up to that, Lim stated the initiative by Vendant Solar also proves its dedication to sustainability and reflects its corporate responsibility strategy.
"By participating in the GET programme, we are not only reducing our own environmental impact but also setting a positive example for our clients and the industry as a whole."
Despite government's effort to encourage homeowners and businesses to utilise solar energy, Lim said there is still a significant need to increase efforts to raise awareness of solar energy usage.
He observes that the potential for the solar PV installations in Malaysia is solid as there are four million landed homes in the country and the current solar PV installations numbers fewer than 30,000 homes.
Therefore, more extensive and targeted awareness campaigns are essential in order to unlock the potential and accelerate the adoption of solar energy.
"These could include educational programmes that inform the public about the economical and environmental benefits of solar energy, and the advancements in technology that make solar installations more affordable and efficient than ever before," he said.
Meanwhile, Yap highlighted the need to educate the public on solar energy as there is still a mindset that the solar industry in the present is still the same as it was 10 years ago, despite the industry players having moved forward rapidly.
He said people with that mindset are on the back foot as they are unaware of the Corporate Green Power Programme (CGPP) and the Large Scale Solar (LSS).
"They are only aware of residential houses and they think that's all the business.
"Solar is a very narrow niche, but it is a very deep niche. And it's a question of where in this niche do you want to play? If you want to focus purely on residential rooftops and nothing else, it's (still) a big playground," he added.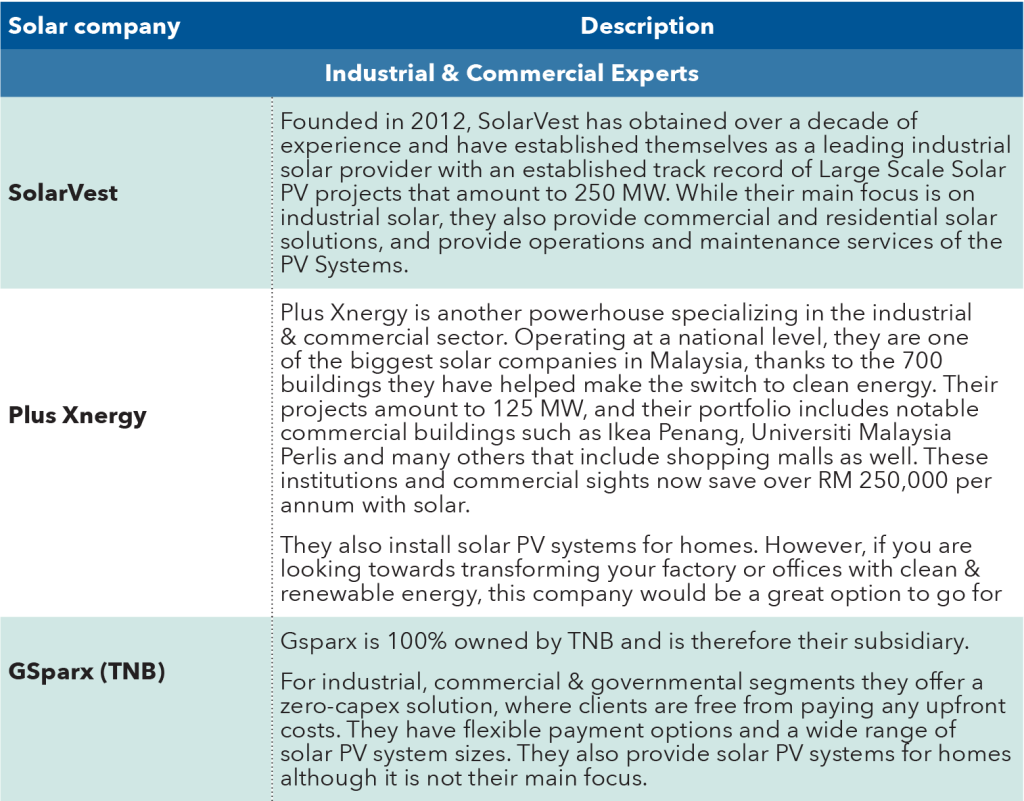 Challenges
Despite its growing popularity, the solar industry still faces a myriad of challenges.
Lim said one of the primary challenges faced by local solar power companies is making solar PV system installations affordable for the average consumer.
Despite costs having gone down, he said the upfront installation cost, however, remains a significant barrier for many potential adopters, suggesting a need for banks to secure cheaper financing options or establish a government-backed loan or subsidy programme.
"Affordable financing would lower the barrier to entry for consumers, encouraging more widespread adoption of solar technology across Malaysia."
Another barrier, said Lim, is the scalability of internal systems and processes within solar companies. He asserted that companies should be competent in handling the rising project volume without compromising the quality of the work.
"Additionally, long-term policies that provide industry players with clear visibility for growth planning are essential. Inconsistent or frequently changing regulations can create uncertainty, making it difficult for companies to develop long-term strategies and secure investments.
"A stable and supportive policy environment, with incentives for both companies and consumers, is key to fostering a thriving solar industry in Malaysia," he said, adding that it also requires robust and agile operational systems.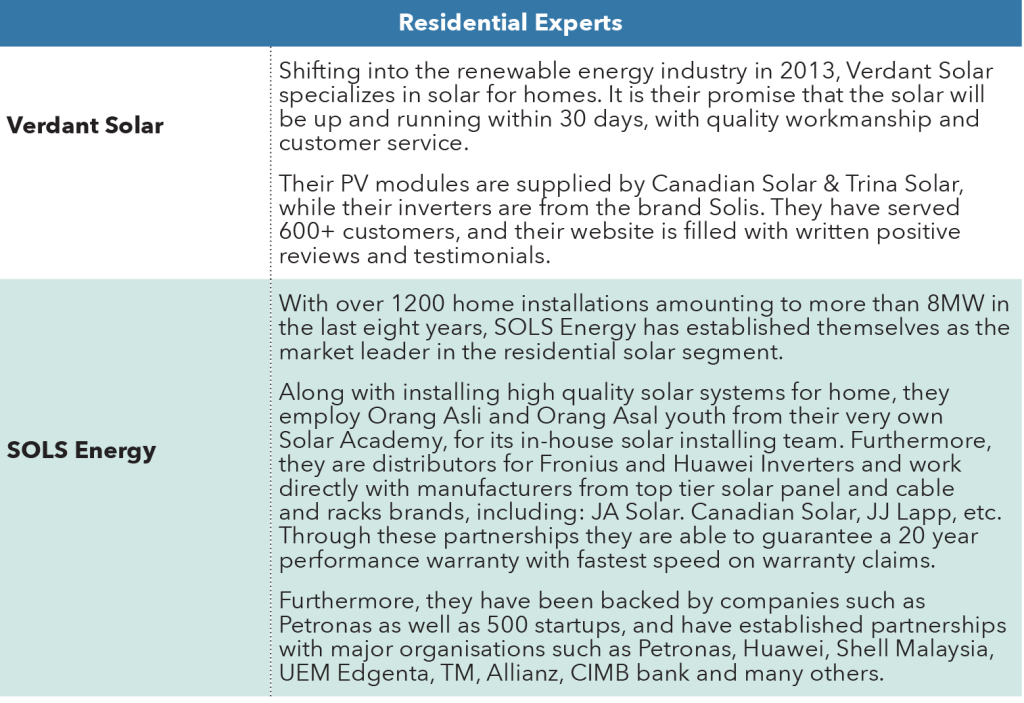 Shape of the future
Moving forward, Verdant Solar foresees a bright and expansive future for solar energy in Malaysia. Moreover, Lim contends that the costs of solar systems are also expected to decrease as technology advances.
Thus, solar installations will continue rising in volume as economical choices become aplenty for both residential and commercial customers.
"Banks and financial institutions in Malaysia may offer more attractive loan and credit schemes specifically designed for solar installations, which will help to eliminate the barrier of upfront costs and enable a more widespread adoption of solar technology.
"Moreover, the government is showing a strong commitment to RE – as demonstrated by its aspiration to achieve significant RE capacity in the coming decades – we can anticipate further policy support that will incentivise solar installations. These may include tax incentives and grants that make solar installations more financially appealing to businesses and households alike," he shared.
Additionally, Lim anticipates that solar energy will play a significant role in Malaysia's transition to a sustainable and resilient future, as awareness of solar energy's advantages towards the environment continues to rise and the country moves closer to its RE targets.
MPIA's Yap shared that there is almost a 90% drop in the price of solar panels. Despite the complaints that solar installation is expensive, Yap said it eventually has gotten very cheap.
"At a much broader scale, it is the strength of currency. But if you look at it, it has gotten very cheap.
"When we began the Feed-In Tariff (FIT), an installation was maybe between RM13,000 and RM15,000 per kilowatt. Today, RM15,000 will probably get you a 5kW system," he said.
In order for the public to realise the decline in prices, Yap shared that educating them is a must, especially those currently looking at installing a solar system.
Yap is very optimistic about what's coming for the industry in the next 10 years. He is also positive on the targets that were set by the government for the solar industry as well.
"Viktor Frankl once said, this is true of flying a plane and this is true of human beings. If you're landing a plane, there's a crosswind coming. You actually turn the aircraft sideways to meet the oncoming wind, so that you reach the runway versus being realistic.
"And just seeing where the end goal is. You're gonna end up off the runway. So if you look at it as a chart it is the same for the solar industry in Malaysia. Look at where it could be," he said. 
Source: The Malaysian Reserve