Preparing for the energy transition
24 Aug 2023
The first part of Malaysia's much-awaited National Energy Transition Roadmap (NETR) was released in late July. The document (see Chart 1) outlines 10 flagship catalyst projects and initiatives based on six energy transition levers: energy efficiency (EE); renewable energy (RE); hydrogen; bioenergy; green mobility; and carbon capture, utilisation and storage (CCUS).
The second part, which has not been released yet, will establish the pathway for Malaysia to achieve its emissions reduction target of net zero as early as 2050.
Why is this road map important? It's because energy is the biggest source of carbon emissions for the country and for most companies. Emissions in this sector are broken down into those from transport and electricity generation.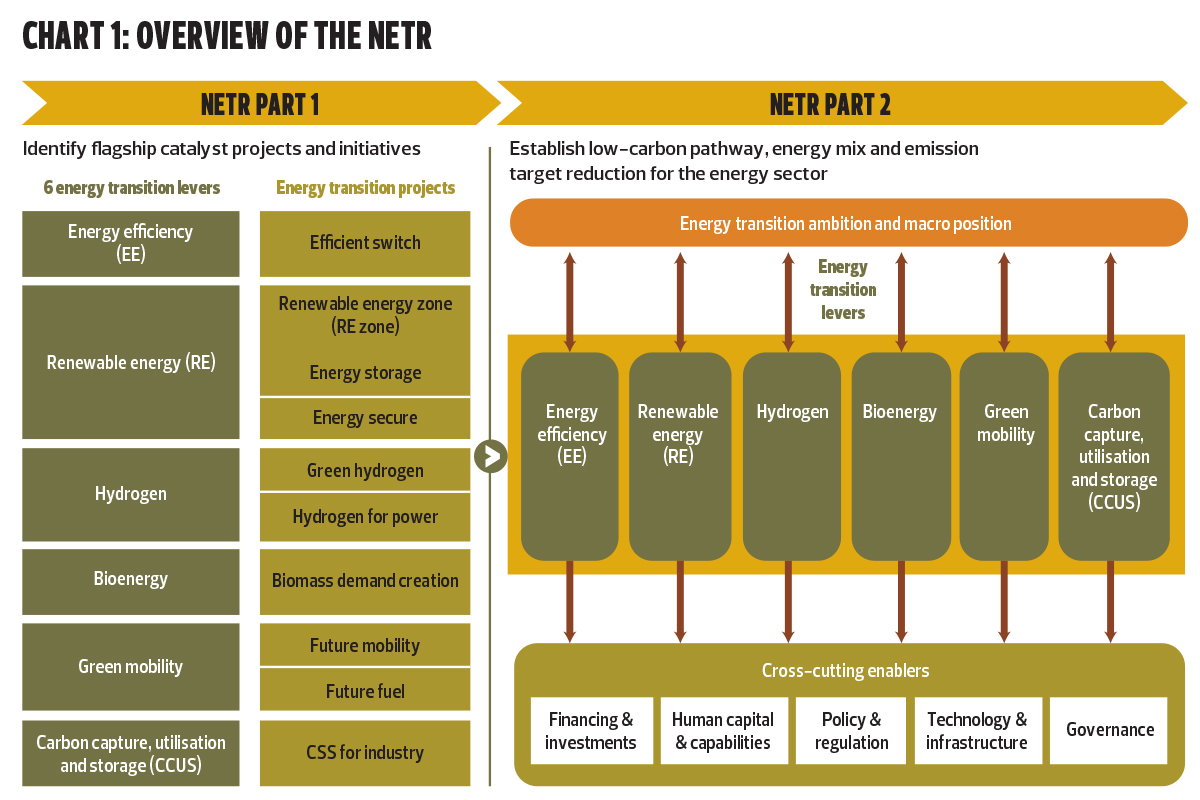 The strategy for the energy transition will become even more critical as electric vehicles (EVs) are used to reduce emissions from the transport sector. More electricity generation will be needed and thus emissions from electricity are bound to increase.
This can already be seen in the European Union, whose electricity consumption in road transport increased by 80% from 2020 to 2021, reaching 6,910GWh, which corresponds to 0.3% of final consumption.
Of course, the emissions from EVs are likely to be lower than those from internal combustion engine (ICE) vehicles, especially if the electricity grid is powered by renewable energy.
Tenaga Nasional Bhd has stated in news reports that even though Malaysia's energy mix is primarily powered by coal and natural gas, emissions produced by EVs are still lower by 23% than ICE vehicles.
Clearly, lowering emissions from electricity generation is crucial. Here is some information about where Malaysia is currently, its goals and plans under Part 1 of the NETR and what to look out for in Part 2:
Carbon emissions from the energy sector
According to Malaysia's fourth and latest biennial update report to the United Nations, the total greenhouse gas (GHG) emissions from the energy sector for 2019 was 259,326.11 Gg CO2 eq, which was 78% of all emissions.
How is electricity currently being generated?
According to the Energy Commission's Malaysia Energy Statistics Handbook 2021, Malaysia's electricity generation mix in 2020 (see Chart 2) was primarily powered by coal and gas. Hydropower and other renewable energy (RE) sources like solar and biogas (under the "others" category at 1.9%) were at 17.8%.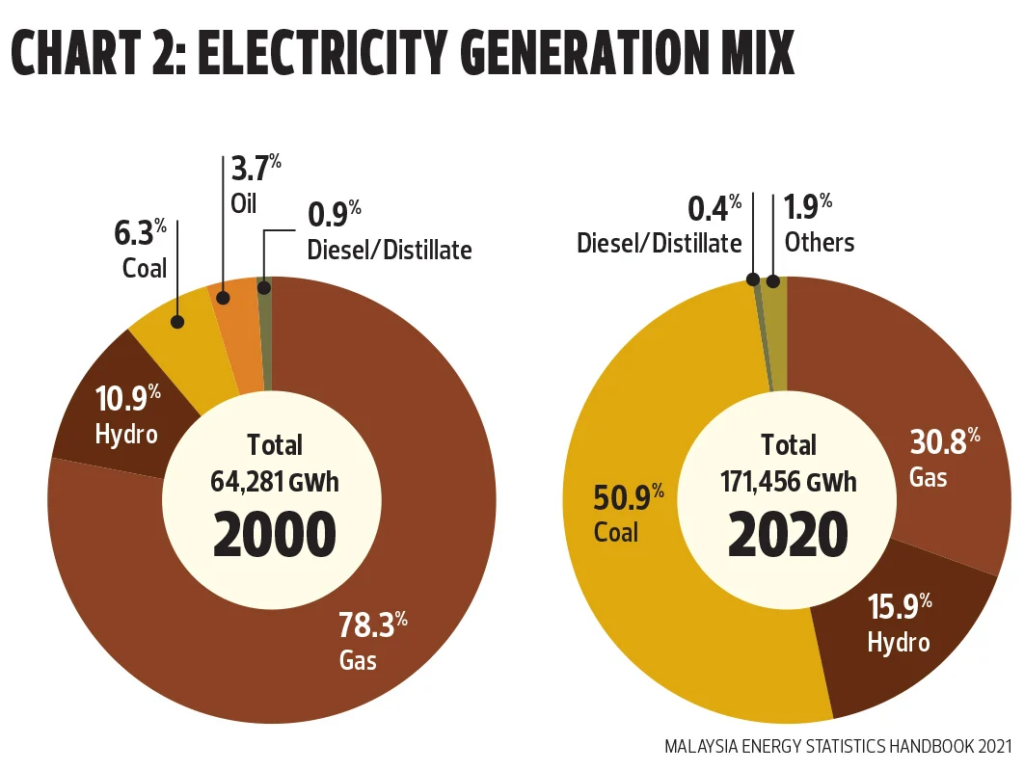 Meanwhile, the installed capacity of energy sources in 2020 had a higher share of RE (including hydropower) at 23% (8,450MW), according to the Malaysia Renewable Energy Roadmap (MyRER). Most of it comes from large hydro while the share of solar, biogas and biomass installed capacity was 2,251MW.
Installed capacity refers to the maximum possible capacity that can be provided by the power plant. However, these plants do not run at maximum capacity all the time due to various factors. Therefore, the number differs from the electricity generation mix.
Latest renewable energy target
31% (12.9GW) of RE share in the national installed capacity mix by 2025, 40% (18GW) by 2035 and 70% by 2050.
Plans for renewable energy
The MyRER report lays out the path to 2040, which highlights higher deployment of solar energy and large hydropower:

NETR
Under Part 1, various ministries, companies and entities were identified as champions for the projects. For instance, the integrated RE zone that encompasses an industrial park, zero-carbon city and data centre, among other things, will be led by Khazanah Nasional Bhd. A hybrid hydro-floating solar photovoltaic plant, which uses existing hydropower infrastructure to act as energy storage, will be championed by Tenaga Nasional.
Sime Darby Property Bhd, meanwhile, will construct 4.5MW of solar capacity across 450 homes in two of its developments through rooftop solar leasing.
The green hydrogen initiative will be implemented by SEDC Energy in Sarawak to make it a regional green hydrogen hub. The first mobile hydrogen refuelling station for transport in Peninsular Malaysia will be done by the Ministry of Science, Technology and Innovation alongside Petronas, UMW Holdings Bhd and others.
On the other hand, Malakoff Corp Bhd will lead the biomass co-firing project to burn biomass, such as empty fruit bunch pellets and wood chips, along with coal for energy. A biofuels hub will be developed by Petronas in Pengerang, Johor, to create products like sustainable aviation fuel.
The NETR also mentioned the government's intentions to reform the power sector by embarking on an electricity tariff restructuring initiative, allowing cross-border RE trade by establishing an electricity exchange system and creating a third-party access framework to supply fuel sources.
Energy mix of the future
Part 2 of the NETR will likely have more details on how these projects will contribute to emissions reduction in the sector. Before that is released, it's worthwhile looking at what has already been planned.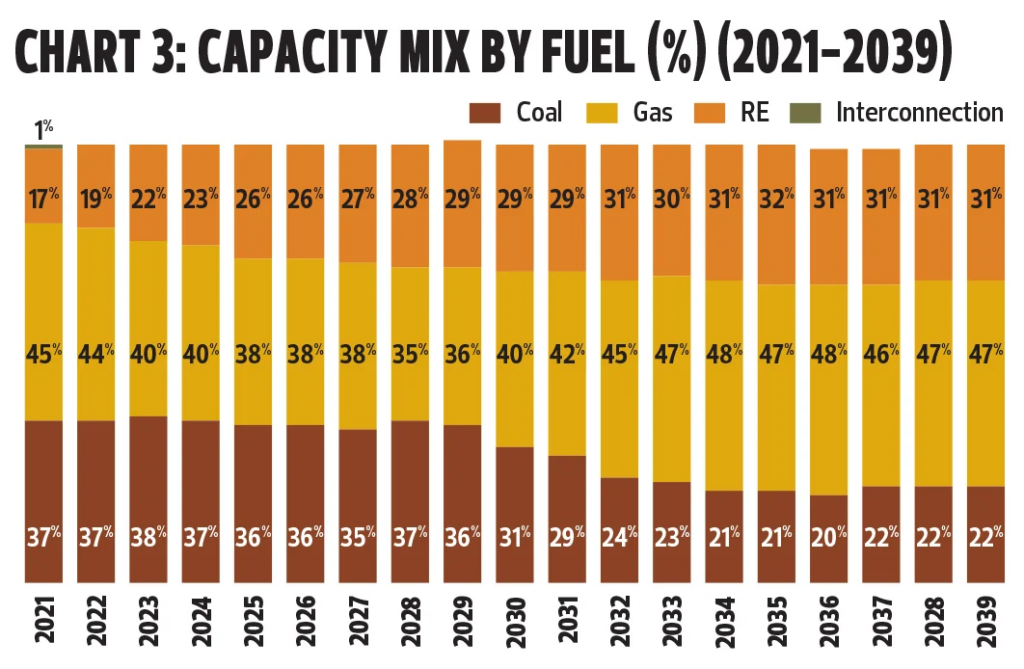 According to the Energy Commission's Report on Peninsular Malaysia Generation Development Plan 2020 (2021-2039), five battery energy storage systems are planned for installation from 2030 to 2034. The majority of electricity generation from 2030 onwards will be from natural gas (see Chart 3) in Peninsular Malaysia.
Key actions mentioned in the MyRER report are similar to those identified by the NETR. For instance, it includes exploration of large scale solar technologies with lesser land use such as floating solar; exploration of new business models like third party access framework and power purchase agreements; clustering of bioenergy feedstock for power generation; and roll out of energy storage solutions.
As for the transport sector, there are more than 10,000 registered EVs on the road in Malaysia, according to the government in February. It has plans to increase the number of EVs to 1.5 million by 2040 and install 10,000 EV charging points by 2025, up from the 900 at present.
Source: The Edge Malaysia