Perak's Business Potentials and Investment Opportunities, Shines In MIDA Invest Series
Kuala Lumpur, October 23, 2023 – The Malaysian Investment Development Authority (MIDA) held its distinguished "MIDA Invest Series – Perak: Unfolding Its Business Potentials" at Perdana Hall, MIDA Sentral in Kuala Lumpur. In a collaboration with the Perak State Government, facilitated through its investment promotion body, InvestPerak, this event drew an audience of over 250 participants. It stands as a pivotal initiative for the Government's ongoing efforts to spotlight compelling investment opportunities within Perak.
The event commenced with a welcoming address by Datuk Wira Arham Abdul Rahman, Chief Executive Officer (CEO) of MIDA, followed by a keynote address by YAB Dato' Seri Saarani Mohamad, Menteri Besar Perak. Also present at the event were YB Loh Sze Yee, State Executive Council Member of Perak Tourism, Industry, Investment and Corridor Development; YB Sivanesan Achalingam, EXCO Human Resources, Health, National Unity and Indian Community Affair; Ms. Haliza Sipun, Director of Unit Perancang Ekonomi Negeri (UPEN) Perak; Datuk Redza Rafiq Abdul Razak, CEO of Perbadanan Kemajuan Negeri Perak (PKNP); Mr. Yahanis Bin Yahya, CEO of Perbadanan Pembangunan Pertanian Negeri Perak (Perak SADC); Mr. Kwan Joon Hoe, Group Chief Operating Officer of Malaysian Resources Corporation Berhad (MRCB) and Mr. Mohd Khalid Bin Yusof, Senior Director of Automotive High-Tech Valley (AHTV).
During the keynote address delivered by YAB Dato' Seri Saarani Mohamad, the Menteri Besar Perak said, "The Automotive High-Tech Valley (AHTV) in Tanjung Malim is a major initiative expected to revitalise the Malaysian automotive industry. The project is expected to attract RM32 billion in investments over the next 10 years, creating thousands of job opportunities and position Malaysia to become a regional leader in the production of next-generation vehicles. The establishment of a new High-tech Industrial Hub in Kerian, announced by the Prime Minister, YAB Dato' Seri Anwar Ibrahim in the recent Belanjawan 2024, is foreseen to greatly support high technology and capital incentive projects which will directly nurture Perak and further spur the conducive business environment for investors, targeting especially the niche sectors."
While Datuk Wira Arham Abdul Rahman, CEO of MIDA in his opening speech, highlighted, "Perak is a region brimming with potential, boasting manufacturing, agriculture, and tourism sectors. Hubs like the Automotive High-Tech Valley (AHTV) and Lumut Maritime Industrial City (LuMIC) are driving investments and job creation, reflecting our commitment to progress."
"In the first half of 2023, Malaysia achieved a remarkable RM132.6 billion in approved investments across the manufacturing, services and primary sectors. It is worth noting, as at 30 June 2023 this state has garnered over RM22.3 billion in realised investments from a total of 283 manufacturing projects, creating more than 22,000 jobs. For instance, esteemed companies such as Toyo Tire Malaysia, Coherent Malaysia, Murata Electronics, and Hume Cement, are among many who have made their marks in Perak," Datuk Wira Arham added.
"The region is abundantly blessed with natural resources, and both local and federal agencies are offering enticing incentives, making it highly attractive for potential investors. Moreover, Perak boasts robust infrastructure, excellent connectivity, and a competitive cost of doing business when compared to neighbouring states. The untapped potential here is immense, presenting a promising prospect for businesses to thrive and prosper," said YB Loh Sze Yee, Perak State Executive Council Member of Tourism, Industry, Investment and Corridor Development.
Perak's State Government strategically prioritises key sectors like manufacturing, tourism, food security, and minerals beneficiation for sustainable growth. The focus on maximising the E&E supply chain in northern Perak, capitalising on the automotive sector and developing maritime industries in Lumut highlights the region's dynamic potential. Additionally, Perak's renowned eco-tourism offerings, including Royal Belum's lush forests and the tranquil Pulau Pangkor, present enticing investment prospects. The State's commitment to establishing a Halal Industrial Park in Lekir reflects its proactive stance in addressing food security challenges and ensuring a robust supply of Halal-certified products, bolstering regional food security amidst global complexities.
The 'Invest Series – Perak: Unfolding Its Business Potentials' programme was a significant success, offering in-depth insights into the available opportunities and outlining the support and facilitation provided to companies and prospective investors. Ultimately, this initiative is geared towards fostering quality employment opportunities for the local population, thus contributing to the state's overall economic growth and prosperity. With its strategic location, thriving manufacturing sector, diverse economic clusters, and rich natural resources, Perak remains one of the promising investment destinations in the country.  MIDA is dedicated to supporting and facilitating investments in the state.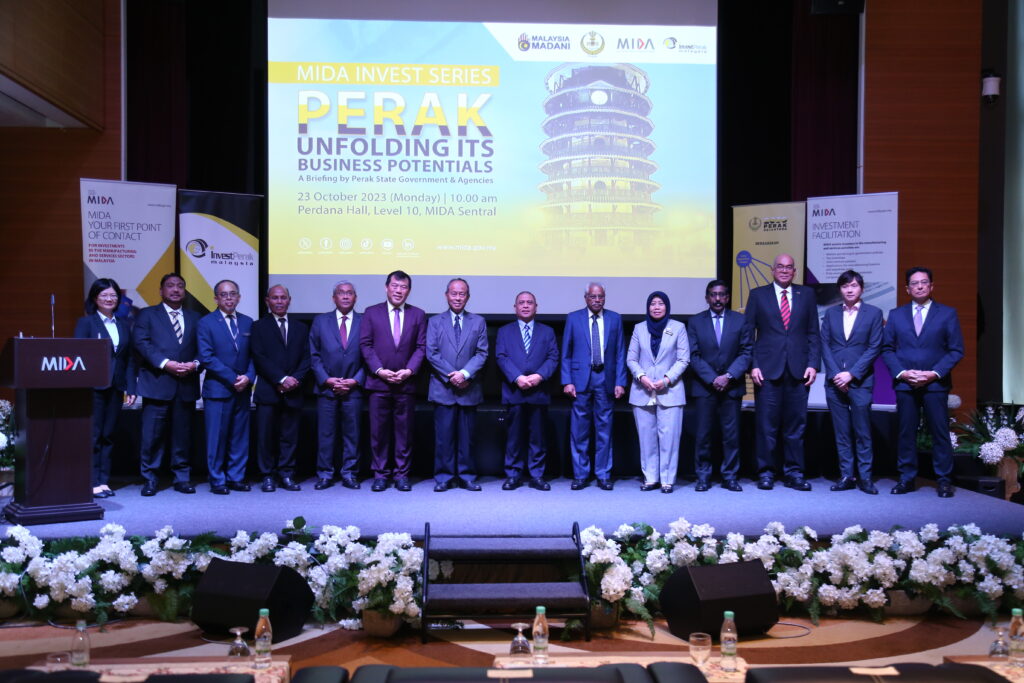 *****THE END*****
About MIDA:
MIDA is the Government's principal investment promotion and development agency under the Ministry of Investment, Trade and Industry (MITI) to oversee and drive investments into the manufacturing and services sectors in Malaysia. Headquartered in Kuala Lumpur Sentral, MIDA today has 12 regional and 21 overseas offices. MIDA continues to be the strategic partner to businesses in seizing the opportunities arising from the technology revolution of this era. For more information, please visit www.mida.gov.my and follow us on X, Instagram and Facebook, LinkedIn, TikTok and YouTube channel.
About InvestPerak
Perak Investment Management Centre (PIMC) or better known as InvestPerak, was established in January 2006 to serve as the 'First Point of Contact for Investors' in the manufacturing and services sectors in Perak. It primarily acts as the principal investment promotion agency of the Perak State Government and reports directly to the YAB Menteri Besar Perak. Perak State Government have mandated InvestPerak as secretariat for Centre of Investment (COI), which empowered the function of InvestPerak as facilitator in assisting investors to invest in Perak. In order to facilitate the implementation of investment projects in Perak, COI@InvestPerak have the authority to issue 'Fast-Track Letter' for strategic projects, which put the investment projects as a priority for all relevant agencies in their approval process. Apart from that, InvestPerak complements the role that the Malaysian Investment Development Authority (MIDA) plays at the Federal Government level, in terms of investment promotion and relevant incentives offering. InvestPerak also work closely with other related government departments and agencies, business chambers and industrial associations to ensure that the industries in Perak continue to grow and flourish.
FOR MORE INFORMATION, PLEASE CONTACT:
MIDA
En. Sukri Abu Bakar
Director, Domestic Investment Division
Tel: +603-22673685
Email: [email protected]
InvestPerak
En. Mohamad Hashim bin Abdul Ghani
Chief Executive, Invest Perak    
Tel.: +605-529 2447
Email: [email protected]