Exciting News! Introducing the Enhanced MIDA Payment Channel for User Seamless Experience!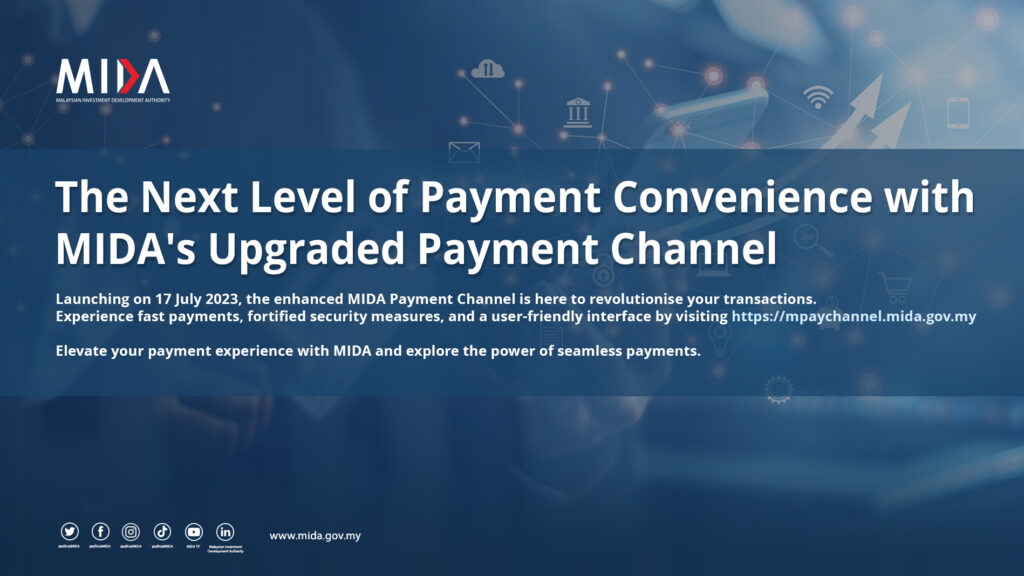 Dear Valued Customers,
Introducing the enhanced MIDA Payment Channel, launching on 17 July 2023.
Enjoy faster, more secure transactions and a user-friendly interface. Visit https://mpaychannel.mida.gov.my.
Fast Transactions: Smooth online payments, including Credit Card and Bank Transfer (FPX), and seamless transactions between consumers and businesses.
Enhanced Security: Your security is our top priority. As a PCI Data Security Standard (DSS) compliant, MIDA Payment Channel ensures a secured processing of payment card's data, early detection system, and prevention measures to any upcoming security issues. For more info about PCI DSS, please click here: www.pcisecuritystandards.org
User-Friendly Interface: Navigate easily and make hassle-free payments with our improved interface.
24/7 Accessibility: Access the MIDA Payment Channel anytime, providing you with flexibility and convenience.
Elevate your payment experience with MIDA! Contact us at [email protected] for assistance.
Thank you for your continued trust in MIDA. We look forward to serving you through our enhanced payment channel, making your transactions faster, easier, and more secure.
Sincerely,
MIDA Payment Channel Team
MIDA – Malaysian Investment Development Authority