thu21may10:00 amthu11:00 amWebinar: National Chamber of Commerce of Industry of Malaysia (NCCIM) with MIDA10:00 am - 11:00 am
Event Details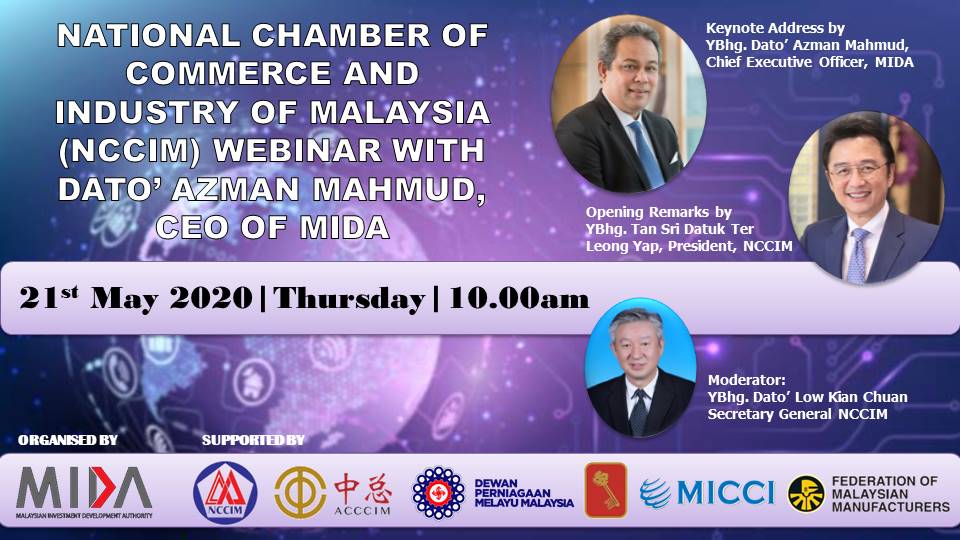 Dear Sir / Madam,
INVITATION TO WEBINAR SESSION
Malaysian Investment Development Authority (MIDA) will be organising an exclusive webinar for National Chamber of Commerce and Industry Malaysia (NCCIM) members with Dato' Azman Mahmud, the CEO of MIDA.
YBhg. Dato' Azman will be interacting directly with the companies and will be updating us on the action taken by MIDA to support domestic/local investors during this crucial times and future plans of MIDA to ensure business continuity.
YBhg. Tan Sri Datuk Ter Leong Yap, President, NCCIM Malaysia will be part of the webinar together with YBhg. Dato' Low Kian Chuan, Secretary General, NCCIM as a Moderator for the session.
As many participants as you wish can join from your association, companies, or individual. Please spread the word and get your members to join the webinar as well.
Programme
0945-1000 hrs
:
Registration
1000-1100 hrs
:
NCCIM webinar with MIDA
Agenda
1000 hrs
Remarks by Moderator, YBhg Dato' Low Kian Chuan, Secretary General NCCIM(2 mins)
1005 hrs
:
Opening Remarks by Y.BhgTan Sri Datuk Ter Leong Yap, President, NCCIM(3 mins)
1010 hrs
:
Keynote Address by Y.Bhg. Dato' Azman Mahmud, CEO, MIDA(10-15 mins)
1015 hrs
:
Question & Answer(15-20 mins)
1100 hrs
:
Event Ends
Please confirm your participation by completing the online registration latest by 20th May 2020 (Wednesday).
A link for you to access the webinar will be shared with you prior to the event once we have received your registration.
Register Link to WEBEX: REGISTER LINK WEBEX
Thank you.
NAZUKI ABDULLAH
Director
Domestic Investment & Supply Chain Coordination Division
Malaysian Investment Development Authority (MIDA)
Time

(Thursday) 10:00 am - 11:00 am