tue28jul9:30 am11:00 amWEBINAR MIDA INVEST SERIES : UNFOLDING STATES' BUSINESS POTENTIAL - MELAKA CHAPTER9:30 am - 11:00 am
Event Details

"Melaka Economic Post Covid – 19 Pandemic : The New Horizon"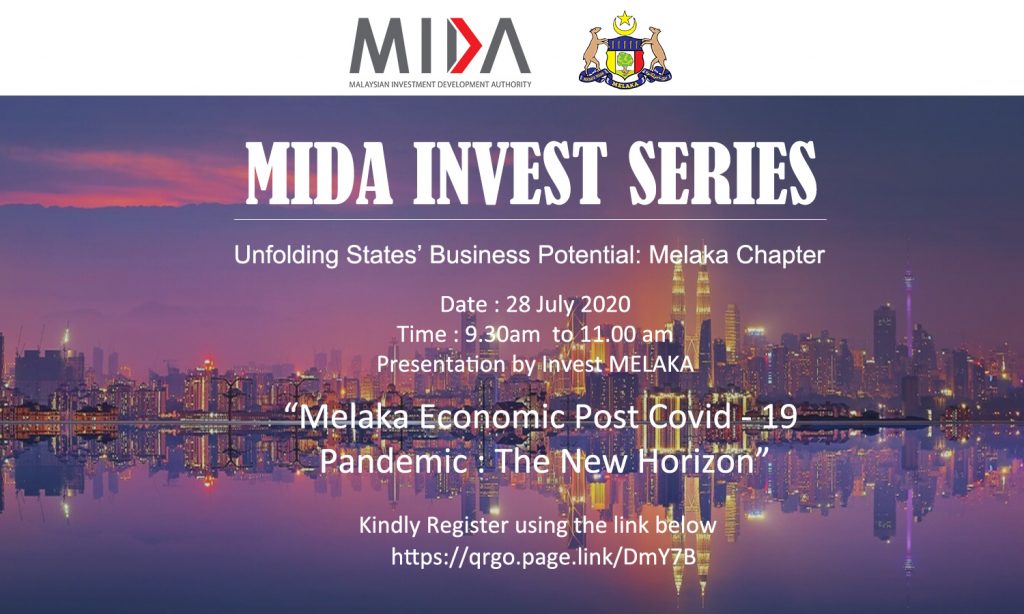 Date and time:
Tuesday, July 28, 2020 10:00 am
Malaysia Time (Kuala Lumpur, GMT+08:00)
Duration:
1 hour
Description:
WEBINAR MIDA INVEST SERIES : UNFOLDING STATES' BUSINESS POTENTIAL – MELAKA CHAPTER

Kindly be informed that the Malaysian Investment Development Authority (MIDA) will be organising the eleventh briefing session on 'MIDA Invest Series: Unfolding States Business Potential'. The session will be presented by Invest Melaka and will focus on the investment opportunities in Melaka state. The details of the briefing are as follows:
Date : 28 July 2020 (Tuesday)
Time : 9.30 am – 11.00 am
Medium : Webex Meeting Conference

The objectives of this briefing session are :

i. To update business communities on the latest development and investment opportunities in the state; and

ii. To provide a platform for participants to network with the relevant state agencies.

Who should join?

 Captains of Industry;
 Business Associations / Organizations;
 Senior Management from the Manufacturing and Services sectors;
 Entrepreneurs;
 Academician;
 Government Officials.

We look forward to your participation and positive response.
Time

(Tuesday) 9:30 am - 11:00 am