Sabah Investment Seminar 2019
mon16dec9:00 ammon5:00 pmSabah Investment Seminar 20199:00 am - 5:00 pm
Event Details

SABAH INVESTMENT SEMINAR 2019

We are pleased to inform that the Malaysian Investment Development Authority (MIDA) will be organising the Sabah Investment Seminar scheduled as follows:-

Date : 16th December 2019 (Monday)

Time : 0800 hrs – 1600 hrs

Venue : Ballroom 1, Level 2

Hilton Hotel Kota Kinabalu, Sabah

Objectives
To update participants on the current policies, incentives and financial supports for investment in the country's manufacturing and services sectors;
To provide a platform for networking opportunities among the participants and representatives from the government Ministries, Department and Agencies from the Federal and State levels.
Highlights
Keynote Address by YB. Datuk Ignatius Darell Leiking, Minister, Ministry of International Trade and Industry (MITI);
Opening Remarks by Datuk Seri Panglima Wilfred Madius Tangau Deputy Chief Minister of Sabah, Sabah State Minister of Trade and Industry;
Plenary sessions focusing on the supports provided to businesses by MIDA, other MITI Agencies and MTI;
Information booth by MITI agencies, relevant state government agencies and associations.
Who should attend?
C-Level executives from the following businesses:-
Manufacturing companies;
Services providers;
Government Ministries and other Agencies;
Universities and Research institutions;
Industry Associations and Chamber of Commerce;
Please register early as seats are limited.
REGISTER HERE : http://event.mida.gov.my/SabahInvestmentSeminar2019
Contact Us:
Please do not hesitate to contact the following officers for further details:
MIDA HQ, KUALA LUMPUR
Mr. Abdul Fattah Mohamed Rafaie
Deputy Director, Domestic Investment & Supply Chain Coordination Division
DL : 603 – 2267 3766
Fax : 603 – 2273 4207
Email : [email protected]
Mr. Mohamed Faizal Mohamed Ahya
Senior Assistant Director, Domestic Investment & Supply Chain Coordination Division
DL : 603 – 2267 3409
Fax : 603 – 2273 4207
Email : [email protected]
Mr. Mohd Safri Pae
Senior Assistant Director, Domestic Investment & Supply Chain Coordination Division
DL : 603 – 2267 6672
Fax : 603 – 2273 4207
Email : [email protected]
Venue Address Hotel:
Hilton Hotel Kota Kinabalu
Address: Jalan Tunku Abdul Rahman,
Asia City, 88000 Kota Kinabalu, Sabah
Phone: 088-356 000
Programme :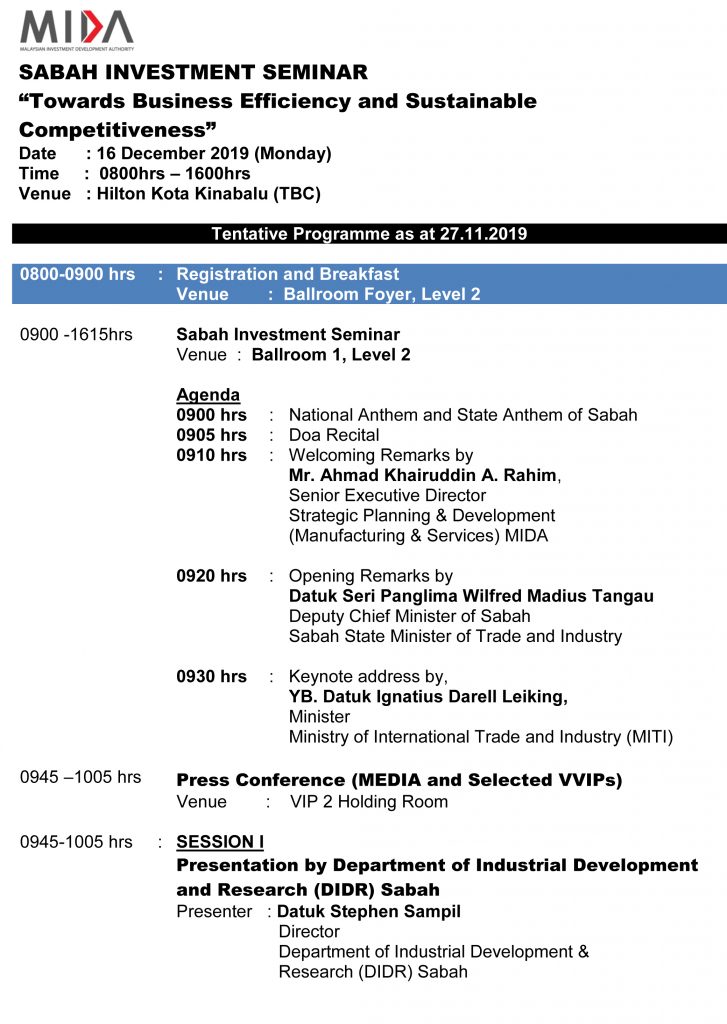 Time

(Monday) 9:00 am - 5:00 pm
Location

Hilton Hotel Kota Kinabalu