MIDA Seoul's Flagship Programme: Segye Asean Forum
tue13dec8:30 amtue5:24 pmMIDA Seoul's Flagship Programme: Segye Asean Forum8:30 am - 5:24 pm
Event Details

Enhancing South Korea-Malaysia cooperative measures in investment, trade, finance, digital and tourism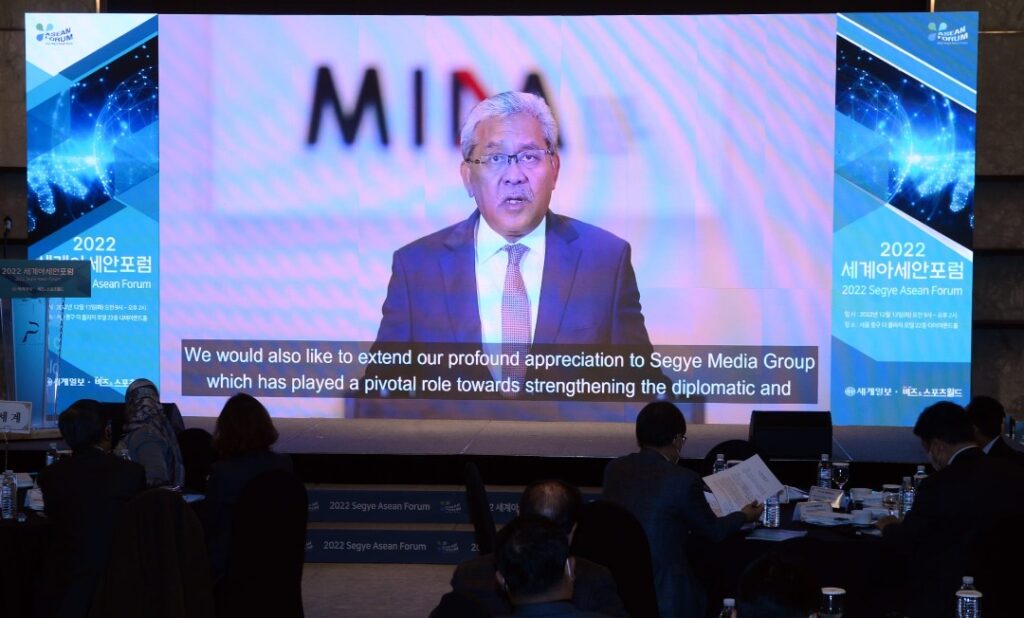 Over the last two years, the COVID-19 pandemic disrupted many different areas of lives, livelihood and business strategies. While the pandemic entangled global supply chains, it has also helped policymakers, businesses, and communities to look at the world with very new lenses as to 'where', 'why', 'how' and 'what' best decisions to build on from now on.
Despite the fragmented global recovery process, Malaysia's renewed determination to attract high-quality investments in the manufacturing and service sectors has helped the country remain strong and competitive as a preferred location in the region.
On 13 December 2022, South Korean media conglomerate Segye Media Group together with MIDA Seoul, the Malaysia External Trade Development Corporation (MATRADE), Tourism Malaysia, and the Embassy of Malaysia in Seoul co-organised the 5th Segye ASEAN Forum. The forum focused on enhancing cooperative measures in the areas of investment, trade, finance, digital and tourism between Malaysia and the Republic of Korea.
In his welcoming remarks at the Segye ASEAN Forum, Malaysian Investment Development Authority (MIDA) CEO Datuk Wira Arham Abdul Rahman highlighted that Malaysia is built on a foundation of orderly systems and institutions that promote a business-friendly environment, resulting in strongly-anchored economic fundamentals. It is one of the most diversified economies in the world with the services, manufacturing, and primary sectors providing the right balance to the economy.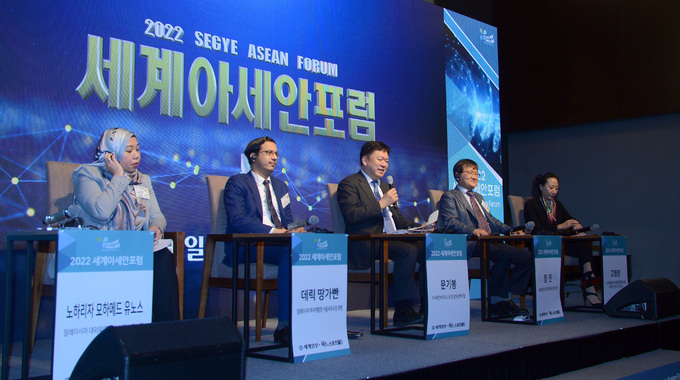 As of June 2022, the Republic of Korea was Malaysia's seventh largest foreign investor in the manufacturing sector, with over USD9.25 billion (RM40.73 billion) implemented investments. These investments were primarily in electrical and electronics (E&E), chemical and chemical products, fabricated metal products, and transport equipment.
This is evident in the footprint of numerous notable South Korean multinational corporations (MNCs) and small and medium enterprises (SMEs) in Malaysia, such as Lotte Chemical, Samsung, Hanwha Q-Cells, OCI, Iljin Materials, Kiswire and Posco. Newer South Korean investors include SK Nexilis and SPC Group.
The Segye ASEAN Forum 2022 was a timely opportunity for MIDA to share and promote investment opportunities in Malaysia with the Korean business communities. Active participation from Korean businessmen show that Malaysia continues to remain an attractive investment destination. A total of 100 participants attended the event, including the Vice Minister of Ministry of Trade, Industry and Energy (MOTIE), President of Segye Media Group and Chairperson of Trade, Industry, Energy, SMEs and Startups Committee.
MIDA Seoul Deputy Director, Mr. Derrick Tanggapan urged Korean companies to invest in new growth areas within emerging technologies, capital intensive, high-value added, knowledge-based, skills-intensive, export-oriented, automation, and research and development (R&D).
Korea's strengths in high-value added and technology-intensive industries, and Malaysia offers an alternative location for Korean companies to expand, given that Malaysia is located in the Asia Pacific rim and the centre of ASEAN.
Malaysia also boasts a business-friendly investment environment, excellent infrastructure, telecommunication services, financial and banking services, supporting industries, a skilled and trainable workforce, as well market opportunities offered through the 16 free trade agreements (FTAs) that Malaysia has signed.
Time

(Tuesday) 8:30 am - 5:24 pm