MIDA-MPMA Webinar
thu03sep10:30 amthu12:30 pmMIDA-MPMA Webinar10:30 am - 12:30 pm
Event Details

Adapting to Flexible Manufacturing Operations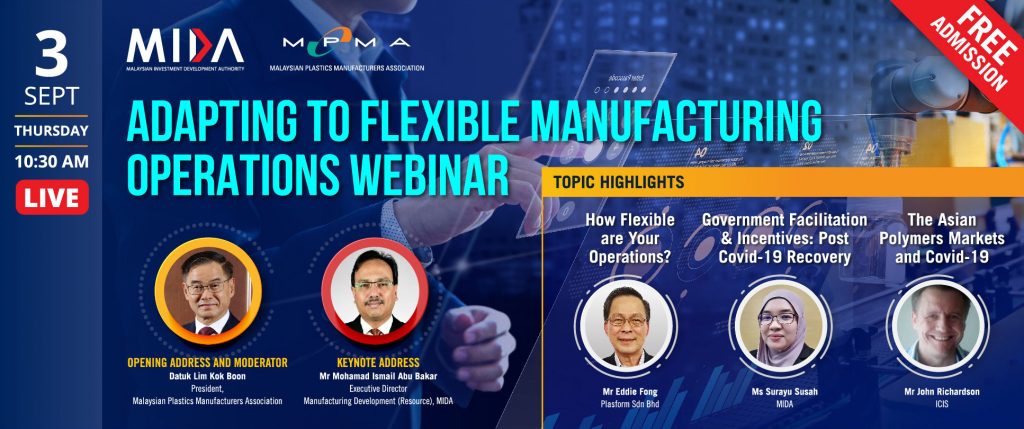 Date
and time:
Thursday, September 3, 2020 10:30 am
Malaysia Time (Kuala Lumpur, GMT+08:00)
Description:
Objectives:
To highlight flexible manufacturing operations and how it will support industry's recovery from Covid-19.
To create awareness and provide an update on government's facilitation and incentives for industry's recovery post Covid-19.
To provide an update on Asian Polymers Markets and Covid-19.
This programme is also part of MIDA's continuous support towards the development of plastics industry in ensuring players are able to grow their businesses and stay ahead of local and regional competition.
Programme:
10.30 am
Address.
Datuk Lim Kok Boon, President, Malaysian Plastics Manufacturers Association.
10.40 am
Keynote Address.
Mr Mohamad Ismail Abu Bakar, Executive Director, Manufacturing Development (Resource), MIDA.
10.50 am
How Flexible are Your Operations?
Mr Eddie Fong, Director, Plasform Sdn Bhd.
11.10 am
Government Facilitation & Incentives: Post Covid-19 Recovery.
Ms Surayu Susah, Director, Chemical and Advanced Materials Division, MIDA.
11.30 am
The Asian Polymers Markets and Coronavirus.
Mr John Richardson, Senior Consultant, Asia, ICIS.
11.50 am
Questions and Answers
12.20 pm
End
Time

(Thursday) 10:30 am - 12:30 pm