MIDA Invest Series Presents Kedah's Business Potential
thu22sepAll DayMIDA Invest Series Presents Kedah's Business Potential(All Day: thursday)
Event Details

Kedah approved 71 projects with a total investment of RM9.7b in 1H2022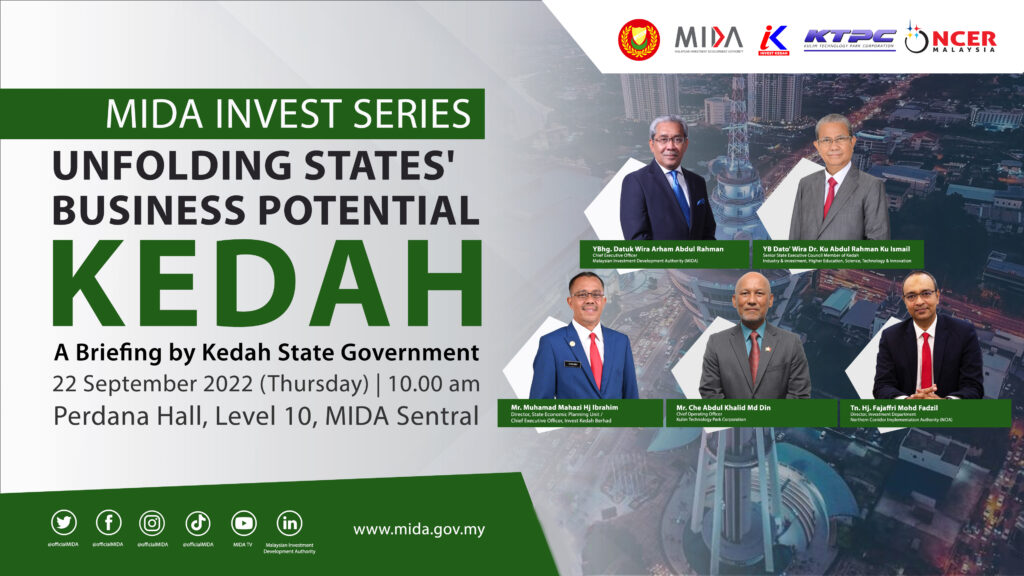 Introduction
On 22 September 2022, MIDA collaborated with the Kedah State Government to successfully organise the "MIDA Invest Series: Unfolding States 'Business Potential' – Kedah" programme at Perdana Hall, MIDA Sentral, Kuala Lumpur. The MIDA Invest Series has been one of the agency's programmes since it was launched in 2018.
A total of 300 participants were present at the event, from various backgrounds and industries such as captains of industry, business associations and /organisations, senior management personnels from the manufacturing and services sectors, entrepreneurs, academicians, and government officials.The programme kickstarted with a welcome address by the Chief Executive Officer of MIDA, YBhg. Datuk Wira Arham Abdul Rahman, and was echoed by remarks by the Senior Kedah State Executive Council (EXCO) Member (Industry and Investment, Higher Education, Science, Technology and Innovation), YB Dato' Wira Dr. Ku Abd Rahman Ku Ismail who elaborated on the Kedah State Government's investment aspirations based on the Kedah Development Plan 2035.
Kedah dignitaries who attended the event include Chief Executive Officer and Economic Planning Development Director of Invest Kedah Berhad, Mr. Muhamad Mahazi Hj Ibrahim, Kulim Technology Park Corporation (KTPC) Chief Operation Officer, Mr. Che Abdul Khalid Md Din, Northern Corridor Implementation Authority (NCIA) Investment Department Director, Mr. Fajaffri Mohd Fadzil, and First Solar Malaysia Sdn. Bhd. Vice President and Managing Director of Manufacturing Operations, Dato' P'ng Soo Hong.
Other notable dignitaries included the Senior Manager of Kedah State Development Corporation Mr. Khalid Salleh, Chief Executive Officer of Northern Gateway Sdn. Bhd., Mr. Razwin Sulairee Hasnan Termizi and Chief Executive Officer of KXP Airportcity Holdings Sdn. Bhd., Mr. Nur Salman Saad @ Bidin.
The MIDA Invest Series aims to help Kedah to showcase its full potential, attracting investments to the Rice Bowl state by leveraging its unique comparative and competitive advantages.
The programme also aims to provide the business community with information on the facilities offered by the government. It also aims to provide information on initiatives to build and sustain the competitive edge of domestic companies, besides keeping abreast with the latest industry and investment updates.
More than the Rice Bowl State
Change is required for progress, and the business community must recognise that the most important changes have already commenced. The Government of Malaysia, through MIDA, remains resolutely committed to growing our investment-friendly environment to coordinate the inflow of foreign as well as domestic investment.
For many years, the northern region of Malaysia has been driving the growth of the manufacturing industry by being a preferred destination for offshore semiconductor manufacturing activities – a thriving electrical and electronics (E&E) regional hub.
From the proposed Kedah Aerotropolis to the various industrial parks, Kedah has the potential to become a global industrial hub. The move to introduce the Express Construction Permit (known as E10) clearly indicates Kedah's aspiration to be an ideal destination for global business expansion.
Kedah has been making significant advancements recently, proving that it's more than just a "Rice Bowl State" of Malaysia. Kedah is also becoming an investor-friendly state by simplifying administrative matters.
The E10, for instance, is an initiative that speeds up the process of allowing investors to operate within a 10-month period from the average of 24 months.
In fact, E10 was first implemented in Kedah, specifically Kulim Municipal Council (MPKK) and has been acknowledged by the Special Task Force to Facilitate Business (PEMUDAH) as an example of best practices that should be emulated by other states and local authorities.
In the first half of the year (1H2022), Malaysia attracted a total of RM123.3 billion worth of approved investments in the manufacturing, services, and primary sectors involving 1,714 projects. The investments are expected to create 57,771 job opportunities nationwide. Foreign direct investment (FDI) accounted for 70.9%, or RM87.4 billion of the total investments, while investments from domestic sources contributed 29.1%, or RM35.9 billion.
Despite the challenging global economic environment, Kedah has been one of the top five states for investment by the business community. In 1H2022, there were 71 approved projects in Kedah with a total investment of RM9.7 billion, of which RM8.9 billion were accounted for by foreign sources. These projects will be instrumental in creating over 3,209 job opportunities.
Notable companies leveraging Kedah's well-established infrastructure and network of experienced support services include: Intel, Risen Solar Technology, AT&S, Infineon, First Solar, and Fuji Electric. These companies hold much promise for further collaborations and opportunities with Kedah's local businesses.
Within Kedah, several clusters and regions have been selected for active investment promotion by state authorities. These include the Bukit Kayu Hitam Halal and Logistic Centre, Bukit Selambau Industrial Area, Gurun Industrial Area, KHTP Smart SME Park, Kulim Industrial Corridor, Northern Technocity, and Padang Meha Industrial Area.
In the southern and central parts of Kedah, there are new growth areas such as the Kulim Hi-Tech Park expansion, the development of Pulau Bunting, as well as Kedah Aerotropolis, which consists of Sidam Logistics, Aerospace and Manufacturing Hub, Kulim International Airport, and the North Corridor Highway (NCH).
The Kedah State Government is also very committed to develop the new growth areas in the northern region of Kedah with projects such as Kedah Rubber City, Delapan Special Economic Border Zone (Delapan SBEZ) in Bukit Kayu Hitam under the Northern Gateway Sdn. Bhd., Kedah Science and Technology Park, Bukit Kayu Hitam Halal Hub and Logistic Centre under the Kedah State Development Corporation (KSDC).
During the MIDA Invest Series, the Kedah investment team was represented by its investment agencies, namely Invest Kedah Berhad (IKB), Kedah State Economic Planning Division (BPEN), Northern Corridor Implementation Authority (NCIA), Kedah State Development Corporation (KSDC), Kulim Technology Park Corporation (KTPC), KXP Airportcity Holdings Sdn. Bhd. (KXP), and Northern Gateway Sdn. Bhd. (NGxSB).
MIDA's Project Acceleration and Coordination Unit (PACU)
As part of the PENJANA announcement, MIDA established the Project Acceleration and Coordination Unit (PACU@MIDA), to facilitate the speedy implementation of investment projects across the country.
This unit will assist investors in solving their implementation woes by identifying challenges, proposing appropriate solutions, and facilitating progress monitoring. PACU@MIDA provides professional support and assistance for businesses to grow in Malaysia. As of October 2022, PACU@MIDA has facilitated 1,600 projects in terms of implementation, showing positive results.
With regards to Kedah, MIDA has approved 277 manufacturing projects from 2017 until July 2022. Of these, 188 projects (68%) have been implemented, while 68 projects (24%) are in active planning stages i.e: the sites have been acquired and discussions are underway with relevant stakeholders, and 21 projects (8%) have yet to be implemented.
For more information on investing in Kedah and business facilitation services, contact MIDA Kedah or email [email protected].