MIDA Chairman received a Courtesy Visit by the Ambassador of the Federal Republic of Germany
wed06jan9:00 amwed11:00 amMIDA Chairman received a Courtesy Visit by the Ambassador of the Federal Republic of Germany9:00 am - 11:00 am
Event Details

Speaker: Dato' Abdul Majid Ahmad Khan, Chairman of MIDA

Date: 6 January 2021, Wednesday

Time: 9.00 a.m. – 11.00 a.m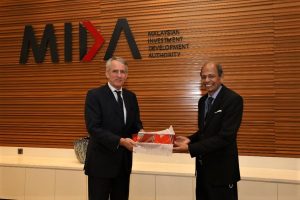 The Malaysian Investment Development Authority (MIDA) kick-started the year 2021 with a courtesy visit from the Federal Republic of Germany's newly appointed Ambassador to Malaysia, His Excellency Dr. Peter Blomeyer, on 7 January 2021. Among the topic discussed during the visit were the prolific issues that need attention for both countries to continue its goods – to services -to people mobility, despite the continuing pandemic concerns.
Dato' Abdul Majid Ahmad Khan, Chairman of MIDA, said "The closely-linked business communities from both sides urgently need to commute with the acceptance of stringent SOPs in place. MIDA has been working tirelessly with the embassies and foreign chambers to ensure that investors are provided adequate assistance to the necessary approval and access to make well-informed investment and business decisions across various markets."
His Excellency, Dr. Peter Blomeyer, highlighted those existing German companies operating here, find Malaysia an attractive hub in the Asia Pacific. In addition, the German business communities also welcome the decision to exempt advertising requirement for positions, namely investors, company owners, C-suites, expatriates for Regional Offices as well as for intra-company transfers. He also offers to collaborate with local training institutions to boost training capabilities and facilities in human capital development, by offering German Dual Vocational Training (GDVT) programmes in Malaysia.
Furthermore, His Excellency reiterated his team's support for the business continuity of existing German companies and encouraged more German companies to expand their overseas operation as Malaysia is one of the most developed and matured manufacturing and services related hub in the region. This ecosystem provides a competitive advantage for the German companies' to locate their high technology projects in Malaysia.
The Chairman of MIDA expressed the Government's commitment to facilitate smooth business operations for investors in Malaysia. Strong commitment from both institutions is essential in attracting high value-add, capitalintensive and knowledge-intensive projects.
Time

(Wednesday) 9:00 am - 11:00 am