tue24aug9:00 am12:00 pm"Malaysia is a safe place for investments despite COVID 19 and political change"– Mr. Arham Abdul Rahman, CEO of MIDA assures CNBC Asia9:00 am - 12:00 pm
Event Details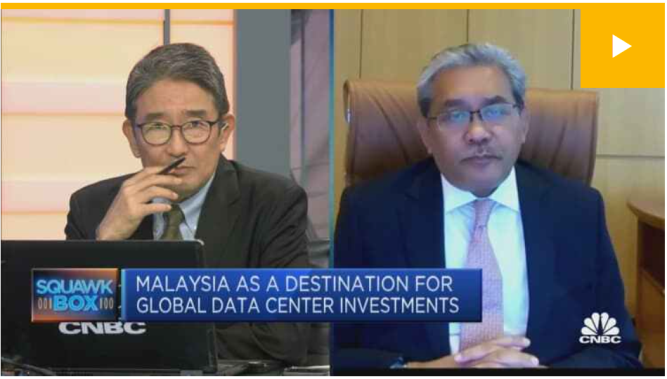 24 August 2021- Malaysian Investment Development Authority (MIDA) CEO Arham Abdul Rahman told CNBC that the Government's pro-business policies are here to stay despite the current COVID-19 pandemic and the recent change of the Prime Minister and his Cabinet. The live interview on Squawk Box Asia, anchored by Martin Soong and Sri Jegarajah was conducted virtually to focus on Malaysia being among the focal destinations for Data Centre investments in the ASEAN region
Mr. Arham reiterated that Malaysia is a progressive nation with secured security for data protection. Located in the heart of Southeast Asia, it is at the centre of one of the fastest-growing economic regions in the world. The shared insights are available in: https://www.cnbc.com/video/2021/08/24/malaysia-is-a-safe-place-for-investments-says-mida-ceo.html

Malaysia is currently home to around 20 colocation data centre facilities. AIMS Data Centre, Bridge Data Centres, NTT Global Data Centres, and Telekom Malaysia are among the prominent colocation service providers in Malaysia. The growth of colocation in Malaysia is expected to grow steadily as hyperscale data centres construction is increasing.
As a large investment hub for multinational companies in Southeast Asia, Malaysia is also attractive to data centre investors; with added advantage of its proximity to Singapore which makes latency for those with operations in the city-state virtually a non-issue, ie. as quoted by NTT Communications, which has a primary data centre in Singapore and recovery facilities in Malaysia.
The Malaysia Digital Economy Blueprint (MyDIGITAL) was introduced and designed to strengthen the foundation and development of the country's digital infrastructure. The blueprint is aiming to attract RM70 billion investments, by which the digital economy is expected to contribute 22.6% to the country's GDP and expand 500,000 job opportunities by 2025. In addition, the National Fourth Industrial Revolution (4IR) policy, the country's comprehensive policy to drive integrated efforts in transforming the socio-economic development through the use of advanced technology 4IR, was launched on 1 July 2021. A Digital Investment Office (DIO) was established on 22 April 2021 entrusting MIDA and MDEC to promote and facilitate digital investments in Malaysia.
Time

(Tuesday) 9:00 am - 12:00 pm