i-Incentives Seminar on Technology
wed02oct8:30 amwed2:00 pmi-Incentives Seminar on TechnologySearch. Submit. Succeed8:30 am - 2:00 pm
Event Details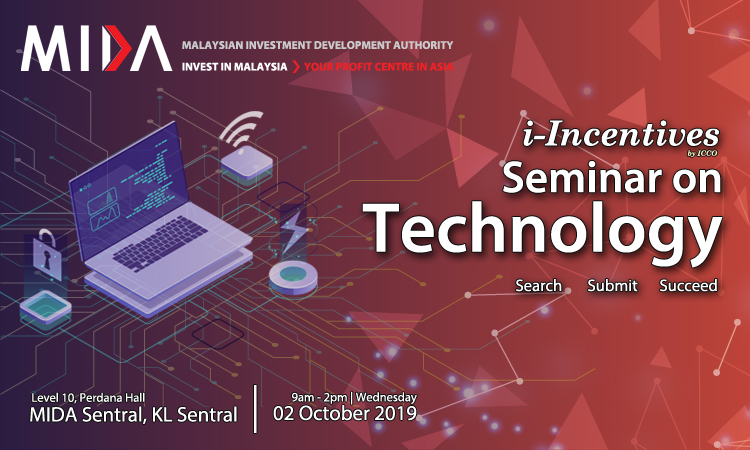 We are pleased to inform that the Incentive Coordination and Collaboration Office(ICCO), a division under Malaysian Investment Development Authority (MIDA) will be organising a half day incentives seminar scheduled as follows:-
| | | |
| --- | --- | --- |
| Date | : | 2 October 2019 (Wednesday) |
| Time | : | 9:00am – 2:00pm |
| Venue | : | Perdana Hall, Level 10MIDA Sentral, Kuala Lumpur |
The seminar is an effort to raise awareness on Malaysian Federal Government incentives available especially on technology related incentives as well as to update on its current policies, incentives and financial facilities provided by the government.
There will be a presentation from ICCO, MIDA and other agencies, followed by Panel Discussion and Business Clinic. A business clinic will also be organised for the participants to discuss and get advisory services with the government agencies.
In this regard, we would like to invite your good self to attend the seminar. Please find the tentative programme attached for your reference. We would appreciate it if you could confirm your participation by completing the online registration at http://event.mida.gov.my/i-incentives_seminar2019 latest by Friday, 20 September 2019.
The seminar is Free of Charge, however seats are limited. Your early registration is greatly appreciated.
We look forward to your participation and positive response.
Who should attend?
Industry Captains;
Senior Management from the Manufacturing and Services sectors;
Research & Technology Institutes;
Entrepreneurs;
Business Associations / Organizations.
We look forward to your participation and positive response.
LIMITED SEATS AVAILABLE
EVENT PROGRAMME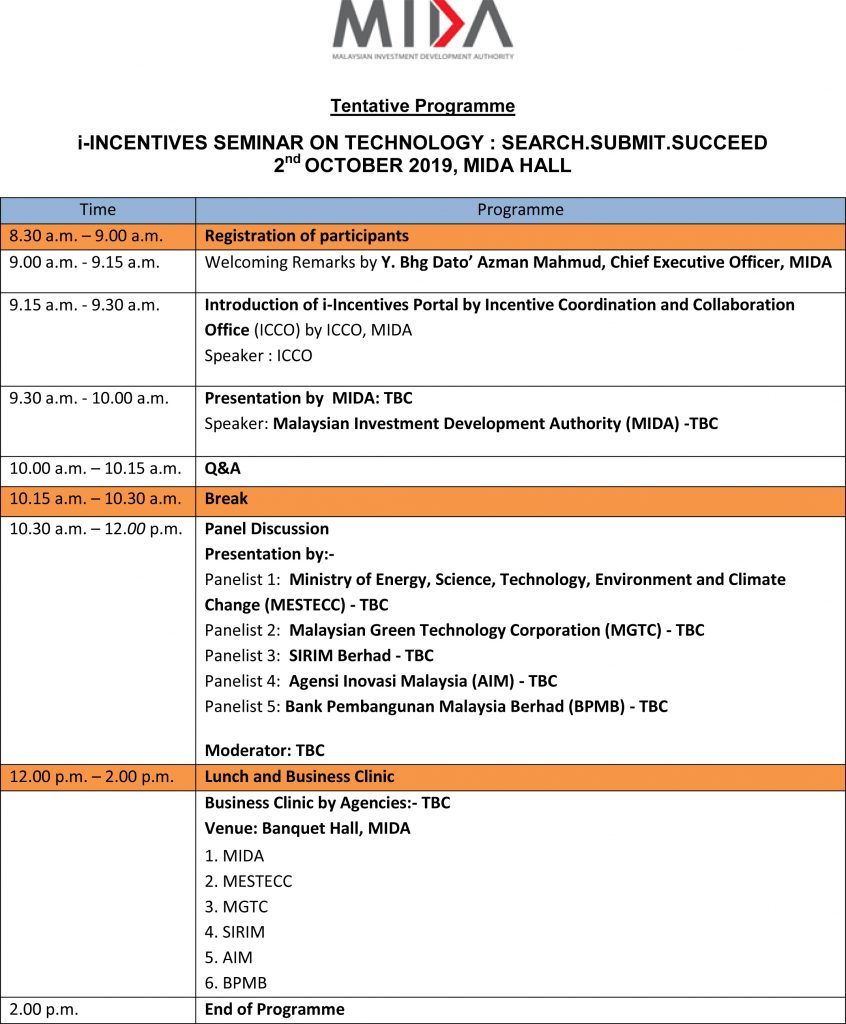 *************************************
Contact Person:
Please do not hesitate to contact the following officers for further details:
Ms. Ruhaizan Mohamad Ibrahim
Senior Assistant Director
Incentive Coordination & Collaboration Office (ICCO)
Malaysian Investment Development Authority (MIDA)DL:603 – 2267 3647Fax:03 – 2273 4207Email:

[email protected]
Mr. Syamal Mohd
Assistant Director
Incentive Coordination & Collaboration Office (ICCO)
Malaysian Investment Development Authority (MIDA)DL:603 – 2267 3548Fax:603 – 2273 4207Email:

[email protected]
Mr. Erwan Kurnyawan Eddy Shuhaimi
Assistant Director
Incentive Coordination & Collaboration Office (ICCO)
Malaysian Investment Development Authority (MIDA)DL:603 – 2267 3442Fax:603 – 2273 4207Email:

[email protected]
Time

(Wednesday) 8:30 am - 2:00 pm
Location

MIDA, MIDA Sentral, Jalan Stesen Sentral 5, Kuala Lumpur Sentral, Kuala Lumpur, Federal Territory of Kuala Lumpur, Malaysia