Engagement Session between MIDA and Economics Department's Bank Negara Malaysia
fri11jun10:30 amfri12:30 pmEngagement Session between MIDA and Economics Department's Bank Negara Malaysia10:30 am - 12:30 pm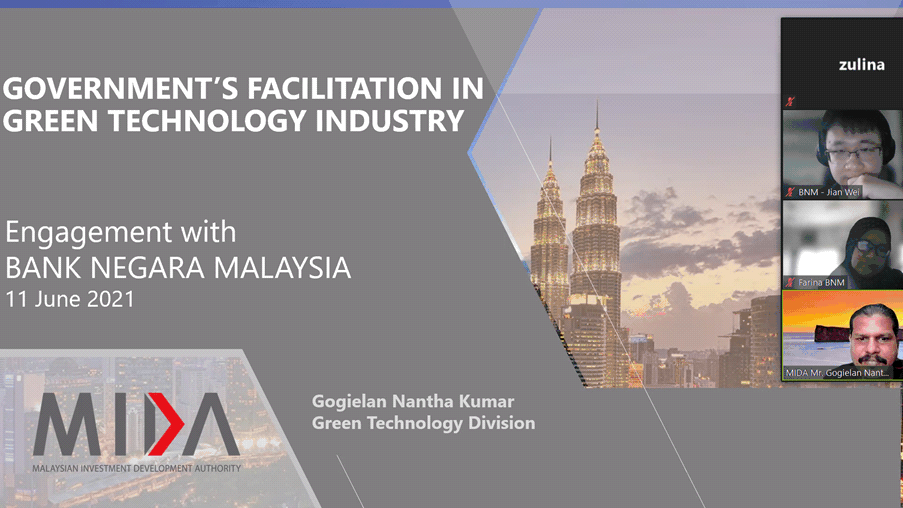 Event Details

Green Technology Division leads by Ms. Zulina Mohamed, the Senior Deputy Director of Green Technology Division, has involved an engagement session with Economic Department, Bank Negara Malaysia (BNM) leads by Ms Farina Adam Kong, Acting Deputy Director on 11 June 2021 via zoom link.

The engagement session was to able to outreach larger group of participants from various Department of BNM namely from Economics and Financial Development Sectors as there are considerable interest from BNM on the subject matter – from in general manufacturing, renewable energy & green technology industry, consulting and financial at the highest views. This engagement session was aimed to provide a policy updates, initiatives taken by Malaysian Government on the development of Green Technology and to exchange knowledge and share expertise on the green technology updates undertaken by MIDA particularly development of promotion initiatives and the way forward taken by Green Technology Division.

Apart from understanding the incentive packages that MIDA has to attract green investments, BNM took this opportunities to learn from MIDA on the dynamics of the green based on MIDA's interactions and engagements with investors of late. e.g. How competitive is the Malayian's green space in the region and the country's green credentials (e.g. image and reputation on green) which is important for investors when making green investments. How Malaysian have been really making headway in attracting green investments and how we see our current investors in Malaysia reaching out to apply for green incentives because they would like to make their operations greener here in Malaysia.
Green Technology Division was able to have discussion on the priority areas that MIDA is focusing on in the green space, and the that we hope to build in Malaysia as green investment destination.

BNM has praise MIDA on its achievement in the establishment the solar industry space in Malaysia. BNM was excited to learn from MIDA on its strategic green areas and would like to have further engagement with larger group with relevant Industries Division at MIDA. BNM has also informed the that its support on the Bank continuing to advance its climate strategies and initiatives to support an orderly transition to a greener economy by taking active strides to greening our financial system, and hope that the industry would be able to support Malaysia's transition to the green economy as well.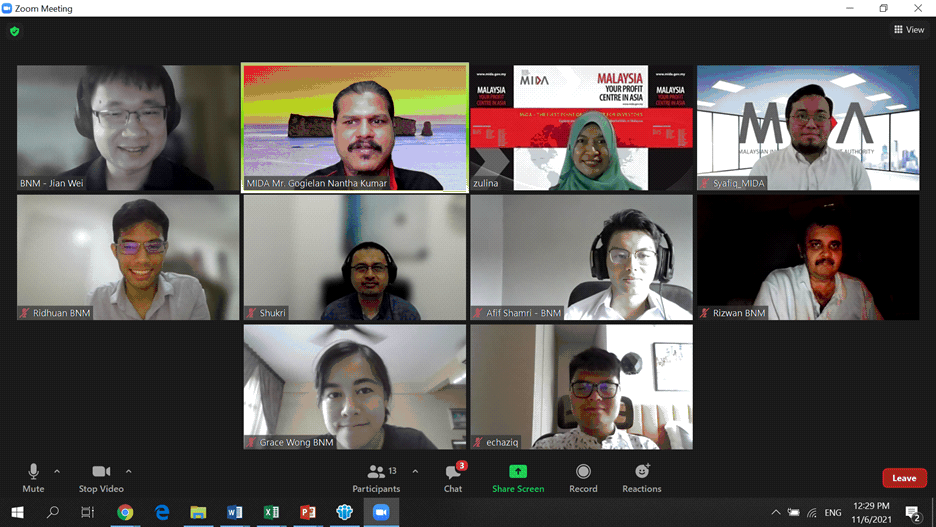 Time

(Friday) 10:30 am - 12:30 pm