Business Innovation Congress Kuala Lumpur 2019
wed27nov9:00 amwed5:00 pmBusiness Innovation Congress Kuala Lumpur 20199:00 am - 5:00 pm
Event Details

Dear Gamechanger

We invite you to one of the most prestigious and unique international business events, the Business Innovation Congress (BIC), to be held in Kuala Lumpur on 27 of November 2019 at the GRAND HYATT Kuala Lumpur, Malaysia.

The main theme of the BIC Kuala Lumpur 2019:DIGITAL TRANSITIONS: Artificial Intelligence & Industry 4.0

Main sessions:
Artificial Intelligence State of the Art & Future Trends
How Industry 4.0 is Revolutionizing Manufacturing
Connectivity Solutions & Challenges
From IR4.0 to Society 5.0
The Business Innovation Congress is the future-forward movement designed for leaders.
The main objective of BIC is to provide disruptive ideas and perspectives outside of usual business processes, as well as explore new market trends, products, services, and technological innovation. With speakers and guests from numerous countries, from SMEs, global corporations and several international organizations and leading news media, BIC provides an excellent platform for collaboration, networking and business insights.
The BIC was founded in Germany in 2012. Previous events have taken place in different cities around the globe and were supported by world-leading organizations and companies as UN, UNESCO, Volkswagen, Siemens, Vallourec, AGCO Corporation, Fraunhofer, several ministries, dozens of universities, and chambers of commerce from the EU and Asia.
For program overview and online registration, please visit:https://www.eventbank.com/event/digital-transitions-industry-4-0-ai-13805/
We look forward to your valuable participation in the BIC Kuala Lumpur 2019!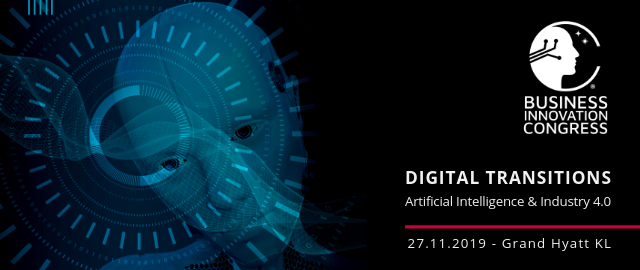 Best regards,
DR. KONSTANTIN SCHAMBER Founder & CEO – Business Innovation Congress
ROBERTO BENETELLO Chief Executive Officer – EU-Malaysia Chamber of Commerce and Industry
Time

(Wednesday) 9:00 am - 5:00 pm
Location

Grand Hyatt Hotel