Batik Week 2021- Revitalising the Malaysian Batik Industry
mon25oct(oct 25)9:00 amfri29(oct 29)5:00 pmBatik Week 2021- Revitalising the Malaysian Batik Industry9:00 am - 5:00 pm (29)
Event Details

MIDA, in collaboration with the Malaysian Batik Association, Yayasan Budi Penyayang Malaysia (PENYAYANG), Federation of Malaysian Fashion Textiles and Apparels (FMFTA) and Kraftangan Malaysia, has successfully organised Batik Week from 25 to 29 October. The five-day virtual programme with the theme "Revitalising Malaysian Batik Industry" aimed to elevate the Malaysian Batik through new technology and green business models which go hand inhand with the Sustainable Development Goals (SDG).

The Malaysian Government recognises the importance of the cottage industry as the national heritage and the nation's pride, while the expertise of local craftsmen should be preserved and further enhanced.

The Batik Week promoted the understanding and appreciation of Batik as Malaysia's national heritage, deliberated on making the batik industry eco-friendly, embrace technology in the production process towards IR4.0 initiatives and diversifying Batik products.

As for the textile and apparel industry in Malaysia, in the recent five years, MIDA has approved 122 textile and apparels projects with total investments of RM3.17 billion, generating 7,538 job opportunities, including skilled positions for engineers, specialised quality controllers and skilled technicians. The global demand of personalised designs and textures could be churned to new materials of interest and diversified products.

The Government continue to promote and incentivise Batik manufacturers through the incentives of:

a. Pioneer Status with income tax exemption of 100 per cent on the statutory income for a period of five years; or Investment Tax Allowance of 60 per cent on the qualifying capital expenditure incurred within five years of project commencement.

b. The Automation Capital Allowance (ACA) in encouraging manufacturing companies to adopt automation in manufacturing processes. The textile industry can be considered 200 per cent allowance on the first RM4million expenditure incurred within YA2015-2023.

c. A Reinvestment Allowance (RA) option is available for companies which incurred capital expenditure on expansion, diversification, automation or modernisation.

The Batik event successfully brought together prominent industry stakeholders and over 500 registered participants, including the textile and apparel industry players throughout the 5-day Batik Week. The virtual event aspired to bridge the objective to promote Batik while embracing new technology, without changing the uniqueness and authenticity of the traditional techniques.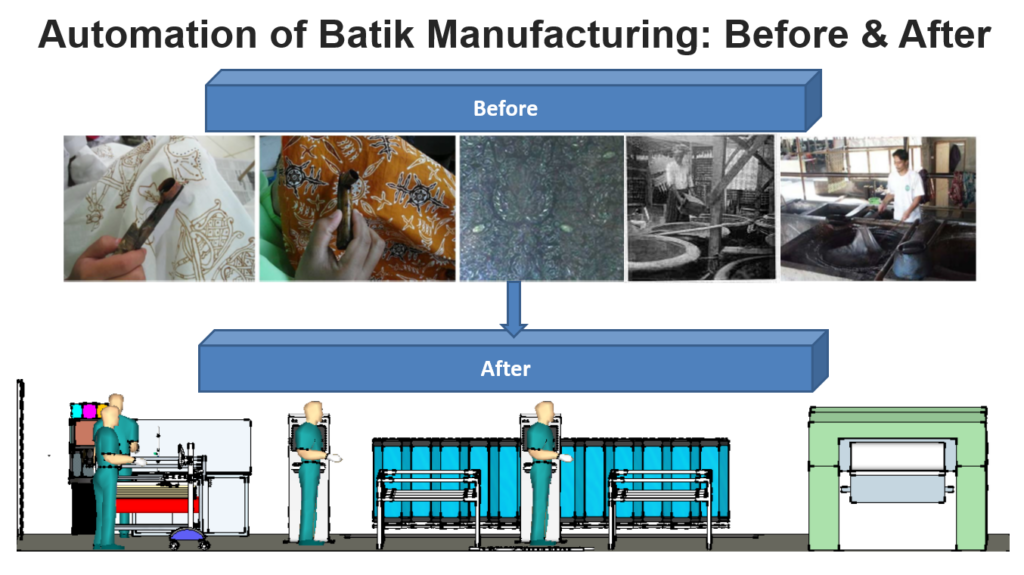 Time

25 (Monday) 9:00 am - 29 (Friday) 5:00 pm