APEC Leaders Issue Kuala Lumpur Declaration
fri20nov10:00 amfri3:00 pmAPEC Leaders Issue Kuala Lumpur Declaration10:00 am - 3:00 pm
Event Details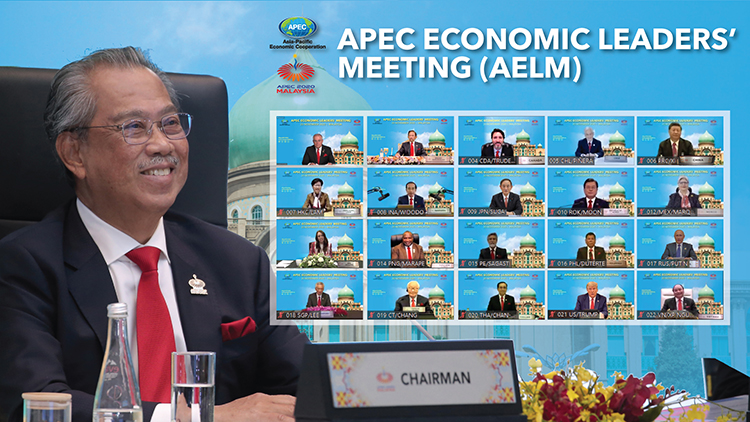 APEC Malaysia 2020 was a year-long hosting of Asia-Pacific Economic Cooperation (APEC) meetings in Malaysia starting from December 2019 until November 2020. It is Malaysia's second time hosting an APEC meeting, after having hosted one in 1998.
The grand highlight was the virtual summit held on 20 November 2020, chaired by Tan Sri Muhyiddin Yassin, Prime Minister of Malaysia. The APEC leaders convening for the first time since the last meeting in Papua New Guinea in 2018, issued the Kuala Lumpur Declaration; a joint declaration underlining the 2020 APEC Malaysia theme of Optimising Human Potential towards a Resilient Future of Shared Prosperity. Pivot. Prioritise. Progress.
Recognising the unprecedented challenges the economies face amidst the COVID-19 pandemic, the APEC Leaders' pledged to work together on the following priorities:
Combatting and mitigating the impacts of COVID-19
Improving the narrative of trade and investment
Inclusive economic participation through digital economy and technology
Driving innovative and inclusive sustainability
Strengthening stakeholder engagement
Malaysia's Prime Minister opened the 2020 APEC Economic Leaders' Meeting in a first-ever virtual approach. Accentuating the progress APEC made on trade and investment in the last three decades, he urged member economies to stay united in combating the pandemic and stressed on the need for an affordable, accessible and equitable access to the COVID-19 vaccine."As a grouping whose economies constitute about 60 per cent of the global economy, APEC assumes a crucial role in spearheading post-pandemic economic recovery," said Tan Sri Muhyiddin Yassin during his opening remarks.
To date, Malaysia's trade with APEC member economies has increased by more than seven-fold in the past decade. "Through the expansion of trade, Malaysians are able to experience positive spill-over effects in the form of job creation, knowledge transfer and the strategic placement of our micro, small and medium-sized enterprises (MSMEs) in the global value chain," said Tan Sri Muhyiddin Yassin.
Leaders also officially launched the new APEC Putrajaya Vision 2040 that will chart the future of the region in a vision of an open, dynamic, resilient and peaceful Asia-Pacific community by 2040; for the prosperity of all people and future generations. The leaders task the APEC senior officials to complete a comprehensive implementation plan for their consideration in 2021.
Moving forward, the APEC leaders will be hosted by New Zealand in 2021 during its APEC chairmanship.
Time

(Friday) 10:00 am - 3:00 pm