Value of approved domestic investments alone not the full picture — MIDA
08 Nov 2022
Merely looking at the value of domestic direct investment (DDI) data alone would not give a full picture of the country's local investment landscape, the Malaysian Investment Development Authority (MIDA) said.
Its senior executive director of investment policy advocacy Sikh Shamsul Ibrahim Sikh Abdul Majid said DDI numbers tend to be lumpy over the years due to major investments being cyclical in nature.
In terms of the value of approved DDIs, the amount has been uneven but recorded a downward trend from RM150.6 billion in 2015 to RM125.5 billion in 2019. During the Covid-19 pandemic years, it continued to fall to RM103.2 billion in 2020 and further to RM97.9 billion in 2021, which was somewhat expected.
Shamsul attributed the lumpy numbers to large-scale projects like Petroliam Nasional Bhd's (Petronas) Pengerang project in Johor, where the investments tapered off close to 2018.
"A foreign direct investment (FDI) can invest about RM30 billion in a project, something you will not see in a DDI. But in terms of the number of projects, DDIs are about two to three times more than FDIs. We cannot conclude based on the value alone that DDI is down. Over time, big domestic investments [like Pengerang] will come again," he said during a panel discussion titled "Shifting the Paradigm: Enhancing DDI for Sustainable Economic Growth" on Tuesday (Nov 8).
"Right now, what we really need to look at is how we can encourage domestic services companies to go into manufacturing, so that we can have more of that in the manufacturing sector," he said.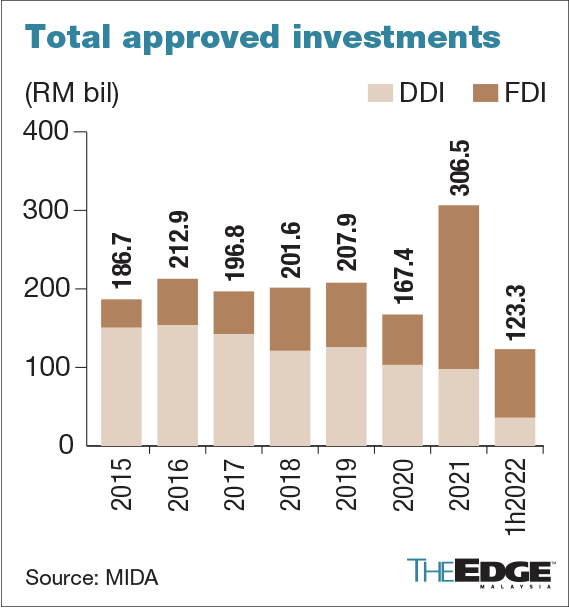 Notably, the services sector dominated DDI approvals, totalling about 70% each year.
AmBank Group chief economist and head of research Anthony Dass, who was the moderator of the panel discussion, chipped in to say that DDIs are usually smaller in value than FDIs.
"The value today may be small, but we hope that in five years' time, it will grow bigger. But, even then, multinational corporations' investments will still be bigger than DDIs. We have to move away from the traditional method of just looking at the value of the investment, and to include looking at value-adding and how much we have moved up the value chain," he explained. 
During the panel discussion, Shamsul also pointed out that there is a common misconception among local companies that where incentives are concerned, FDIs are able to get things done more easily than local companies.
He added that incentives are readily available for both local and foreign companies, and even for smaller companies, like the pioneer status and investment tax allowance.
But the incentives are not "free giveaways", Shamsul said, as local companies would have to meet the criterias for the incentives. They would also need to approach MIDA directly to find out more, and apply for the incentives that can help to further their businesses and investments.
Later at a press conference, MIDA chief executive officer Datuk Arham Abdul Rahman said MIDA is confident that total approved investments in 2022 will hit RM200 billion or more in value, which is consistent with the amount achieved each year before the pandemic.
In the first half of the year, total approved investments amounted to RM123.3 billion.
He is of the view that comparisons should not only be made between total approved investments in 2022 and what was achieved in 2021, given how 2021 was an exceptional year due to approvals for a few big projects in the electrical and electronics industry.
In 2021, total approved investments totalled a record RM309.4 billion.
Going forward, despite concerns over a possible economic slowdown, Arham is confident that the country will also be able to achieve RM200 billion in total approved investments in 2023, judging by the pipeline of projects that MIDA is working on.
Source: The Edge Markets