TT Vision inspired by ViTrox and Pentamaster, but eyes own path
14 May 2023
TT Vision Holdings Bhd, a Penang-based automated test equipment (ATE) manufacturer, is anticipating a good year ahead in the financial year ending Dec 31, 2023 (FY2023).
Like most of its ATE peers, TT Vision has a diversified customer base consisting of 20 active global clients from the light-emitting diode (LED), semiconductor and solar industries.
In an interview with The Edge, TT Vision co-founder, CEO and executive director Goon Koon Yin acknowledges that the ACE Market-listed technology firm is inspired by the likes of ViTrox Corp Bhd and Pentamaster Corp Bhd. While the 53-year-old does not hide his admiration for the two ATE giants, he stresses that TT Vision intends to carve its own path to success.
"We benchmark ourselves against ViTrox and Pentamaster, whose market capitalisations are much bigger than ours. We were inspired by and look up to them, and we want to continue learning from them. But frankly, we do not want to be exactly like them because we want to forge our own path," he explains.
For comparison, TT Vision has a market capitalisation of RM477 million, which is 15 times smaller than ViTrox's RM7.38 billion and seven times smaller than Pentamaster's RM3.41 billion.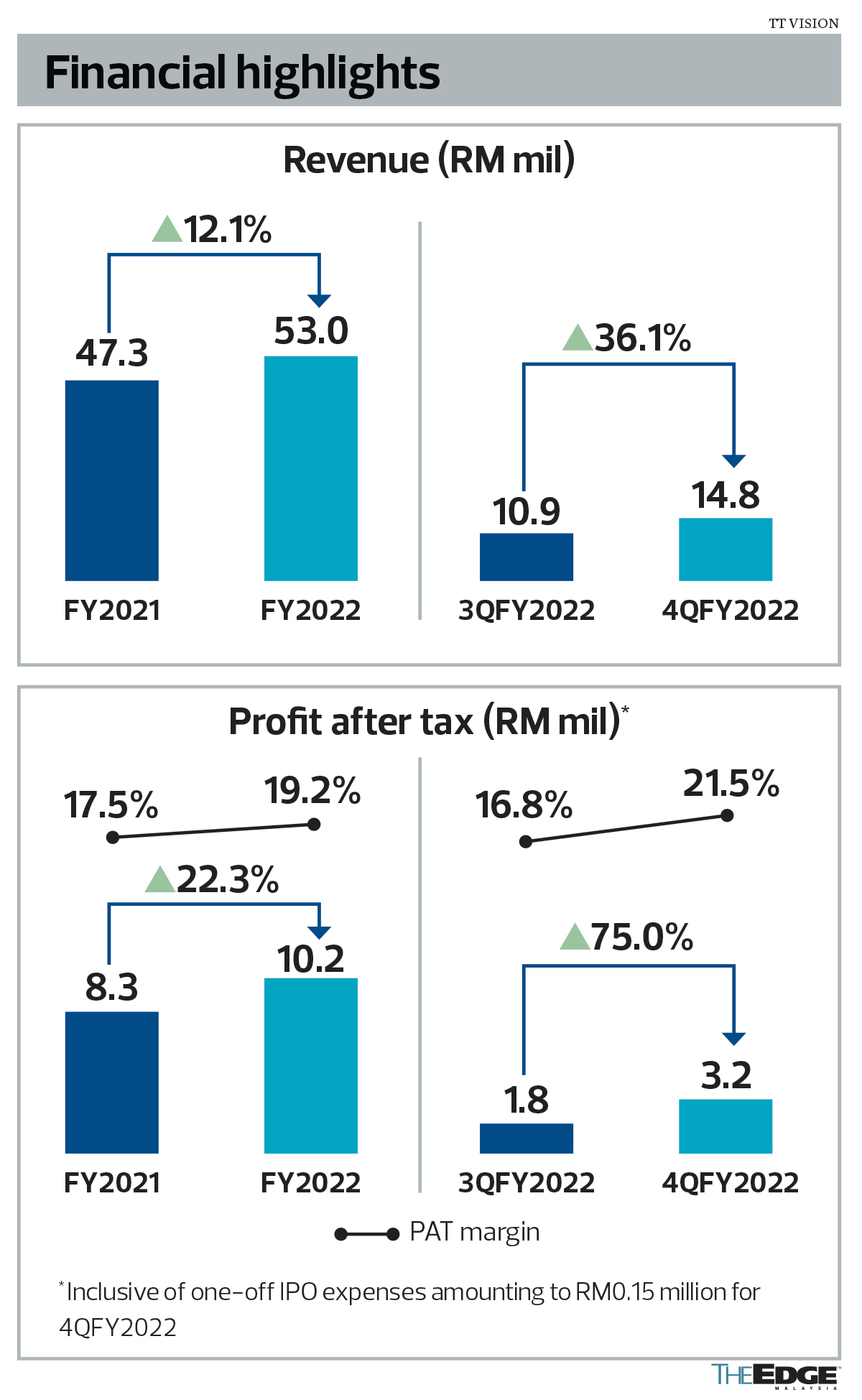 Goon highlights that, among Bursa Malaysia-listed ATE companies, TT Vision is quite similar to ViTrox and Pentamaster in terms of business model and product offerings.
"But of course, ATE companies generally don't stay put in one place. If you look at ViTrox, Pentamaster, MI Technovation Bhd and Elsoft Research Bhd, all of us keep evolving and diversifying our product offerings into other areas instead of focusing on just semiconductors. So, yes, we are all ATE companies and equipment makers, but none are exactly the same," he explains.
According to Goon, TT Vision has four business divisions: optoelectronics inspection equipment, discrete component and integrated circuit (IC) inspection equipment, solar cell inspection equipment and vision-guided robotic equipment.
Its customers include LED manufacturers, solar cell makers, IC players, outsourced semiconductor assembly and test companies, electronics manufacturing service providers, parts and components producers, as well as automotive-related systems manufacturers.
Currently, optoelectronics and IC segments collectively make up 60% of TT Vision's orderbook — which stood at RM70 million as at end-March — whereas the solar segment contributes the remaining 40%.
"Our robotic equipment segment is still very small today, but we see huge potential in this business," says Goon, adding that the largest robotic equipment user today is the automotive industry.
"Other than that, you won't hear much about other industries using robotic equipment in their factories. And even if they do, they probably bought the equipment from the global big boys, certainly not a local player like us," Goon observes.
He, however, believes this narrative is likely to change in the coming years due to the labour crunch, which could be resolved by adopting automation and robotic equipment.
"We believe robotic equipment is going to be the next big thing in the long term, and TT Vision is in a good position to capitalise on the trend," says Goon.
For a start, TT Vision plans to sell its robotic equipment to the group's existing customers.
"We want to expand our product offerings and cross-sell more products. Next, we will look out for new customers who are also facing the labour shortage issue. We believe robotic equipment can perform certain tasks better than humans," he elaborates.
A LEAP-turned-ACE company
Headquartered in Bayan Lepas, Penang, TT Vision was co-founded in 2001 by Goon and business partner Joe Wong Yih Hsow, the group's chief operating officer and executive director. Both had worked for multinational corporations (MNCs) in the early days.
"I was from Motorola and he was from Robert Bosch. We realised that ATE is actually a good business because MNCs need to localise their equipment supplies. We also saw a few ATE companies start to get listed on Bursa Malaysia. That's why we left the MNCs and started TT Vision before gradually expanding our business presence in the Asean market," Goon recalls.
TT Vision, which listed on the LEAP Market back in 2019, was relisted on the ACE Market in January 2023.
Goon explains that, initially, the group had hoped to just transfer its listing status from the LEAP Market to the ACE Market without having to go through a delisting first. However, things did not go according to plan as Bursa Malaysia only introduced the new transfer framework on March 31.
Therefore, TT Vision had to delist from the LEAP Market and relist on the ACE Market, making it the second company (after Cosmos Technology International Bhd) to do so.
"If you ask me, of course it would have been ideal to skip the delisting and relisting processes. There's no point in spending twice the effort to get the transfer of listing done," says Goon.
Nevertheless, he remains happy with where TT Vision is today.
"To us, the LEAP Market listing was still a meaningful learning experience. We learnt about fundraising and investor relations. Today, we know how to engage with various types of investors, be they fund managers, high-net-worth individuals, private investors or public investors," says Goon.
TT Vision made an impressive debut on the ACE Market on Jan 18, having closed at RM1.28 — a 276% jump over its initial public offering price of 34 sen.
"Our share price has been performing well since our company was relisted on the ACE Market. Obviously, we are delighted but it's not just about the share price performance itself; it's also the investors' confidence that makes us stay motivated.
"When we were listed on the LEAP Market, our company was valued at RM70 million. We made an exit offer of over RM130 million. Today, we have a market capitalisation of close to RM500 million. Hopefully, we can migrate to the Main Market within three years," says Goon.
He points out that although TT Vision is listed on the ACE Market, many local institutional funds have already indicated an interest in investing in the company.
"We welcome them and want them to understand our business offerings," Goon adds.
Notably, the single-largest shareholder of TT Vision is Khazanah Nasional Bhd's wholly-owned strategic investment firm Malaysian Technology Development Corporation (MTDC), which has a 23.47% stake as at April 14. Goon and Wong each have a 21.51% direct stake.
Today, institutional investors collectively own a stake of about 9% in TT Vision. The prominent ones include Eastspring Investments Bhd, UOB Asset Management (M) Bhd and Areca Capital Sdn Bhd.
Carrying the momentum
TT Vision saw its net profit increase by 22% to RM10.2 million in FY2022, from RM8.3 million a year ago. This was on the back of a 12% increase in revenue to RM53 million, as compared to RM47.3 million before. Meanwhile, its net margin improved to 19.2% from 17.5%.
For FY2023, TT Vision hopes to achieve double-digit growth in turnover and better margins. Based on its orderbook in hand, the group remains confident of achieving these targets, says Goon.
"For the longer term, we believe TT Vision is in the right industry. We are serving the semiconductor, optoelectronics and solar industries, which are all still growing. We believe we can continue the momentum in the next few years.
"But it's too early to say how big the momentum will be. All I can say is that we believe FY2023 will be a good year for TT Vision, barring unforeseen circumstances. That's how we see our future," he says.
Currently, 60% of TT Vision's revenue is derived from export markets.
"The main export market is China, but the up-and-coming ones are South Korea and the Philippines," says Goon.
This year, China and Malaysia are expected to contribute more than 70% to the group's topline, while South Korea and the Philippines are estimated to collectively contribute about 20%. The rest will come from the US, Germany and other countries.
"The new export markets that we are looking at are India, Vietnam, Central America and Eastern Europe. These are the countries where we see high growth potential. India and Vietnam have been actively attracting foreign direct investment; these are the areas that we don't want to miss out on," he says.
Based on its annual profit of RM10.2 million in FY2022, TT Vision is currently trading at a historical price-earnings ratio (PER) of over 50 times — higher than ViTrox and Pentamaster, which are trading at about 40 times.
Commenting on stock valuation, Goon says certain investors might look at TT Vision's future earnings growth and not consider a PER of 50 times as high.
"As management, share price is not our main focus and we will let the market determine our fair value. What is more important is implementing our growth strategy in the four aforementioned business divisions to ensure sustainable growth for the company and deliver results," he concludes. 
Source: The Edge Malaysia