Transport: Creating a conducive environment for electric vehicles
20 Oct 2022
As Malaysia's largest energy provider, Tenaga Nasional Bhd has a huge role to play in promoting the nation's decarbonisation agenda by enabling the use of electric vehicles (EVs). Tenaga has forecast 33,350 battery EVs in the country by 2025, for which 3,300 charging points will be needed. This is set to increase to 500,000 EVs and 18,000 charging points by 2030.
Mohd Junaizee Mohd Noor, project director of Tenaga's Project Management Office (PMO) tasked with driving the EV agenda, says there are currently 1,400 battery EVs on the road and 400 charging points — both alternate and direct current — across the nation.
There are four building blocks for an EV ecosystem: the EVs, the grid to supply adequate electricity, the charging points and the software to support EV owners.
"Tenaga is not going to play a role in the first part. We are not in the car business. We leave that to the original equipment manufacturers and importers. However, the other three [building blocks] are where Tenaga will play [a role]," says Junaizee. "We want to make sure that electricity is sufficient at the grid [level] as the demand [for EVs] increases. We also want to ensure that the charging points that will be installed are available to the public and sufficient to cater to demand."
The electrification of the transport sector is a potential income generator for Tenaga. Already, the sole electric utility company in Peninsular Malaysia has projected an annual electricity revenue of RM80 million by 2025 and RM1.25 billion by 2030 from setting up charging points. It also plans to provide the software for EV owners.
"Tenaga will be introducing a mobile app for users to charge their vehicles at charging points," says Junaizee.
EVs are touted as a key strategy to decarbonise the transport sector, which is the second-biggest contributor to greenhouse gas emissions globally and in Malaysia. That's because most people are still using internal combustion engine (ICE) vehicles powered by fossil fuels.
But the uptake of EVs is rising globally. As at 2020, the International Energy Agency reported that the sales of EVs were 4.6% of total car sales around the world. 
Are EVs really clean?
While EVs are deemed to be the cleaner transport option, Tenaga's power is currently mostly sourced from fossil fuels like coal and natural gas — which brings into question whether transitioning from ICE vehicles to EVs makes a difference.
"In accordance with our sustainability pathway 2050, we are doing our part on the generation side by looking at ways to 'green' electricity production," asserts Junaizee.
Malaysia has a target to reach 31% of renewable energy share in the national installed capacity mix by 2025.
In August, Tenaga and Petroliam Nasional Bhd (Petronas) signed a memorandum of understanding to develop the green hydrogen ecosystem and carbon capture and storage technology. According to Petronas, the initiative will begin by re-powering Tenaga's decommissioned Sultan Ismail Power Station in Paka, Terengganu, via the use of gas with hydrogen-ready technology by 2030.
According to Tenaga, it is also studying the use of various renewable energy to generate green hydrogen.
Green hydrogen is produced by using electrolysis to split water into hydrogen and oxygen. The process is powered by renewable energy sources. Grey and blue hydrogen are produced from natural gas, but the latter uses technology to capture carbon emissions from the process.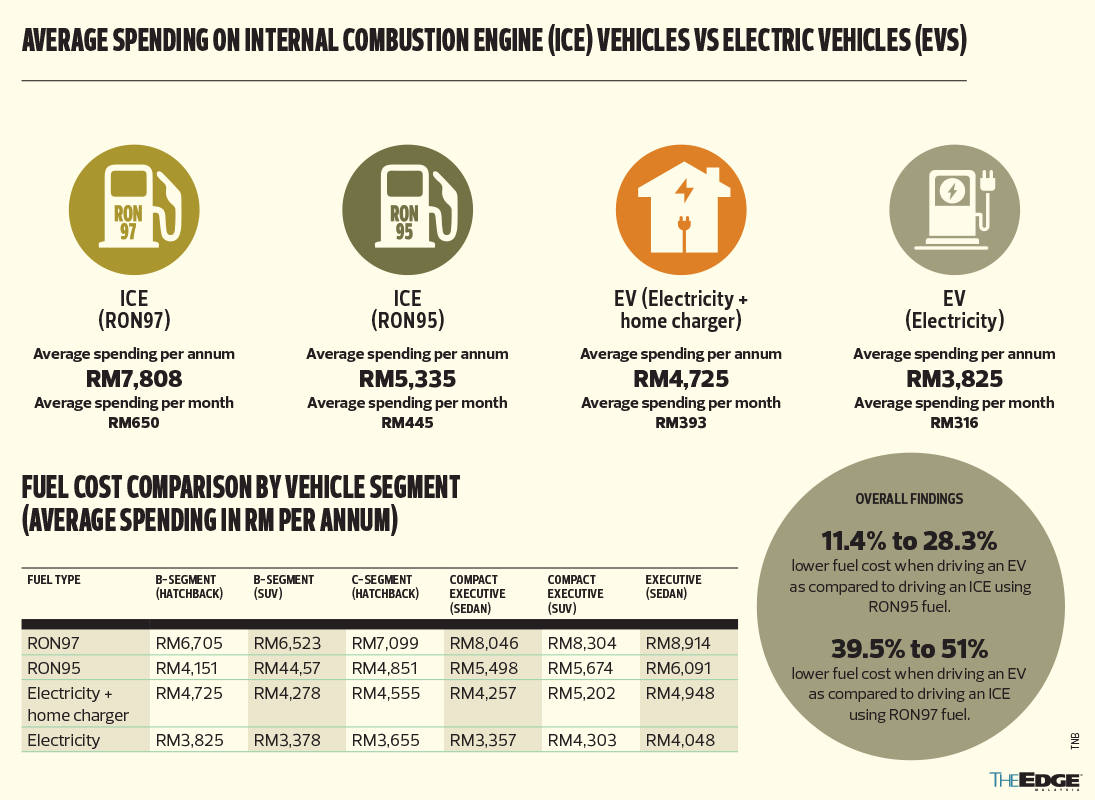 Higher demand for electricity
Junaizee assures that Tenaga's grid is well equipped to support the anticipated increase in demand for electricity.
Based on the latest data from Single Buyer, which is the authorised entity to conduct electricity planning and manage electricity procurement services for Peninsular Malaysia, Tenaga's current electricity reserve margin is at 33%.
"Whenever we want to install a charging point, we need to check the demand at each site. If the [electric] capacity is available, [the process] is straightforward. However, if capacity is not enough, there are always means for us to address the situation [with the electric reserve margin]," says Junaizee.
Higher electricity bills are one of the concerns among EV users. Junaizee says that although Tenaga does not offer any special tariff for EV charging, its studies have shown that the cost of charging EVs is cheaper than fuel costs for ICE vehicles. Based on Tenaga's findings, EV users save up to 28.3% in fuel costs compared to driving an ICE vehicle using RON95 fuel, and up to 51% compared to driving an ICE vehicle using RON97 fuel.
As an EV user himself, Junaizee usually charges his car every four or five days during a normal work week, when he travels between home and office.
Unlike a conventional vehicle's constant fuel consumption as long as the engine is running, an EV's battery consumption is lowest when it is stationary. This saves battery consumption and allays fears of EVs running out of power, leaving users stranded in the middle of the road during peak traffic hours.
Junaizee highlights three important points to counter range anxiety.
"[Firstly], you have to understand your car's [electrical] capacity and performance. At the same time, you must plan your route. Thirdly, we are making efforts to increase the number of charging points across Malaysia."
He says Tenaga has several plans to support the EV ecosystem by 2024. These include building stations specifically with charging points for EVs at five to six locations, collaborating with petrol station operators to install charging points across major trunk roads and installing charging points at more than 20 Tenaga branches nationwide. 
Advocacy is key
A lot of collaboration between the government and stakeholders is needed to make sustainable transport a reality.
"There are some areas beyond our control because they are not part of our business, but we are doing our part in advocacy," says Mohd Junaizee Mohd Noor, project director of Tenaga Nasional Bhd's Project Management Office, which is responsible for driving the electric vehicle (EV) agenda.
That's why Tenaga set up the Zero Emission Vehicle Association (Zeva), which, incidentally, Junaizee leads as president, alongside 28 members from the EV industry. These comprise car manufacturers, charging operators, consultants and EV users.
While industry players are grateful for the exemption of import taxes for EVs, Junaizee hopes that Malaysia can also learn from other countries in introducing incentives to boost EV usage. For example, China and Germany are offering cash subsidies to citizens who purchase EVs.
Junaizee suggests that incentives be given to charging point operators. "For Zeva, we are going to continue playing our role as the voice of [the] EV [industry] in Malaysia," he pledges. "We're going to increase public awareness of EVs, syndicate with car manufacturers and importers to bring in their [EV] models, and engage more with the government and their agencies."
Source: The Edge Markets