Sustainable nation building for the future
25 Aug 2022
Merdeka signifies the successful struggle to free the country from colonial rule, and to wrest back the ability to chart our own development path. Much has been achieved since then. But as the country celebrates its 65th year of independence, the road ahead remains fraught with challenges.
Maintaining our security, economic strength and relevance in the face of realities like climate change has become imperative to create a liveable and sustainable nation for future generations.
The same could be said of the world right now. Before it could even catch a breath after battling Covid-19 for over two years, it is confronted with even more challenges in 2022. In the past eight months, unprecedented heatwaves triggered wildfires and caused heat-related deaths in the northern hemisphere. Russia's invasion of Ukraine disrupted peace in Europe and sent fuel and commodity prices up, which has resulted in energy and food shortages around the world.
Malaysians, meanwhile, experienced unprecedented flooding, high food prices and a ballooning government subsidies bill — the highest in its history — due to high fuel prices and rising inflation.
There are more risks to come, if one reads through the Intergovernmental Panel on Climate Change's (IPCC) latest reports.
If the world were to breach the 1.5°C warming limit, there would be irreversible damage to the ecosystem. Already, the world is 1.1°C warmer than pre-industrial times.
In Malaysia, global warming could mean more frequent flooding, hotter weather, lower paddy and rubber yield, coastal erosion and higher incidence of diseases in the next few decades, according to the IPCC and other scientific reports.
Obviously, this will have implications for people's livelihoods, business productivity and the nation's security. How can a country remain economically competitive and secure if its people do not have access to basic resources and are at the mercy of natural disasters?
So, as Malaysia marks its 65th National Day, it is worth considering whether the country is on the right track to tackling these current and upcoming challenges.
"If we keep burning fossil fuels and consuming at today's pace, we can expect progressively worsening impacts, such as damage to property and infrastructure and disruptions to businesses and supply chains. This leads to increased prices and higher cost of living, which disproportionately impacts low-income communities and other vulnerable groups," says Luanne Sieh, chair of the CEO Action Network working group and head of group sustainability for CIMB Group. 
"There will also be increased risks to national food security as a result of biodiversity losses from deforestation and degradation. Additionally, Malaysia imports a significant proportion of rice from highly climate-vulnerable countries such as Vietnam, Thailand, Pakistan and Cambodia, where water scarcity is predicted to severely diminish crop yields."
All these physical risks, Sieh adds, will put Malaysia in a worse position in terms of independence, economic strength and societal well-being.
A Swiss Re report in 2021 estimated that Malaysia could lose economic output of over seven times its 2019 GDP by 2050 under the worst-case scenario of a global average temperature increase of 3.2°C. These numbers were derived from expected economic outcomes, vulnerability to extreme weather risks and adaptive readiness to climate change impacts. 
E, S and G are interlinked
Environmental issues are closely intertwined with that of social and governance. Social unrest will occur if a weak government fails to provide people with a sufficient safety net in the face of natural disasters or adequate access to jobs and healthcare.
"It comes back to basic social security issues. If you don't address these, you're going to get massive social unrest and you'll have things like the Arab Spring and the Sri Lankan protests [which removed the former president from power and forced him to leave the country]," says Mavcap chairman Tunku Alizakri Raja Muhammad Alias, who also serves as the director of several listed companies.
The "S" in ESG, Tunku Alizakri adds, is about addressing the basic things that enable people to live a dignified life, which are shelter, healthcare, income security, nutrition, education, mobility and access to technology.
A nation can't be expected to prosper if access to these basic needs is not provided. For instance, the Ministry of Education's research in 2020 showed that 36.9% of students did not own any electronic devices. This hindered them from attending virtual classes during the pandemic, which went on for nearly two years.
Without proper education, can the next generation be ready to take on new challenges and contribute to the nation? Another problem in Malaysia is the stagnation of wage growth. 
Bank Negara Malaysia's 2018 annual report highlighted how Malaysian workers have been receiving lower compensation com–pared to their contribution to the national income, when benchmarked against developed economies.
"Our income has not kept pace with inflation. It's only recently that minimum salary has come into play. But [it is challenging to introduce it] this late in the game, [when] employers are struggling to stay relevant and profitable and employees are desperately trying to keep ahead of inflation," says Tunku Alizakri.
Left behind in a rapidly transitioning world
The different pace at which countries are decarbonising or adopting sustainability has a significant impact on developing countries like Malaysia as well.
The European Union's (EU) upcoming Carbon Border Adjustment Mechanism (CBAM), for instance, is expected to affect our economy. A study by the Commonwealth Secretariat highlighted that in 2019, around 14% of the US$40 billion CBAM-related exports were sent to the EU. Malaysia accounted for 15% of those exports.
Furthermore, Standard Chartered's 2021 Carbon Dated report revealed that 78% of multinational corporations are ready to cut companies — many in developing countries — out of their supply chains if they are not aligned with their carbon transition plans by 2025.
More than half of Malaysia's current trade partners already have a net-zero 2050 goal, based on a 2021 report by WWF Malaysia and Boston Consulting Group. 
"There is an international dimension to how sustainability is going to affect our relationship with the rest of the world in a couple of ways. First, it's through trade. The EU integrates environmental policies into its trade policies. We might see more countries doing that," says Eugene Wong, CEO of Sustainable Finance Institute Asia.
"Internally, investors will give you a miss if you don't comply with whatever standards there may be."
The implications of this shift are already evident. In the past year, several Malaysian manufacturing and plantation companies have been banned by the US Customs or lost customers due to allegations of mistreatment of labour.
Some see this as developed nations "weaponising" ESG for their own agenda. Others argue that this is needed to combat climate change, and that the new generation of consumers is demanding sustainability practices from businesses.
Regardless, developing countries regularly insist in international negotiations that there must be a just transition. Assistance is needed from developed countries, which had already extracted their fair share of resources decades earlier. It is unfair to expect developing countries to meet the same standards as developed countries at this stage of growth.
"There has to be a multilateral push [to address these problems]. Unfortunately, people today are falling back on nationalism with export bans and the like that don't really work and create more problems," says Employees Provident Fund (EPF) chief strategy officer Nurhisham Hussein.
"The [spread of] resources is not equal. Most of the consumption happens in developed economies but most of the resources are in developing countries. We could certainly use the assistance of more advanced economies to go further along the journey."
But ultimately, as part of a globalised economy, Malaysian businesses will have to conform to international standards, he says.
"If we want to live in a globalised world, then there are certain frameworks that you have to adhere to."
SMEs already struggling
The biggest concern in this low-carbon transition lies with the small- and medium-sized enterprises (SMEs). They are a huge and important sector in Malaysia, making up over 90% of establishments in the country, based on statistics by SME Corp.
These companies will have to contend with scrutiny of emissions by their buyers, financiers and carbon taxes from certain jurisdictions that they export to. Around 40 countries already have carbon pricing initiatives, according to the World Bank.
There are financing pro–grammes from banks and incentives to help SMEs transition. But more awareness and guidance are required, say the interviewees.
"I've spoken to a lot of SMEs and they tell me that it's tough enough for them to survive and we still want them to do all these things. They have no resources and don't know how to do it," says Wong.
"For many of them, they know at the back of their mind that there is a risk that they might be excluded. But they say the reality is that climate is a problem for tomorrow. Today, they have to survive."
Some parties may find the focus on things like gender diversity and workers' rights a distraction at this time. But "I look at it as a reality, because it's the expectation from your customers and stakeholders in the long term", says Wong.
The cost of capital will be affected as more banks are incorporating ESG factors into their credit frameworks, including in Malaysia.
"Banks won't want to provide you with capital or labour. Some suppliers won't even provide you with raw materials because it's in their charter to support sustainability," adds Wong.
These expectations are increasing. The EU has a draft regulation on mandatory human rights due diligence in supply chains, which means Malaysian exporters to the EU have to conduct human rights due diligence in their operations. Malaysian banks are doing the same.
"For example, we at CIMB have just rolled out our own human rights policy, where we are asking our non-retail financing clients to do three simple things. One is to develop and commit to a human rights policy, implement a human rights due diligence mechanism to identify areas of risk, and to have a robust and private grievance channel," says Sieh.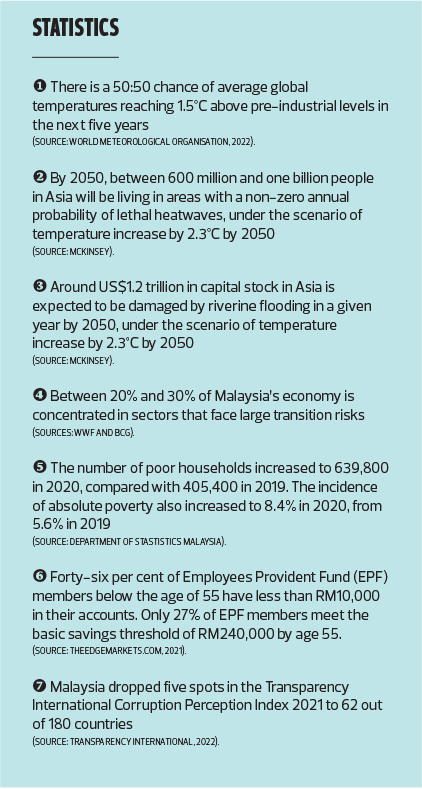 Strong governance is key
The governance factor is often seen as the most important. Without good governance, implementation of environmental and social policies or regulations is unlikely to be effective. 
"Governance is critical to building and maintaining investor confidence. Although there is now increasingly investor focus on environmental and social issues, governance remains a non-negotiable prerequisite," says Sieh.
On a bigger scale, resolute political will to address these risks is needed, alongside real action. The government needs to send the right signals with targeted policies and a clear road map on how it plans to reach stated goals, say the interviewees. Sectoral targets on how much emissions should be reduced in which sector are helpful, for instance.
The government has mentioned that it will prioritise ESG developments and programmes under Budget 2023. A National Adaptation Plan, net-zero road map and a long-term low emissions development strategy are expected.
In the financial sector, Bank Negara Malaysia and the Securities Commission Malaysia have teamed up to chair the Joint Committee on Climate Change (JC3). Their initiatives so far include the communication of regulatory expectations on the management of climate-related risks by industry players and the introduction of the Climate Change and Principle-based Taxonomy.
"I really laud the JC3 on these initiatives. But the big problem is that the regulators are moving very fast and the market is struggling to catch up. We don't have the correct supporting infrastructure in place to enable market players to transition safely and properly. It's too much of a leap for some sectors," says Tunku Alizakri.
For instance, many businesses still cannot measure their emissions properly, he says, with some possibly needing more assistance to profitably transition from a carbon-based economy into one that embraces sustainability. But these businesses might be shut out of financing opportunities because they are in industries that emit a lot of greenhouse gases.
Other top-down initiatives driven by institutional investors, who play an important role in Malaysia's economy, are also in place. The big institutional investors have launched their own sustainability policies and have committed to helping their portfolio companies transition. EPF, for instance, introduced its sustainability policy in March.
"We're talking to our top 50 investee companies on sustainability and it has been very encouraging to see the progress they have made in the last few years. Hopefully, we can cascade that down to our smaller investee companies as well," says Nurhisham.
He says the Ministry of Finance is currently coordinating JC3 and other organisations working on sustainable finance together under one platform. "We are hoping to create one standard for Malaysia in terms of ESG compliance. That effort is under way."
All hands on deck for ESG
Nurhisham emphasises that individuals must also be willing to change their consumption habits to be more sustainable.
"This is not just a business issue. ESG is fundamentally about [solving] a social challenge. It's a problem for the society as a whole. The government can, and should, play a key role in addressing some of the risks involved. Society has to play its part as well. If we want a better planet for our children and grandchildren, it falls back on us to do something about it," says Nurhisham
Private companies should also look at how they can thrive in the sustainable economy, says Tunku Alizakri.
Instead of issuing mandates to create as many start-ups as possible, there should be pressure on start-ups to create real impact in the world from social and environmental perspectives.
For instance, "we have a Malaysian company called BoomGrow that upcycles containers into vertical food farms. It uses light and targeted fertiliser technology to plant vegetables in individual containers to limit the contamination that usually occurs in traditional hydroponics. By doing vertical farming, the company uses less land space and produces higher output and quality of food at a lower cost and with less environmental impact", says Tunku Alizakri.
"We need to empower companies like this to get the right funding and support them in addressing real social and environmental issues."
Source: The Edge Markets