Shifting the EV sector to the next gear
30 Jul 2023
WITH the arrival of the first official electric vehicle (EV) from Tesla Inc (Tesla) here, Malaysia is bound to see major changes in its automotive sector.
In line with its goals to shift Malaysia's transportation industry to greener alternatives, the government has been ramping up its effort to grow the nascent EV industry here.
On top of increasing its efforts to encourage more foreign investments on EV production in the country, the government has also introduced policies to push the uptake of EVs in the domestic market.
In its retabled Budget 2023, the government has extended a number of tax exemption deadlines to incentivise local EV uptake and this includes a two-year extension of the excise duty, sales tax exemption, and import tax exemption for components used in locally-assembled (CKD) EVs to December 31, 2027 (previously until December 31, 2025).
Import and excise duty exemption for fully-imported (CBU) EVs have also been extended to December 31, 2025 which was previously set to the end this year before it was previous extended in the first tabling of Budget 2023 to December 31, 2024.
Furthermore, under the Low Carbon Mobility Blueprint (LCMB) 2021-2030, the government aims to achieve at least 15 per cent of xEVs out of the total industry volume (TIV) by 2030 and 38 per cent of xEV by 2040 under the National Energy Policy (NEP) 2022 to 2040, with 10,000 units of Charging Facilities built by 2025 (comprising 9,000 alternating current (AC) units and 1,000 direct currents (DC) units).
With Tesla's entry through one of its most affordable EV model as well as its commitment to further invest in charging facilities across key areas in Malaysia, analysts observed that sentiments are gearing towards more positive for the EV sector.
Confidence in Malaysia's market
Following the launch of Tesla's Model Y here, Investment, Trade and Industry (Miti) Minister Tengku Datuk Seri Zafrul Tengku Abdul Aziz had pointed out that the opening of Tesla's first charging station in Malaysia will make the local automotive ecosystem more competitive and help signal to the global market that the country is serious about developing its EV industry.
Tengku Zafrul said that given that the EV industry is relatively new to Malaysia, many investors, both local and foreign, are still waiting for the 'certainties' in the market before making any investment decision.
He believed that the opening of Tesla's charging station would help instil confidence among EV investors who are not only keen to invest in the charging facilities but also take part in the entire supply chain.
"We are, in a way, liberalising the industry, and we have to push. We want to make sure the regulations are clear.
"They also want to know how fast the cars are coming in. So for the people investing in (the) charging (stations), they want to see us opening up also. Tesla is setting a good example by installing the charging stations first," he was quoted by Bernama as saying.
Concurring his view, Malaysian Automotive Association president Mohd Shamsor Mohd Zain said the entry of US-headquartered Tesla as well as China's Zhejiang Geely Holding Group Co (Geely) into the Malaysian market serves as a clear indication of the country's relevance in the regional automotive landscape.
He was quoted as saying by Bernama that the two auto makers, with their vast global experience and access to leading technologies, could introduce new ideas and ways of doing businesses to the local automotive sector, such as high-tech research and development (R&D) in new products that might not be currently available in the country.
"For example, electrification means a change in vehicle components, with more focus given to battery manufacturing and other specialised components for EVs.
"We would also see the industry adopting new skillsets and infrastructure suited to varying degrees of electrification – from mild hybrids to fully electric vehicles – besides reskilling or upskilling the automotive workforce, whilst opening up new opportunities for innovation, R&D and high-value manufacturing of components," he said.
With the right government support, infrastructure and policies in place, Malaysia is well positioned to be a regional hub supporting the global growth of EVs given its strategic positioning and favourable economic conditions, he pointed out.
Malaysia's strong electrical and electronics manufacturing industry also makes it ideal for automakers and automotive investors to seamlessly secure their supply chains for growing their production of next-generation vehicles (NxGVs), he added.
The components sub-sector can be capitalised on to service the whole automotive value chain, covering semiconductors, sensors, automotive electronics, transceivers, batteries, and vehicle assembly.
Mohd Shamsor had also pointed out that with more than 40 brands in the domestic market currently, the entry of new players would undoubtedly add greater excitement to the market and generate more interest among consumers.
He also believed that it would also create a buyer's market by providing more choices and increasing competitiveness, keeping all automotive players on their toes and resulting in better services and offerings for consumers.
"Malaysia may be new to the EV industry, but with the solid support of the current government and progressive national policies coupled with fast-growing consumer uptake, we foresee rapid holistic growth in our local EV market.
"New players in the EV space will lead to greater competition, which in turn will spur more investments from automotive players and improvements in the quality of products and services offered," he pointed out.
Additionally, Mohd Shamsor said, with more EVs, including the completely knocked down models, coming into the country, there would also be new business opportunities for the vendors.
Currently, the Malaysian Investment Development Authority (MIDA) has approved 58 projects totalling RM26.2 billion in the EV and its related ecosystems from 2018 to March 2023.
In a statement, it said, the approved investments span various areas, including EV assembly, manufacturing of EV parts and components as well as its charging components.
"As the demand for sustainable transportation continues to rise, MIDA's support and facilitation of these projects contribute to the advancement of the EV sector in Malaysia, fostering economic development, job creation, and a greener future," it said.
Rising demand for EV across Southeast Asia
AS developing countries worldwide push their energy transition agenda, there is no better time than now, to leverage on the growing demand for EV and its much-needed components.
According to the International Energy Agency (IEA), early indications from first quarter sales of 2023 point to an upbeat EV market, supported by cost declines as well as strengthened policy support in key markets such as the US.
"Globally, our current estimate is therefore for nearly 14 million electric cars to be sold in 2023, building on the more than 2.3 million already sold in the first quarter of the year.
"This represents a 35 per cent increase in electric car sales in 2023 compared to 2022 and would bring the global electric sales share to around 18 per cent, up from 14 per cent in 2022," it said in its 'Global EV Outlook 2023' report.
It pointed out that electric car sales in the first three months of 2023 have shown strong signs of growth compared to the same period in 2022.
In the US, more than 320 000 electric cars were sold in the first quarter of 2023, 60 per cent more than over the same period in 2022.
The latest available data suggests a quick recovery in China's EV market with electric car sales in China reaching more than 20 per cent higher than in the first quarter of 2022, with more than 1.3 million electric cars being registered, in the first quarter of 2023.
Outside of the major EV markets, electric car sales are expected to reach around 900 000 in 2023 – 50 per cent higher than in 2022.
In India and across all regions outside the three major EV markets, electric car sales are expected to represent two to three per cent of car sales in 2023, a relatively small yet growing share, it said.
There are, of course, downside risks to the 2023 outlook, it pointed out.
A sluggish global economy and the phase-out of subsidies for NEVs in China could reduce 2023 growth in global electric car sales could dampen the market.
"On the upside, new markets may open up more quickly than anticipated, as persistent high oil prices make the case for EVs stronger in an increasing number of settings. And new policy developments, such as the April 2023 proposal from the US Environmental Protection Agency (EPA) to strengthen GHG emissions standards for cars, may send signals that boost sales even before going into effect," it added.
Within the Asean region, according to a report by Mordor Intelligence, the EV market size is expected to grow from US$0.86 billion in 2023 to US$3.54 billion by 2028, at a compounded annual growth rate (CAGR) of 32.73 per cent from 2023 to 2028.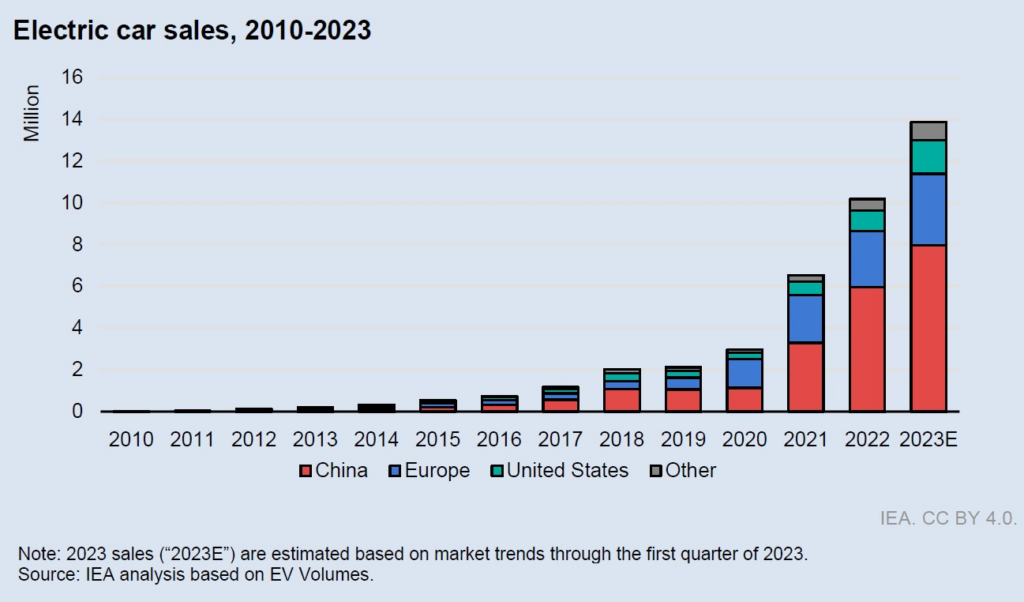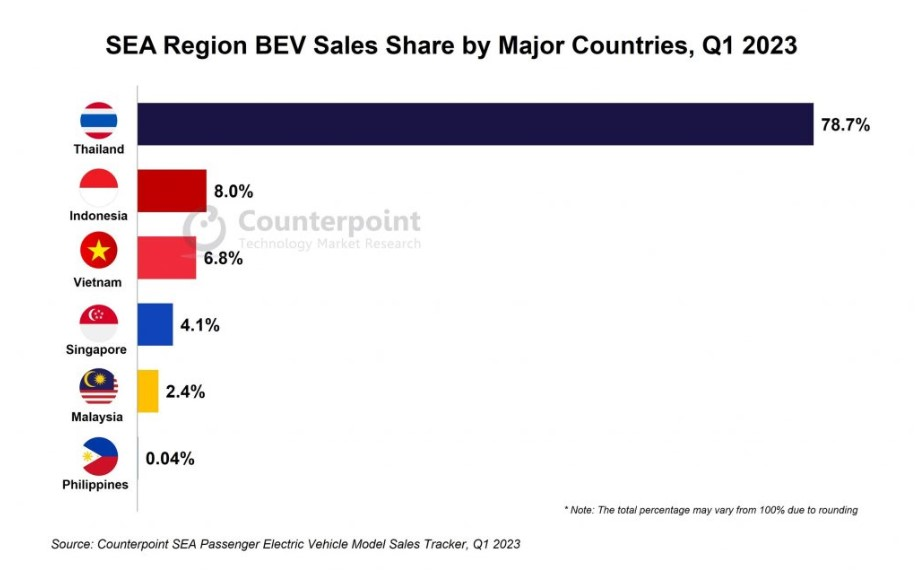 In Southeast Asia, Counterpoint Technology Market Research pointed out that the region's passenger battery electric vehicle (BEV) sales grew by almost 10-times year-on-year (y-o-y) in 1Q23.
The share of BEVs in total passenger vehicle sales experienced significant growth in 1Q23, reaching 3.8 per cent compared to a mere 0.3 per cent one year ago, it said, based on its latest survey on the market.
Commenting on the market dynamics, Counterpoint Technology Market Research analyst Abhilash Gupta said, "Passenger EV demand is increasing gradually across the Southeast Asia region but sales are tiny compared to global EV sales, constituting just 0.5 per cent of the global total for 2022.
"However, as geopolitical tensions are rising between China and the West, Southeast Asia is becoming an attractive option for Chinese auto manufacturers looking to expand abroad. Therefore, we can expect to see more production plants in Southeast Asia in the longer term, which will help boost EV sales."
Commenting on the market outlook, senior analyst Soumen Mandal said, "Although EVs are currently a niche market in SEA, we do expect their sales to double in 2023.
"However, it will be difficult for the Southeast Asia countries to achieve their EV targets and increase the share of renewables in the electricity grid at the same time.
"Southeast Asia countries have the opportunity to display their manufacturing capabilities and grow, given the interest of many international auto manufacturers to invest in the region.
"Those that enter the market early will have an edge, allowing them to secure a substantial share of the market. The Southeast Asia region could adopt the approaches taken by China and Europe, which provide incentives based on CO2 emission levels.
"Doing so would encourage both consumers and manufacturers to shift towards more environment-friendly vehicles."
Sarawak gets ready for greener mobility
AS for Sarawak, the government has been pushing its Zero Carbon Goal within the transportation sector as well.
SEDC Energy and Association of Malay Vehicle Importers and Traders of Malaysia (Pekema) Sarawak are working together to bring more electric vehicles (EVs) into Sarawak.
According to Sarawak Economic Development Corporation (SEDC) chairman Tan Sri Datuk Amar Abdul Aziz Dato Husain, SEDC Energy is currently piloting a subscription model, starting with the Tesla Model Y.
"This model may bring in more adoption and confidence to the people as more EV offerings become available into the market. This echoes our country's commitment of abating climate change effects and significantly reducing carbon emissions in our dear country and state.
"We want Sarawak to lead the way in this respect as we are in the prime condition to do so and in preserving our environment. We are part of the solution and we implore agencies to set an example and be a part of our very own electric mobility adoption efforts," he said at the launch of the 'EV-fy Adoption' event earlier this yeart.
Abdul Aziz said it was 'very progressive and welcoming' for organisations such as Pekema Sarawak to ally themselves with SEDC Energy in pursuing green mobility by way of developing the EV market in Sarawak.
"We hope to see the Sarawak state (government) invest in green mobility solutions and we can see this in the investments towards developing the public transport systems to fuel cell EVs.
"We hope the government would also incentivise energy efficient vehicles to promote resilient infrastructure that prioritise green-based solutions, particularly the EV charging infrastructure across the state, either for Battery Electric Vehicles (BEVs) or Fuel Cell Electric Vehicles (FCEVs)," he said.
"No doubt the cost may be high now, but as the demand grows and more car manufacturers shift the production to EVs, BEVs or FCEVs alike, the cost would lower over time," he said.
He added that SEDC Energy was also procuring hydrogen fuel-cell vehicles.
Clean energy solutions provider Gentari Sdn Bhd (Gentari) had also recently signed two Strategic Collaboration Agreements (SCAs) with Sarawak Energy and SEDC Energy to explore potential opportunities on developing and deploying clean energy solutions in Sarawak.
The collaboration between Gentari, Saraway Energy and SEDC also include establishing a comprehensive and wide-ranging EV charging network in Sarawak – an initiative that will be vital for promoting green mobility solutions and encouraging the shift towards low carbon transportation in the state.
With Sarawak Energy's generation mix predominantly based on renewable hydropower, the state is well positioned to enhance and diversify its energy sources, as well as to further decarbonise the transportation sector.
"This collaboration reflects our commitment to driving Sarawak's energy transition and decarbonisation initiatives, while reinforcing our position as a regional leader in the renewable energy sector.
"This partnership is a significant step towards realising our vision of achieving sustainable growth and prosperity for our communities in Sarawak, while safeguarding the environment," Sarawak Energy chief executive officer Datu Sharbini Suhaili following the signing of the SCAs between the three companies.
SEDC Energy chief executive officer Robert Hardin said such collaboration enables the company to advance the implementation of sustainable energy solutions in Sarawak as it plays an active role in the state's transition to cleaner energy sources and reduced carbon emissions.
He said the partnership encompasses a comprehensive approach to meet Sarawak's clean energy requirements.
"By harnessing each other's expertise to apply integrated solutions, our objective is clear on contributing to a greener and more resilient energy future for the state.
"Additionally, our focus on the clean hydrogen sector aims to position Sarawak as a regional frontrunner in clean energy," Robert added.
To ensure the full success of the strategic collaboration, Gentari said it will work closely with the Sarawak government and other stakeholders in a public-private coordination framework.
With this, the parties aim to comprehensively enhance communications, foster greater synergy, and streamline efforts towards achieving Sarawak's clean energy goals, and making greater progress to create a sustainable future for the state.
Source: Borneo Post