Sarawak now a high-income state, says World Bank lead economist
06 Jul 2023
Sarawak has now reached the ranks of a high-income state, according to latest data from the World Bank.
According to World Bank lead economist Apurva Sanghi, Sarawak qualifies as a high income state as it has a gross national income (GNI) per capita of more than US$13,205 (RM61,442).
"We (World Bank) just released our latest high-income data. 83/218 countries are now high income. Newest entrants: Guyana and American Samoa," he said in his tweet on Twitter.
"While Malaysia's quest to join the high-income club continues, there is one nice surprise: Sarawak is now a high-income state!"
According to figures also shared by Apurva in his tweet, Sarawak now joins the ranks of Penang and federal territories, Labuan and Kuala Lumpur.
Apurva noted that the state level GDP data are obtained from the Department of Statistics Malaysia and converted to US dollar applying the World Bank Atlas method, divided by the mid year population.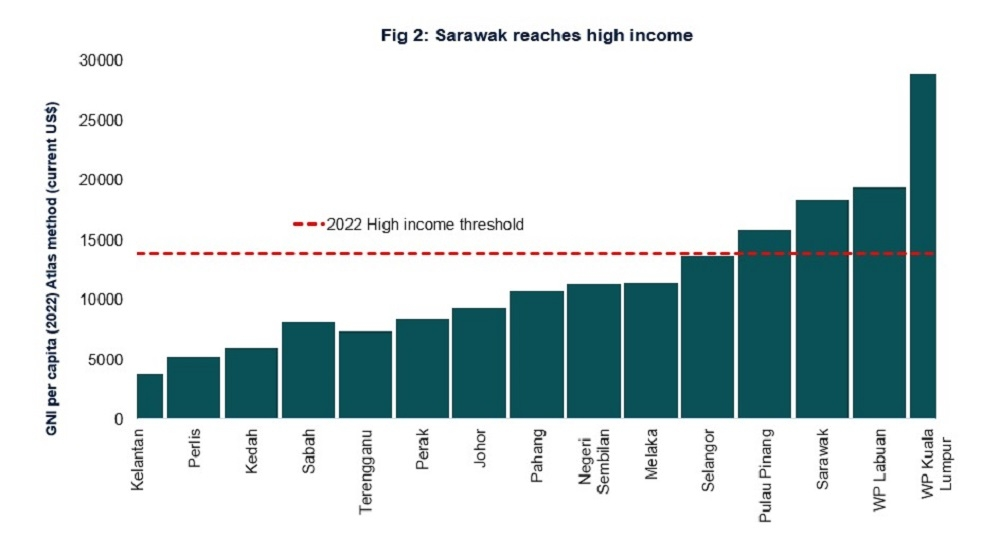 A chart showing the income of each state as shared by World Bank lead economist Apurva Sanghi. — Picture via Twitter/Apurva Sanghi
According to its website, the World Bank says it assigns economies to four income groups: low, lower-middle, upper-middle, and high income.
Its latest income classifications have low income at under US$1,085, lower middle income at between US$1,089 and US$4,255, upper middle income at between US$4,256 and US$13,205, while high income is more than US$13,205.
The classifications are updated each year on July 1 and are based on the GNI per capita, measured in US dollar, of the previous year.
The World Bank's income classification aims to reflect a country's level of development, drawing on Atlas GNI per capita as a broadly available indicator of economic capacity.
The classification tables include World Bank member countries, along with all other economies with populations greater than 30,000.
Source: Borneo Post