Revitalising Cyberjaya into a global tech hub
27 Dec 2021
As Malaysia's pioneer technology hub, Cyberjaya needs little introduction. In the 24 years since its inception, the city has emerged as the capital of Malaysia's tech community and is a sought-after address for established tech names and ambitious start-ups. Over the past two decades, Cyberjaya has played a leading role in advancing information technology and tech adoption in Malaysia — driving the rise in the number of small and medium enterprises (SMEs) in tech as well as catalysing an exciting start-up scene.
But that is not the end of the story. Cyberview Sdn Bhd, a government-owned company mandated to drive investments into Cyberjaya, recently unveiled a new master plan that is poised to attract some of the best-in-class tech players to this smart city, thus positioning its transformation into a vibrant and exciting global tech hub.
"The master plan focuses on emerging technologies such as robotics, big data analytics, cloud computing and artificial intelligence, and specifically, the applications of these technologies in the areas of smart mobility, smart healthcare and digital creative," says Cyberview managing director Najib Ibrahim.
These three tech clusters, which were identified in collaboration with global consulting firm Roland Berger, are areas with development potential, possess strong relevance in Malaysia and sync with Cyberjaya's value propositions. "The aim of this plan is to create entire value chains comprising leading industry players, local SMEs and start-ups, all coming together and working in a collaborative environment. So, to that end, the master plan is positioning Cyberjaya as the preferred tech investment location.
"Technology today is not only ubiquitous but also evolving and growing at a pace never seen before. At the same time, the developments under this master plan have, at the foundation, a measured approach with multiple factors considered, such as the provision of infrastructure for performance, sustainability and efficiency, getting facility partners on board, as well as attracting key foreign direct investments (FDIs) and leading industry players," he says.
Jones Lang Wootton executive director Malathi Thevendran sees Cyberjaya's repositioning into a global tech hub as strategic. "Over time, many commercial and mixed-use developments have been accorded Multimedia Super Corridor or MSC Cybercentre status, enjoying similar benefits to Cyberjaya," she says, pointing to addresses such as Bangsar South, KL Sentral, Mid Valley City and KL Eco City. Thus, Cyberjaya's transformation into a global tech hub and its holistic and comprehensive tech ecosystem will nurture start-ups with fresh ideas and support established companies on the expansion path in a way that these other addresses will not be able to.
Roland Berger managing director John Low concurs. "If you look at other hubs, many want to be an innovation hub, for example Bangsar South, which is in an MSC zone. You can enjoy MSC incentives there but what else is there? It's just a collection of companies in a normal office space. There is nothing in Malaysia like what is being offered at Cyberjaya. It is a regional and global play," he says, adding that much thought has been invested in curating the space and facilities for target companies.
Roadmap to realise the vision
Detailing the master plan, Low says the development road map for each of the three tech clusters establishes how they are to be created, the facilities needed, the players targeted, the ecosystem to be built as well as how these clusters leverage what is already existing in Cyberjaya and the country. "To realise this vision, we need to have the right infrastructure and the right environment, and also the right technologically-enabled businesses for them to function. We look at the society and people who work and live there as well as those who don't but do interact with the activities of these industries.
"At the same time, we also need to understand what are the relevant technology areas that could help transverse across these three tech clusters, and this means developing areas like big data analytics, cloud computing, information security and artificial intelligence, which we need in order for the tech clusters to function well," he says.
With the three technology clusters in hand, Roland Berger conducted a market scan and from this, a list of prioritised emerging services were identified. "In the case of the smart mobility cluster for example, we looked at the entire mobility ecosystem — the pain points existing globally involving consumer behaviour and disruptive trends — and from here, identified the emerging smart services. We came up with a long list and then prioritised it based on the global outlook for these segments, service viability and looked at it locally in terms of demand or relevancy to Malaysia, potential adoption readiness, regional demand and competitiveness," Low says, adding that the prioritised emerging services for the smart mobility cluster include on-demand mobility, autonomous vehicles (AV), transport management and aerial mobility. This process was replicated across all three tech clusters.
Specific areas within the prioritised emerging services were also identified. "When looking at AV for example, we specified that we were not looking at manufacturing AVs, but instead ADAS (advanced driver-assistance systems) or AV features, software and connectivity, and Level 4 and 5 automation. So, you don't need to try and do everything within AV but focus on some. The idea is to be very specific and very targeted, and make the hub a success from these specialised focus areas.
"We also looked at the entire value chain mapping. With AVs, we evaluated the entire value chain to identify the areas that may do well in Malaysia, with good value-add and easier-to-target potential companies as well as what is required for us to venture into these areas. This evaluation was undertaken to see if there was a role for Cyberjaya to play in that sector or area," Low says, pointing out that some segments of the AV industry, for instance, are already matured. "In segments where China, Europe or the US are already very competitive, we did not see the need for us to compete in that space as well," he says, pointing out that benchmarking Cyberjaya's selling propositions against global tech hubs was a vital part in coming up with the revitalised master plan.
"We looked at mobility hubs around the world — checking out what they were doing, the areas they are focusing on and the players there — because we want to be different from all the other mobility hubs in the world," Low says, citing the MIRA Technology Park in the UK, the American Center for Mobility in the US, K-City Autonomous Driving Testing Zone in South Korea and Shanghai International Auto City as examples of mobility hubs selected for benchmarking.
Building the ecosystem
Crucial to the success of Cyberjaya as a global tech hub is its ecosystem. This, says Low, includes the facilities supporting or enabling the various prioritised emerging services such as the drone flying facilities, experiential mobility facility, health simulator, healthcare exhibition, video game exhibition, e-sports facility, VR/AR (virtual reality/augmented reality) theme park and events plaza. In addition, collaboration centres will also be developed. Not unlike research and development facilities, the collaboration centres — that take the form of testing facility, audio facility, post-production facility, training centre, mobility open lab and production studio — will be the spaces where innovation takes place. However, these components will constantly be reviewed to include potential revision for suitability and to fit current demands.
The development will have to be built from scratch, and given the 25-year time frame to develop the South Innovation Zone, much of these will have to come on stream over the coming decade, says Low.
The first iteration of the facilities that prospective investors can expect at the South Innovation Zone is already available with the completion of the 7km testing loop for autonomous vehicles that has clocked more than 400 testing hours to date. The myAV testing loop follows on the heels of the drone testing zone unveiled in 2019.
Completing the facilities yet to come at Cyberjaya are the fundamental spaces such as a hybrid R&D office, Grade A offices, bespoke offices, a wellness facility and a vehicle certification centre.
Cyberview's Najib stresses that more than tech companies and data centres, at the heart of Cyberjaya is a population of creators and innovators — forming a significant group of early tech adopters. "While we can put in place ecosystem components to support the piloting of tech solutions, the right population is needed to complete the equation," he says.
It is this "living lab" feature of Cyberjaya that makes it a unique proposition for prospective investors. For most tech companies, when they come up with a prototype, the tests are often conducted in a controlled lab environment. With the living lab concept, Cyberjaya itself serves as the test bed for new innovations. Some of these living lab initiatives have already been rolled out. In 2019, Cyberview partnered with DiGi Telecommunications Sdn Bhd and opened the 5G OpenLab at RekaScape in Cyberjaya. The 5G OpenLab offered innovators and academics the opportunity to trial test cases and prototypes that will benefit from 5G's super high-speed, massive bandwidth and ultra-low latency connectivity in a live, controlled environment.
The lab successfully tested 27 use cases while in operations and as Malaysia anticipates the commercial roll-out of 5G, Cyberjaya will be one of three locations to first have the 5G experience.
"The Cyberview Living Lab Accelerator (CLLA) programme is another example, which serves as a launch pad for start-ups to accelerate their growth, enabling them to test, pilot and validate their solutions using real-life settings throughout Cyberjaya. Start-ups are offered rent-free workspace at Colnnov8, a smart city collaborative space sponsored by Cyberview, throughout the programme. They receive industry mentoring and value-added services worth over RM100,000 as well as opportunities to trial their ideas with Cyberview and Cyberjaya stakeholders," says Najib, adding that to date, the programme has successfully nurtured 85 start-ups and raised over RM158 million in total investments.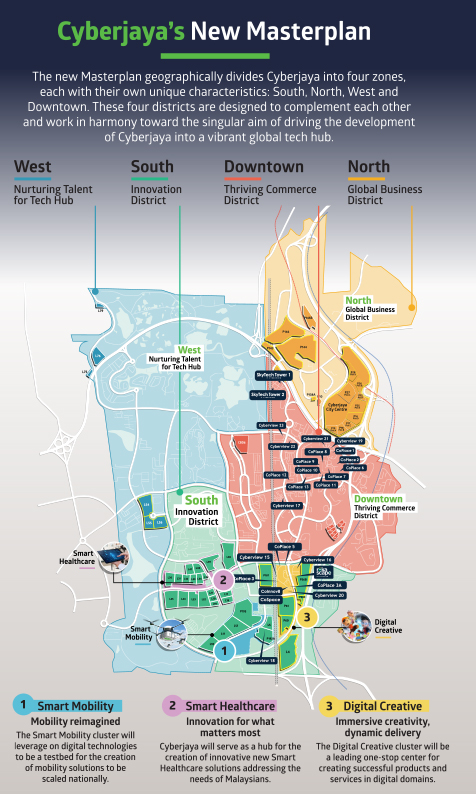 Some of the notable start-ups include The Lorry, a logistics company offering cargo transport services, which has since expanded to Singapore, Thailand and Indonesia. It was also recently awarded the Innovation for Transport Award by Petronas for Truck of the Year. Moovby — the largest car-sharing platform in Malaysia — and Govicle Sdn Bhd (formerly known as JomParkir), a homegrown company that is leading the digitalisation of the parking industry in Malaysia, also had their start in the CLLA programme.
To ensure the start-ups remain competitive and highly resilient, the programme also offers access to foreign markets. One example, he says, is the opportunity afforded to alumni to work with venture capital firms and counterparts in Pivot City in Geelong, Australia, an initiative that began in 2018.
The ecosystem at Cyberjaya, Najib adds, is also augmented by the technology foundation that has been built over the past two decades. "We are home to a host of tech powerhouses, from multinational corporations to homegrown start-ups that include Dell, DHL, Hematogenix, Aerodyne, Monsta and IX Telecom, to name a few. The collaborative innovation ecosystem within Cyberjaya plays a big part in supporting and augmenting future tech innovations in Malaysia. It also provides businesses the opportunity for growth," he says, adding that companies can network and connect with relevant industry experts as well as access both domestic and international markets through private and public initiatives with the support of Cyberview.
Talent and more
Najib says Cyberjaya also produces high-skilled local and global talent — thanks to the seven universities and colleges around the city — to meet the demands of key industries. The city is currently home to more than 40,000 knowledge workers and 28,000 students, forming a pool of skilled, diverse and vibrant talent in technology and innovation.
He adds that Cyberview is also cognisant that given the accelerated digitisation, there is an increase in demand for advanced digital skills. "Finding and acquiring talent with the right digital skills becomes more complex than before," he says, adding that Cyberview works with organisations such as TalentCorp and Malaysia Digital Economy Corporation to help nurture and transform Malaysian youth to become digital innovators.
The memorandum of understanding between Cyberview and TalentCorp, for example, aims to improve graduate marketability through greater academia and industry collaboration with the objective of preparing graduates to meet industry needs, as well as minimising private investments in talent reskilling and upskilling. The Structured Internship Programme (SIP) is among a string of initiatives resulting from Cyberview's collaboration with TalentCorp. Under the SIP, eligible companies will benefit from a double tax deduction incentive and are also given access to a database of available talent, enabling them to directly source for internship candidates through a quicker and more efficient process.
In addition, the Digital Maker Hub welcomes young students to embrace STEM (science, technology, engineering and mathematics) by increasing their science literacy, focusing on the areas of critical thinking and complex problem-solving.
Prospective start-ups and established tech companies looking to relocate to Cyberjaya will also find the incentives offered appealing. These include tax exemption of up to 100% for 10 years, capital allowances, double deductions and funding, as well as competitive R&D. Companies also enjoy exemptions from restrictions imposed by local regulatory bodies. The National Regulatory Sandbox (NRS) administered by Cyberview's subsidiary Futurise, for instance, is an initiative that aims to expedite regulatory intervention to enable the commercialisation of innovation and tech solutions in Malaysia.
According to Najib, Cyberview has also made it a top priority to ensure the sustainability of businesses in Cyberjaya, particularly since the onset of the Covid-19 pandemic. Among the initiatives rolled out are the Cyberview Rent Relief Incentive introduced in April 2020 — offering affected businesses rent relief of up to six months — which has benefitted 102 companies (amounting to a total value of about RM2.4 million in business relief in the form of rental moratorium and discounts).
Through a partnership with the Malaysian Investment Development Authority, 11 fiscal incentives have also been made available for businesses, including tax savings. These incentives, he adds, have the potential to drive growth of a receiving company that indirectly translates into more job creation and opportunities as the economy restarts. "Among the incentives available for companies in Cyberjaya is the Domestic Investment Strategic Fund, that will assist local companies currently facing challenges in their operations due to global supply chain disruptions resulting from the Covid-19 pandemic."
More than a property play, but there are obvious advantages
Although the revitalisation of Cyberjaya's master plan is touted as more than just a property play, from a property investment perspective there is a lot to like here. Jones Lang Wootton's Malathi points out that Cyberjaya offers opportunities for companies to grow, be it small spaces such as a co-working space, innovation centre or incubator to a typical office space. "And if the companies continue to grow, there are land parcels available to further support the companies, whether to set up their headquarters or testing areas," she says.
According to Najib, Cyberjaya has an advantage in that it is the only township in Malaysia with enterprise land — a classification enabling developments to be built at lower cost. "This provides opportunities for developers, especially smaller ones, to get themselves established before moving to bigger spaces. This special land option enables Cyberjaya to offer a wide selection of office spaces at affordable rates, compared to locations that are closer to or within the Kuala Lumpur city centre," he says, adding that with the new Cyberjaya master plan, further revisions were made to plots located in the South Innovation Zone.
"A lower plot ratio and corresponding affordability will increase the attractiveness of these assets to targeted tech players, primarily those in R&D," he says, adding that from the total development land in Cyberjaya, 1,063 acres or 29% are still available for future development, and of those, 276 acres are earmarked for development in the next 10 years. "These plots of land are mostly categorised as enterprise land, with a small percentage of commercial plots included."
The ongoing development of the Cyberjaya City Centre (CCC) in the North Zone is another draw. "The land surrounding the CCC will inevitably encourage healthy commercial, retail and enterprise activities. It will be boosted by the completion of the mass rapid transit (MRT) station in 2023," says Najib, adding that the area is primed to be a transit-oriented development, with multiple major projects underway within the locality.
While the work is currently underway to prepare the building blocks and market the South Innovation Zone to prospective investors, those behind the scenes are eager for Cyberjaya to take its place as a global tech hub. Once realised, Low envisions Cyberjaya as a "really happening place where innovation takes place and not only that — it is created, developed and tested in the community and launched commercially". It will be a city of the future, he says, teeming with a young and creative workforce.
Source: The Edge Markets