Register now at MIDA i-Services Portal
11 Dec 2018
Site links investors and companies interested in sourcing for domestic services with local providers
THE i-Services Portal developed by the Malaysian In vestment Development Authority (MIDA) is expected to help reduce the deficit in the country's services trade current account, which stood at RM22.8 billion last year.
A deficit in services trade refers to Malaysia importing more services than it exports, which represents an outflow of domestic currency to foreign markets.
According to the Department of Statisics Malaysia data, Malaysia's major sources of services exports were travel, especially personal travel, and other business services such as research and development, professional services, management consultancy, technical, trade-related and other business services.
Services imports are mainly derived from higher payments for travel, transport and construction.
Although exports of services have been on the rise since 2010, corresponding imports have accelerated even faster with a value of RM77.1 billion. This has reulted in the widening of a deficit in the services trade current account.
The Malaysian Institute of Economic Research, in its Malaysian Economic Outlook 2018, expects that the trend will continue to persist this year, owing to high dependency on foreign services, particularly for freights and hauling.
"As the principal investment promotion agency of the country, MIDA continues to undertake efforts to address this issue, particularly by leveraging the service providers, which make up 89 per cent of business establishments in Malaysia," said MIDA chief executive officer Datuk Azman Mahmud.
The i-Services Portal was launched on October 30 during the National Investment Seminar 2018 by International Trade and Industry Minister Datuk Darell Leiking.
Azman said local service providers are encouraged to register on the portal to showcase their companies' profiles and business offerings to potential clients.
The i-Services Portal is a single market place to link investors and companies interested to source for domestic services with local service providers.
"The portal serves to assist investors looking for local service providers, as well as to promote and encourage the utilisation of local service providers for investment projects. This also aims to facilitate linkage programmes by MIDA or other agencies," said Azman.
The i-Services Portal, accessible via http://iservices.mida.gov.my, offers a wide range of services, including accounting, architectural, banking, construction and related services, distribution and logistics, engineering, education, environmental protection, information and communication technology, insurance, legal, oil and gas, other professional and technical services, real estate and other services.
"By registering on this portal, local service providers can expand their markets and boost business activities in today's globalised and rapidly-changing business environment," he said.
Meanwhile, all foreign and local industry players or business owners as well as anyone seeking to utilise local services are urged to log on to he portal to explore the database on local suppliers available according to their category of services.
This is a gateway to source for local services, which more often than not, leads to a cost-efficient way of doing business.
"The launching of i-Services Portal underscores MIDA's continuous efforts to reinforce the services sector as the main engine of growth for the nation and the government's unwavering commitment to reduce the services trade deficit in the country," said Azman.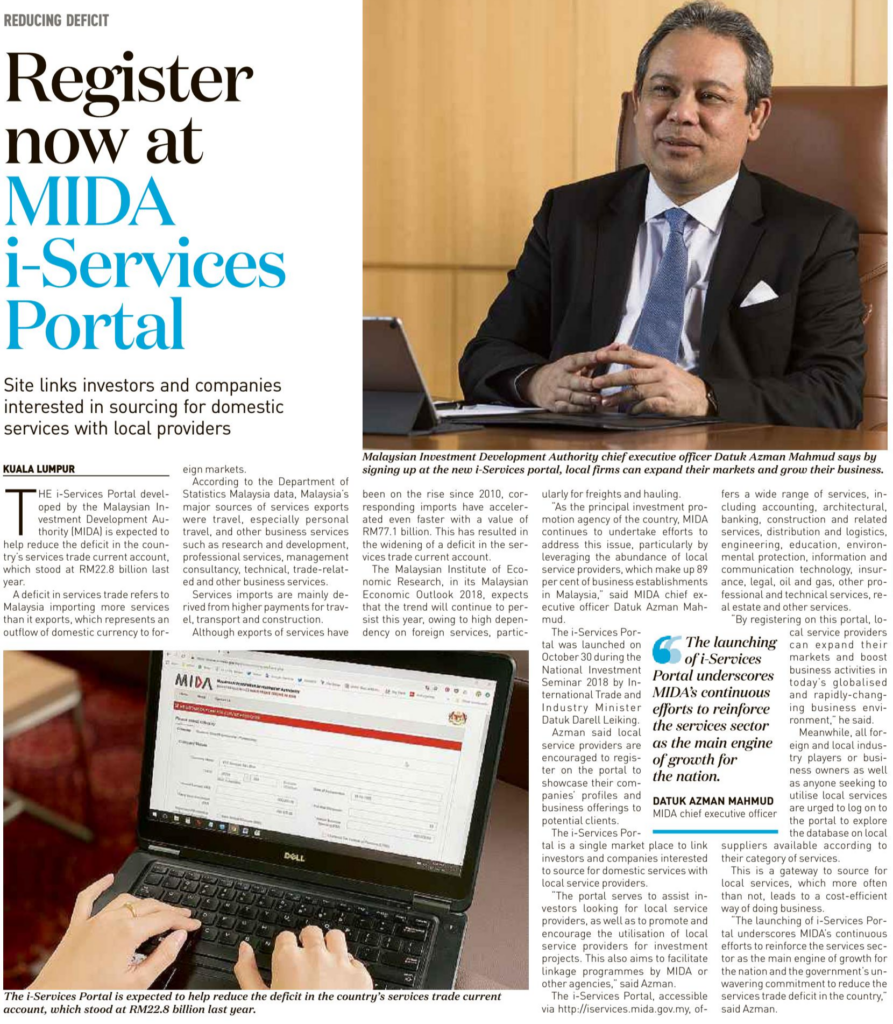 Source: NST