Overview of five priority sectors
14 Sep 2023
The New Industrial Master Plan 2030 outlines 21 sectors that the government is eyeing for further development, with the aim of creating 3.3 million high-value jobs by 2030 to improve the rakyat's quality of life.
Of these sectors, five are deemed "priority", namely aerospace, chemical, electrical and electronics (E&E), pharmaceutical and medical devices. Here is a quick look at these sectors and their significance to the national road map for the second industrialisation take-off.
Aerospace
The aerospace sector has been riding the positive spillover effect from the post-Covid-19 recovery as aircraft makers like Boeing and Airbus restore their production rates.
According to the Malaysian Investment Development Authority (Mida), there are about 230 companies in the country's aerospace sector, mainly involved in maintenance, repair and overhaul (MRO); aero manufacturing; education and training; systems integration; and engineering and design activities.
Local companies that are already part of the global supply chain include UMW Aerospace Sdn Bhd, SME Aerospace Sdn Bhd, CTRM Aero Composite Sdn Bhd, Asia AeroTechnic Sdn Bhd and Airod Sdn Bhd. CTRM is wholly owned by DRB-Hicom Bhd.
There are also supporting companies such as IAC Manufacturing, Asahi Aero Malaysia Sdn Bhd, Micron Concept Aerostructures Sdn Bhd and Morrissey Integrated Dynamics Sdn Bhd, which is wholly owned by JHM Consolidation Bhd.
It is worth noting that half of the wing parts for Boeing B737 are manufactured by Aerospace Composites Malaysia Sdn Bhd in Kedah and 60% of the wing parts for Airbus A320 are produced by CTRM in Melaka, according to Mida.
UMW Aerospace, which is wholly owned by UMW Holding Bhd, is a Tier-1 supplier for Rolls-Royce in the manufacturing of aircraft parts in the region. The company rolled out its maiden fan case for Rolls-Royce Trent 1000 engines in November 2017. Engine fan casing is one of the largest and most complex parts of the engine to manufacture.
UMW Aerospace has a 25+5-year contract with Rolls-Royce plc and the production of these fan cases is expected to have a spillover effect on the aerospace ecosystem as it will further develop the supply chain.
Malaysia also has more than 30 institutions offering aviation-related courses. To support a skilled workforce for aerospace requirements, local training institutions have embarked on several aerospace-related training activities. These include the Advanced Composite Training Centre (ACTC) at UniKL — Malaysia Institute of Aviation Technology, Malaysian Aviation Training Academy, Advanced Aeronautics Technology Centre and Aero Precision Resources.
Apart from human capital development efforts, Malaysia also offers a comprehensive infrastructure for the industry, with several aerospace parks such as Subang Aerotech Park, KLIA Aeropolis, UMW High-Value Manufacturing Park, Senai Airport Aviation Park, Nusajaya Tech Park and Kulim Hi-Tech Park that provide a choice of ready-built facilities or plots of land for customised developments.
Chemical
The government launched the Chemical Industry Roadmap 2030 (CIR2030) last month. It mentioned that the industry contributes 6% to the nation's gross domestic product (GDP) and employs 292,969 workers, or 12.5% of the total manufacturing employment of 2.6 million.
Broadly speaking, the industry can be divided into three categories — organic chemicals, inorganic chemicals and bio-based feedstock. Each category has a value chain that extends from base chemicals (such as methanol, ethylene and benzene) to speciality chemicals (such as care chemicals and nutrition chemicals), going directly into downstream consumption in areas that include personal care, automotive and electronic industries.
According to CIR2030, Malaysia has a sizeable chemical industry, with more than 100 companies producing a wide range of chemical products. However, the country's current chemical production is primarily driven by base chemicals and intermediates, which are typically lower value add.
Hence, Putrajaya hopes to expand beyond the current focus on commodity products as industry players develop more complex, speciality downstream chemicals.
According to Mida, the inorganic chemicals sector covers the production of chlor-alkali, acids and some speciality chemicals such as silicates, oxides, hydroxides, acids, electronic chemicals and catalysts. Major players in this sector include CCM Chemicals Sdn Bhd, Taiko Group, Malay-Sino Chemical Industries Sdn Bhd, South Pacific Chemical Industries Sdn Bhd, Nylex, ACME Chemicals (M) Sdn Bhd and BASF.
E&E
While Malaysia is relatively strong in the midstream semiconductor value chain of assembly, testing and packaging, most activities are still mainly driven by multinational corporations, with some participation from local companies, according to the E&E Roadmap 2021-2030.
Local participation in upstream development, for example, in materials, fabrication and integrated circuit design as well as downstream development in components, modules and final products are insufficient despite significant efforts made since the 1970s to foster industry development.
Meanwhile, the global industry remains a highly competitive space with major players dominating the market, while fast-paced technology cycles create strong cyclicality that favours the larger players.
The local E&E sector, which contributes about 6.3% to Malaysia's GDP, can be classified into four subsectors, namely electronic components, consumer electronics, industrial electronics and electrical products.
The E&E Roadmap 2021-2030 also highlights that the country's R&D in the semiconductor ecosystem has been relatively ineffective because despite more than 40 years of industry history and several initiatives being launched, limited mass scale success has been achieved.
Malaysia also has modest commercialisation of R&D-related work that focuses on fundamental research, with the majority of industry talents engaged in production or process improvement activities rather than core R&D.
Malaysia largely has inadequate utilisation of facilities at public sector R&D bodies, hence the road map serves to provide the government's policy direction and action plan with the aim of increasing the value add of the local industry by more than 40% to further accelerate the industry's growth by 2030.
Pharmaceutical
Locally manufactured pharmaceutical products include new drug products, biologics, generics like prescription and over-the-counter (OTC) products, health and food supplements, traditional and complementary medicines (TCM) and veterinary products. Many Malaysian manufacturers in the pharmaceutical industry are carrying out contract manufacturing for multinational corporations (MNCs), according to Mida.
Malaysian pharmaceutical manufacturers have the capabilities to produce most forms of dosage, including sterile preparations, injections and soft gelatine capsules.
Oncogen Pharma is among the notable players in this sector. It chose Malaysia to set up the first Oncology Active Pharmaceutical Ingredient (API) R&D Centre in Asean, due to the country's strategic importance in the region, ease of operations, quality of infrastructure and a talented pool of upcoming young scientists.
Oncogen has also completed its Formulation Research and Development Centre at the Hicom Glenmarie Industrial Park in Selangor and established its manufacturing facility at Techpark@Enstek in Negeri Sembilan.
Medical devices
The Malaysian medical devices industry has been capable of producing higher value-added and technologically advanced products such as cardiac pacemakers, stents, orthopaedic implantable devices and electro-medical, therapeutic and monitoring devices, according to Mida.
The country is home to more than 200 manufacturers, half of which are involved in the production of medical gloves.
Meanwhile, more than 30 MNCs producing higher value-added medical devices have made Malaysia their offshore location for manufacturing operations. They include Abbott, B. Braun, Boston Scientific, BD, Tecomet, Teleflex, Resmed, Ciba Vision, Ambu, Toshiba Medical Systems and Haemonetics.
Mida says the second and third tiers of manufacturers for the parts and components of medical devices have increased opportunities for local vendors to be integrated into the global supply chain of this industry.
It is worth noting that Penang, apart from its thriving E&E industry, is also a medical device manufacturing hub among world-class manufacturers. Malaysia is seen as a leading medical device manufacturing hub in the east, competing against the likes of mature hubs such as Puerto Rico, Costa Rica and Ireland.
Devices manufactured in Penang tend to be at the higher end of the value scale, such as cardiovascular products or orthopaedic implants and tools.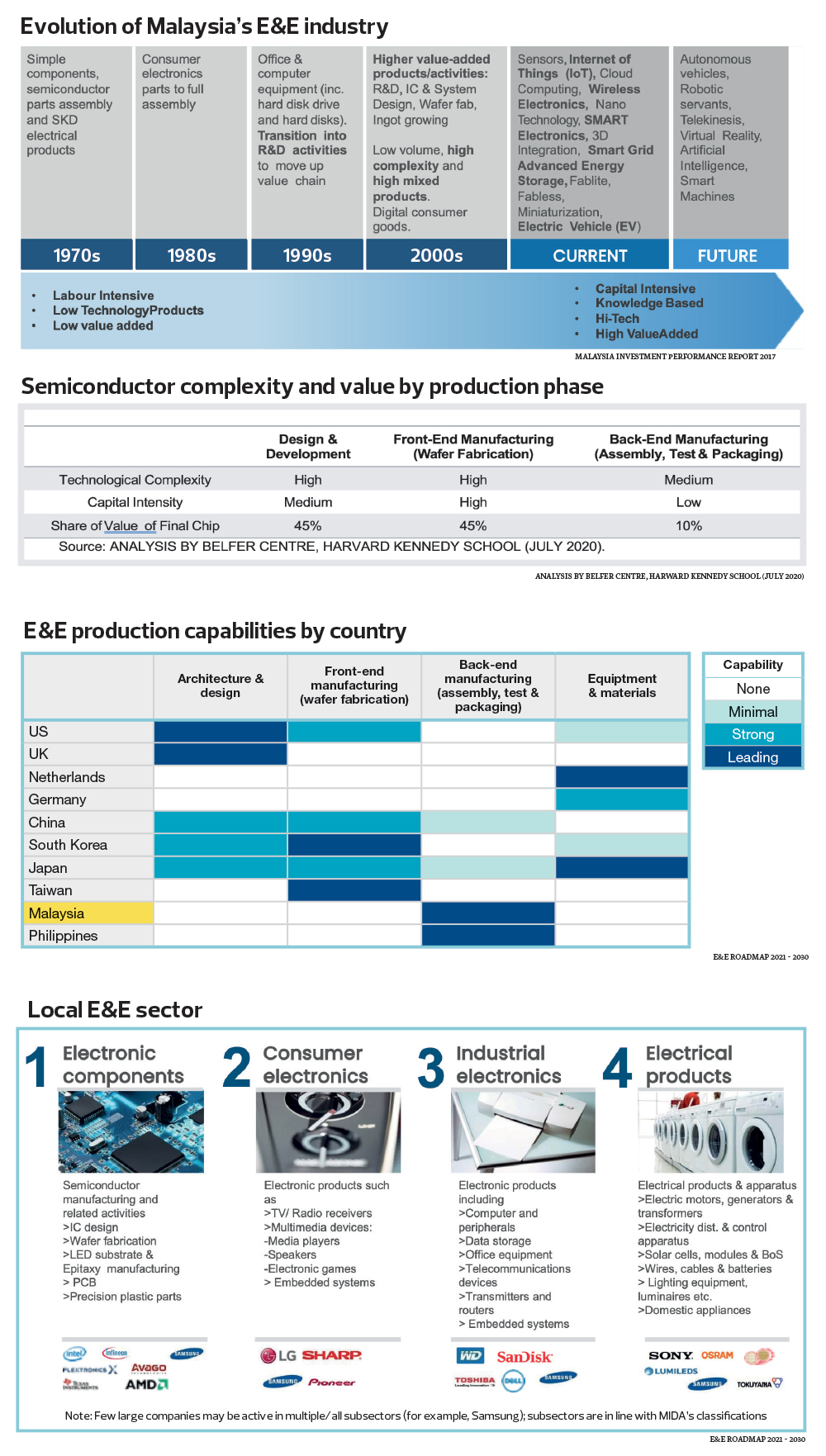 Source: The Edge Malaysia