NIMP 2030 is the 'key to the future'
02 Sep 2023
High-value job opportunities are among the focuses of the newly launched New Industrial Master Plan (NIMP) 2030 as Putrajaya seeks to expand the middle class, says Prime Minister Datuk Seri Anwar Ibrahim.
He said global trends such as the rising role of IR4.0 technology, climate change and sustainability practices, demographic shifts and the globalisation of value chains are changing the nature of jobs.
"Skills transformation is key to developing future competencies and this has been set as a focus of our industrial strategy," he said when launching the NIMP 2030 at Menara Miti here yesterday.
Anwar said the NIMP 2030 will see the implementation of a progressive wage system that promotes skill development and career advancement.
"Public-private collaborations will be enhanced in the TVET (Technical and Vocational Education Training) and STEM (Science, Technology, Engineering and Mathematics) programmes, ensuring the acquisition of skills required by the industry," he added.
Anwar said the government's Economy Madani framework and NIMP 2030 are both aligned in their focus on improving the lives of the people through projected higher returns from the national economic targets.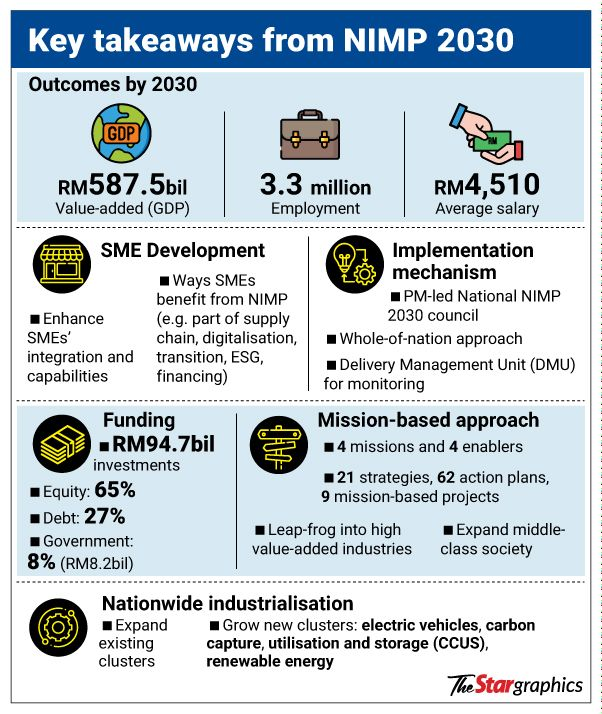 "This includes employment with meaningful wages and wealth-sharing to build a more equitable and prosperous society," he said.
Anwar also said employment will see a projected growth of 2.3% from 2023, which is set to provide employment for 3.3 million people by 2030.
"The industry's growing employment trajectory is due to the creation of high-skilled jobs as the country advances towards higher value-added activities and via improvements in automation and technological advancements," he added.
Most importantly, said Anwar, through interventions under NIMP 2030, the median salary for the manufacturing sector is expected to grow to reach RM4,510 from RM1,976, which is below the national average.
"This 128% increase from 2021 will be driven by the shift of the industry towards higher value-added activities and the high-skilled job opportunities being created," he said.
Anwar also said the NIMP 2030 will create more opportunities for local small and medium enterprises (SMEs) to grow through specific action plans. He said SMEs in manufacturing currently contribute only 8% to the GDP (gross domestic product) and 9% to exports.
"There is a lot of potential to grow our SMEs in manufacturing, in line with our Economy Madani aspiration to strengthen firms of all sizes," he said, adding that the plans to develop SMEs' capacities will enable them to be positioned higher in the global value chain.
"This, in turn, will help them scale up into mid-tier companies that could help Malaysia make more foreign exchange earnings."
Anwar also said he was made to understand that the International Trade and Industry Ministry will launch a new framework in a few weeks to build SMEs' environmental sustainable goals (ESG) capacity.
"This is important to ensure SMEs' continued participation in ESG-compliant multinational vendor ecosystems and continued access to ESG-sensitive export markets," he added.
The NIMP 2030 outlines Putrajaya's plans to transform Malaysia into a high-tech, industrialised nation.
Source: The Star