MRANTI Park Invites Investors and Innovators
30 Jan 2023
Only 15km away from Bandar Malaysia, the 686-acre MRANTI Park has no lack of suitors keen on setting up their business at Malaysia's premier technology park.
However, the Malaysian Research Accelerator for Technology and Innovation (MRANTI) is curating its tenant profile, ensuring that the community it builds will benefit from another to accelerate the commercialisation of technology and innovation.
MRANTI CEO Dzuleira Abu Bakar said the Park will be the centre of activity for collaboration, serving as a springboard for new ideas and creative solutions that can be accelerated for commercialisation.
"It is where researchers, creators and innovators are brought together to nurture ideas into industry-changing products and services. We are not just the landlord of a very prime piece of land. We want to streamline the right tenants to bring to life the concept of co-location".
"It is important to provide an innovation-centric location with a strong infrastructure through an integrated co-location concept. MRANTI Park will be a meeting point for innovators, researchers and investors. Thus, it can bring together key stakeholders and strengthen the Science, Technology and Innovation (STI) ecosystem. The combination of these factors can attract foreign and domestic direct investment that is needed to improve the STI ecosystem and at the same time develop the national economy," Dzuleira said.
Optimising Return on Ideas
MRANTI, a technology commercialisation accelerator borne from the strategic convergence of Technology Park Malaysia and Malaysian Global Innovation and Creativity Centre (MaGIC), is intended to catapult Malaysia towards becoming a high-tech nation and an innovation-driven economy.
"Our focus now is to build a complete innovation ecosystem, to overcome the issue of low commercialisation rate, strengthening core technologies and development of local talents," said Dzuleira.
In short, she said MRANTI aims to fast-track innovators and optimise Malaysia's return on ideas.
"This means we need to accelerate the creation, development, and commercialization of technology and innovation to ramp up our innovation output. Our goal is to put Malaysia on the top 20 list of the most innovative countries in the world by 2030. This will create more jobs for Malaysians and bring about higher incomes and better livelihoods for them," she said.
Dzuleira added that by building a pipeline encompassing the entire value chain, from start-ups in incubation to high-growth technology companies, Malaysia can strengthen and unlock greater value in its technology and innovation ecosystem, and increase income generation, job creation, and export earnings while putting our economy on the path of recovery.
MRANTI Park Masterplan
To achieve this, MRANTI has launched the MRANTI Park Masterplan in October 2022 to nurture Malaysia's capabilities in 4IR (The Fourth Industrial Revolution) and rapidly developing technologies from IoT (Internet of Things) systems, end-to-end intellectual property (IP) services and laboratories to contract manufacturing facilities with advanced technology.
Under this masterplan, MRANTI is targeting a Gross Development Value (GDV) of RM 20 billion, with returns from land leases valued at RM 2.8 billion. It is also expected to create 8,000 job opportunities from various technology clusters within the Park itself.
The rejuvenated technology park, powered by 'impact technology' is positioned to attract young professionals, as well as create a stable funnel for highly skilled talent. Modem infrastructure, including high-speed broadband and 5G technology; universities or research-intensive institutions; as well as incentives and funding opportunities are some of its salient features.
With a development area 10 times bigger than Kuala Lumpur Sentral, MRANTI Park is the first and currently only 5G infrastructure enabled innovation park in Malaysia to support AI related activities and development. Its secure and confined environment is purpose designed for sandbox environments and live testing of UAV (unmanned aerial vehicle).
The Park offers facilities which enable everything from ideation to prototype to commercialised product. In terms of 5G connectivity, the Park has inked MoUs with Huawei, Digital Nasional Berhad, Ericsson, Telekom Malaysia and Tenaga Nasional Berhad. The community includes Novozymes Malaysia, Securemetric Technology, Plus Xnergy Services, Sartorius Stedim Malaysia, Terra Drone Malaysia, MIT Innovation and ACGT. The Park also houses the Asia Pacific University of Technology and Innovation. David Hagerbro, Head of Ericsson Malaysia, Sri Lanka and Bangladesh, said MRANTI provides an environment with access to world-class integrated infrastructure, programmes, services, facilities and a suite of resources that can nurture the 5G ecosystem.
"Our initiatives with MRANTI are exciting because they will contribute to developing the 5G ecosystem in Malaysia. Together with MRANTI, Ericsson is leveraging its experience and technology leadership to accelerate the development of use cases to increase the uptake of 5G, as well as to support local start-ups and technopreneurs on 5G development and readiness. Ericsson will also be participating in a 5G knowledge building program through activities such as presentations and seminars," he said.
To date, MRANTI Park has attracted the interest of many technology companies, including Intervenn Biosciences, Dedikasi Aba Biosciences, BoomGrow, Spygene Laboratories, Vivantis Technologies and Reszon Diagnostics. Several international technology companies have started serious discussions with MRANTI to establish a foothold at the Park.
While MRANTI Park is in a prime location coveted by many, Dzuleira reiterated that it is not real estate play.
"We are not any ordinary landlord. We want to develop a human-centric tech ecosystem which is designed beyond the ordinary. We aspire to nurture a fun, safe and well-connected community within the Park," she said.
Proponents of ESG
It is common to associate modernity with a concrete jungle and shiny metallic machines, and that is the perception most people have of a technology park and advanced innovations.
MRANTI Park seeks to dispel this myth, as it is committed to be developed in accordance with the principles laid out by the United Nations for Sustainable Development Goals (SDGs) as well as the Environmental, Social and Governance (ESG) framework.
The park intends to serve as a viable innovation centre and technology hub based on sustainable and clean concepts and act as an inspiration and a catalyst for market-driven innovation through smart partnerships and ecosystems.
This integrated park and its open space will harmonize biodiversity between human activities and the existing unique species such as smooth-coated otters, wild boars and migratory birds. Overall, it will be a new lifestyle design for a sustainable, vibrant and inclusive working environment.
"The new provision of infrastructure and utilities with an estimated construction cost of RM500 million will oversee development based on SDG/ESG pillars and reflect global sustainable development principles. The plan will facilitate application of the cluster approach to synergise the multi-segment of tech & innovation."
"This is in line with our country's aspiration to become a carbon-neutral and zero Greenhouse Gas emission country by 2050, preserve natural forests and implement nature-based solutions to reduce the long-term impact on the environment including planting 100 million trees by 2025," said Dzuleira.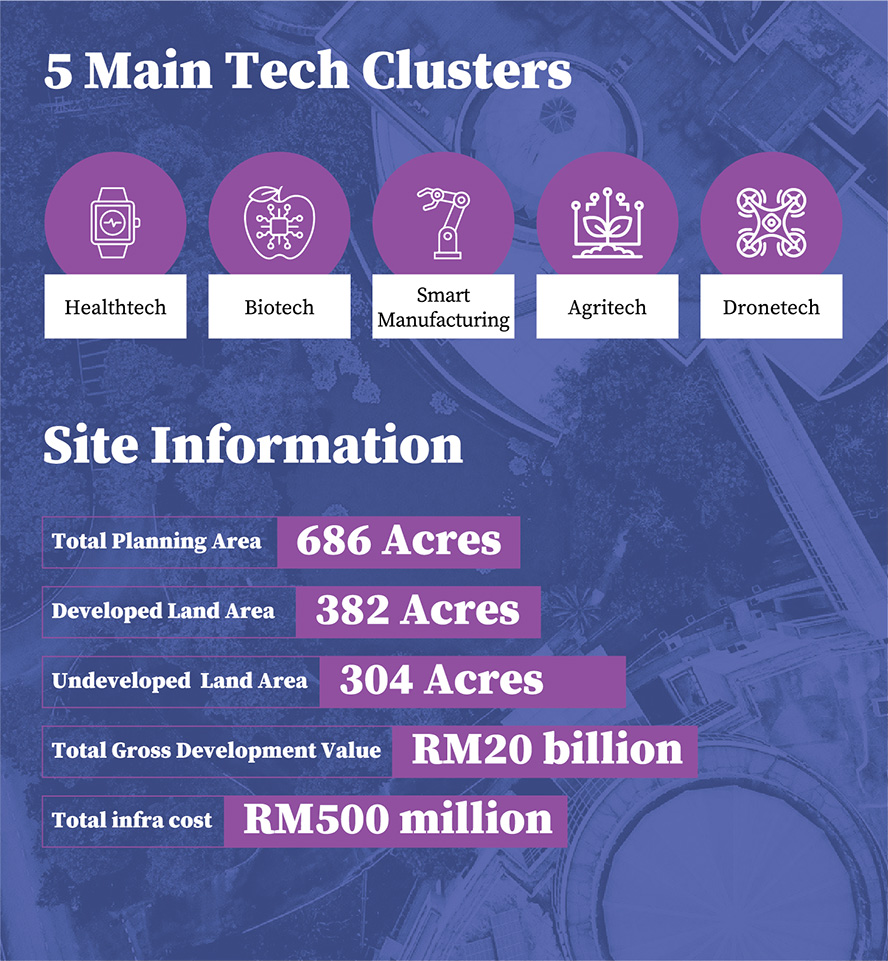 Progressive Culture
She is also a strong proponent of equal gender opportunities in the workplace, and calls for more women to get involved in the male-dominated tech industry.
"At MRANTI, we have equally nurtured a growing number of female-led start-ups such as BoomGrow, Data 8, Rich Trees Consultancy, HTM Hengtech, Arteca, Three Little Ahmads, EZplast Solution, Medieva, Gula Cakery, Optimist Technology, Zelikha Holdings, Read Genius, Dunita International, infinitech Solution, Pelangi Network and Cordoba Leadership Centre," she said.
She cited a survey by TrustRadius, where women are outnumbered three to one in tech; around one in four leadership roles at large tech companies are held by women; women in tech earn 94.6 cents for every dollar earned by a man with the same role or experience; and women tend to work in lower-level, lower-paid positions and progress in their careers less quickly than men.
"The need for more women in STI goes beyond issues of fairness and ethics. The United Nations (UN) acknowledges that equal access to and participation in STI for women is imperative for the achievement of development goals," she said.
BoomGrow CEO Dr Jay Desan said MRANTI Park will always be the organisation's "ground zero for innovation and creativity".
"Being in MRANTI Park has allowed us to build many connections within the industry. What's exciting for us next is introducing a more robust R&D facility, new farms and also several new products to the market. Beyond this, the events and seminars hosted by the MRANTI team have enabled us to reach a wider audience and translated into brand awareness," she said.
"We can't wait to see more neighbours joining us and creating a community of innovators that lift each other up!" she added.
Source: The Edge Markets