Manufacturing sector boosts labour quality
18 Feb 2022
Labour productivity in Malaysia, which is measured by value added per employment, accelerated by 1.7% in the fourth quarter last year from a 5.6% decline in the previous quarter, thanks to the manufacturing sector.
Chief statistician Datuk Seri Dr Mohd Uzir Mahidin (pic) said the growth was because production of goods and services rose faster than the employment growth rate.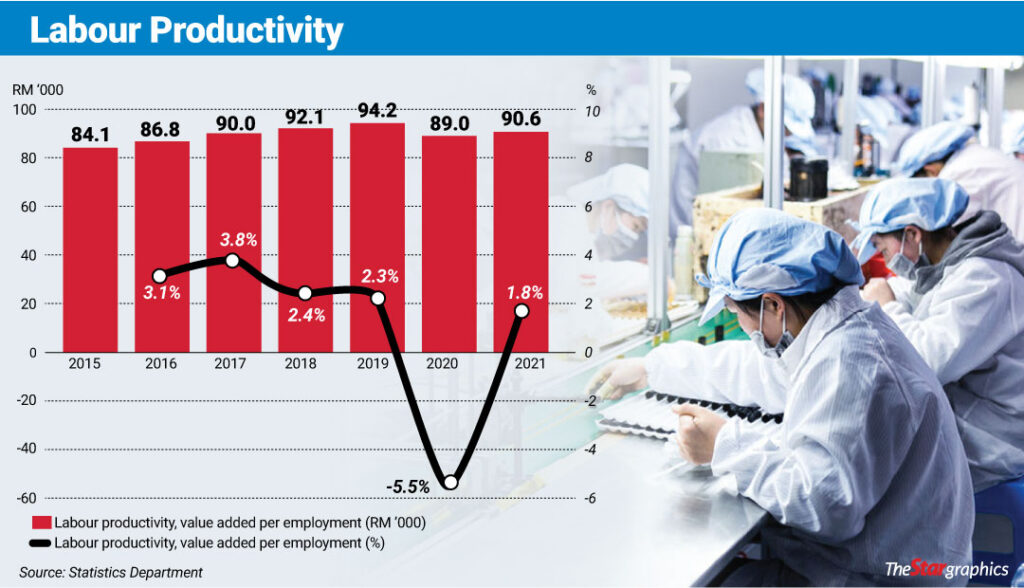 "The global economy including Malaysia is projected to be on a commendable performance throughout the year of 2022.
"To accelerate the recovery of the economy during the post-pandemic era may require rapid adoption of digital technology particularly by businesses.
"On this note, the crisis has proven that technology assists businesses to improve their communication and subsequently reaches out to a wider customer base. Moreover, it is also a great solution to enhance efficiency that will contribute to improvement in productivity," Mohd Uzir said.
Overall labour productivity in 2021 grew by 1.8% from -5.5% in 2020 while employment went up by 1.8% following the resumption of most economic activities in line with the transition to phase four of the National Recovery Plan during the period.
He noted that the value added per employment in the fourth quarter amounted to RM24,006 per person, compared to RM23,603 per person in the fourth quarter of 2020, and RM21,983 per person in the third quarter of 2021.
The manufacturing sector posted the highest growth of labour productivity by 5.3% from a contraction of 3.5% in the previous quarter with all sub-sectors recorded increases except for textiles, clothing and leather products.
Meanwhile, labour productivity for the agriculture sector went up by 2.9%as compared to negative 2.6% in Q3 2021.
"Labour productivity in the services sector grew 1% (Q3 2021: -6.2%) with the highest growth rate posted by transportation and storage (12.1%), followed by information & communication (4.9%) and utilities (4.8%)," Mohd Uzir said.
Meanwhile, the mining and quarrying and construction sectors remained sluggish in the fourth quarter 2021.
Overall, for the year of 2021, the performance of labour productivity per employment for the year 2021 rose by 1.8% to record value added per employment of RM90,647 per person, from a 5.5% decline in 2020 at RM89,022 per person.
Mohd Uzir said during the fourth quarter, longer business operation hours were observed, which translated to a higher total hours worked by 2.3% to 8.8 billion hours.
"Therefore, labour productivity as measured by value added per hour worked also posted an increase with a growth of 1.3% after decreasing marginally by 0.6% in the preceding quarter," he said.
Value added per hour worked in the fourth quarter amounted to RM42.2 per hour from RM41.7 per hour in Q4 2020, and RM40.9 per hour in Q3 2021.
Source: The Star