Malaysia's new outcome-driven mission to reindustrialise
14 Sep 2023
NINE months into the job as Minister of Investment, Trade and Industry, and having fielded questions on global trade at Davos in his previous position as finance minister, Tengku Datuk Seri Zafrul Abdul Aziz had expected to be questioned over what looked like rather feeble fiscal backing for Malaysia's New Industrial Master Plan 2030 (NIMP 2030), which is basically the nation's outcome-driven "mission-based" call to action to reindustrialise, raise economic complexity and improve economic outcomes for all.
Launched by Prime Minister and Finance Minister Datuk Seri Anwar Ibrahim on Sept 1, the NIMP 2030 involves RM94.6 billion in spending over seven years, with about 9% or RM8.2 billion of fiscal spending earmarked under development expenditure and the rest coming mostly from private sector equity (65%) and debt (26%). As it is, only about RM1.1 billion of development expenditure has been earmarked for NIMP 2030 in Budget 2024, which Anwar is set to table on Oct 13.
The NIMP 2030's headline fiscal commitment, which at a glance seems larger than the £1 billion (over 10 years) the UK government recently offered chip companies to bolster Britain's supply chain resilience, is actually smaller when one drills down to the details. It would be further dwarfed when stacked against Washington's US$280 billion CHIPS and Science Act that earmarks US$52.7 billion in subsidies and incentives, on top of US$24 billion worth of tax credits, to get semiconductor companies to manufacture chips in the US. The European Union also slated €43 billion in aid for its version of the CHIPS Act, with many other countries following suit, even as multinational corporations (MNCs) recalibrate their supply chains to take into account security considerations amid rising geopolitical tensions as well as disruptions experienced during Covid-19 pandemic lockdowns.
Zafrul plainly admits that more fiscal support would make a difference in moving the needle and Malaysia "would not have the kind of monetary or fiscal support that the US or some countries in Europe offers" when it comes to luring foreign direct investments (FDI).
"Germany even offers to build the plant for you … I asked the EU ambassador how we can compete with that? They said [we] have to understand that Germany has a cost disadvantage, not just labour costs but other costs like energy is so high that they have to compensate with other things whereas Malaysia, we know, labour cost is cheap. I'm talking about engineers here. Land cost is cheap, infrastructure cost is cheap, utility cost is cheap and we are seen as a neutral country," Zafrul tells The Edge, referring to US-China rivalry over global chip dominance.
To be sure, Germany's Infineon Technologies AG found reason to invest more money in Malaysia, which is committed to ensuring funding would not come in the way of achieving its missions.
According to Zafrul, the government will set up a NIMP 2030 Industrial Development Fund (NIDF) and a NIMP 2030 Strategic Co-Investment Fund (NIMP 2030 Co-SIF) to support the master plan's strategies, action plans and mission-based projects.
The NIDF will be government-funded to directly fund some industrial development programmes, give matching grants as well as reduce financing costs for Malaysian companies and small and medium enterprises, whereas the Co-SIF will include private sector financing to help raise funding for mission-based projects that require large investments, such as for wafer fabrication plants, according to the details in the 187-page NIMP 2030 document. Further details should follow.
"I agree it is not enough. That [RM8.2 billion] is government money but we are using capital markets and also bank money [debt]. But I agree with you, we need to do more. We need to relook at some of our incentives, which to be fair, the Ministry of Finance is looking at also now. We hope to announce during the [tabling of the] budget more progressive ones," says Zafrul, noting that the decision is up to the finance minister.
Having said that, the headline NIMP 2030 budgeted figures are not cast in stone, he adds, noting that "exceptions" have been made when it comes to incentivising catalytic strategic investments that will have positive spillover effects in the local economy and labour market.
Without divulging specifics, Zafrul, who was finance minister between March 2020 and November 2022 under the previous administration, lets on that Putrajaya had in recent years approved special non-tax incentives to bolster Malaysia's hand in securing multibillion-dollar additional investments from US-based chip giant Intel Corp in Penang as well as Germany's largest semiconductor manufacturer Infineon at the Kulim Hi-Tech Park in Kedah. Non-tax incentives would become increasingly important with the impending implementation of the global minimum tax rate of 15% on MNCs.
Intel, which has operated in Penang since 1972, is set to open its first overseas facility for advanced 3D chip packaging in Penang in 2024 as part of its US$7 billion (over 10 years) expansion commitment that includes building another chip assembly and testing facility in Kulim.
As part of its "mission 1" to "advance economic complexity", Malaysia wants to be a more integral part of the global semiconductor supply chain, positioning itself for growth from an expected increase in investments to Southeast Asia under MNCs' so-called "China + 1" strategy. These include Intel's expected increase in investments into the "fab" or foundry business, which basically means making more of its own chips rather than relying on Taiwan's global fab giant Taiwan Semiconductor Manufacturing Co (TSMC) that makes easily 60% of the world's chips.
That the US invented semiconductor chips but only makes about 10% of the world supply and none of the world's most advanced chips (made mostly in Taiwan and South Korea) were among reasons for passing the CHIPS Act amid rising US-China tensions to secure more supply of chips deemed essential to national defence and critical sectors.
Infineon — which recently announced €5 billion worth of investments in Malaysia and is building one of the world's biggest 200mm silicon carbide (SiC) power foundry in Kulim, Kedah — has been named the NIMP 2030 champion for Malaysia's mission-based project to attract new advanced wafer fabrication in Malaysia. Those reportedly backing the Kulim expansion include automakers like US' second-largest automaker Ford as well as China's largest automaker SAIC Motor as well as Chery Automobile Co Ltd.
Without divulging specifics on whether Tesla's plans in Malaysia include potential manufacturing activities, Zafrul points to the increase use of chips in vehicles and notes that semiconductors and the electrical and electronics (E&E) industry also supports the growth of electric vehicles (EV), which is part of the NIMP's mission to increase economic complexity as well as Malaysia's ESG mission of achieving net zero carbon emissions by 2050.
Asked why Malaysia had not moved up the value chain earlier, when the sector had been developing in the country for over 50 years, Zafrul notes that growing the industry "requires a lot of fiscal support" and back then, investments were flowing into the mainland after China joined the World Trade Organization in 2001.
With the realignment of the supply chain in this sector, Malaysia is well positioned to capture opportunities "because of our strategic location in the global supply chain".
"We needed the ecosystem to be in place. To be fair, it has to be a step-by-step approach [and] we could not fight [with China]. So now, there is a chance for this sector," he adds, noting that a lot of investments have gone into oil and gas, chemicals and petrochemicals.
"If you look at Kerteh, Gebeng, Pengerang … how much investment has been put in? We didn't put much into E&E [over the years]. It was really private sector driven and there is so much the private sector can do without the government push. But officially, there is still a need to push hard."
It is worth noting that Zafrul points to the EV sector when asked to list low-hanging fruit. "On the EV side, we want to do local manufacturing … there are actually many opportunities that we can do, the spillovers are quite positive … motorcycles, there are a few [things]. You will be surprised … I don't want [just] assembly but [for them] to build from scratch. One company I visited that does a battery energy storage system (BESS) in Malaysia is now building it in a Tesla plant in the US. It's a Malaysian company," says Zafrul, referring to Citaglobal Genetec BESS Sdn Bhd, a 50:50 venture between Citaglobal Bhd and Genetec Technology Bhd that in April unveiled the country's first locally developed and produced battery storage system when showcasing its 1mw BESS prototype (MYBESS).
What about other deliverables within three years? Zafrul notes that quarterly reporting, with dashboards and clearly defined metrics, will be done by the Delivery Management Unit (DMU) under the Ministry of Investment, Trade and Industry (Miti) to ensure that Malaysia remains on track in achieving its missions. A mid-term review of the NIMP 2030 will also be done in 2026 to ensure that the country remains on track, also providing a chance to incorporate any new global trends that have not been taken into account.
With the NIMP 2030, there is a conscious effort to ensure there is positive spillover to the local economy, in line with the Madani Economy principles to ensure equitable opportunities and benefits for local businesses as well as the labour force.

Apart from capturing opportunities presented by the shift in global supply chains, there is also real urgency to step up efforts to raise Malaysia's manufacturing capabilities, with the country's degree of economic complexity — as measured by the Economic Complexity Index, and is associated with higher levels of development — peaking in 2013, dipping in 2014 and stagnating through 2020. That puts Malaysia behind aspirational target countries like Japan, South Korea and Singapore, even as growth continues at several Asean peers including Thailand and the Philippines (see Chart 1).
Owing to prolonged use of low-skill foreign labour, allowing the delay in technology investments, labour productivity growth in Malaysia in the manufacturing sector has also slowed in the past three decades, especially from 2011 to 2018. According to data from the Asean Secretariat appended in the NIMP 2030, Malaysia's labour productivity growth has been lower than that of Singapore, Thailand and the Philippines since 2020 and has slipped below Vietnam since 2005 (see Chart 2).
Zafrul, who searched for economics professor Mariana Mazzucato's book Mission Economy: A Moonshot Guide to Changing Capitalism as he sat down for the interview with The Edge at his office, some 40 hours ahead of the official launch of the NIMP 2030, quoted Nobel Laureate Joseph Stiglitz in his speech last Friday: "Development is about transforming the lives of people, not just transforming economies."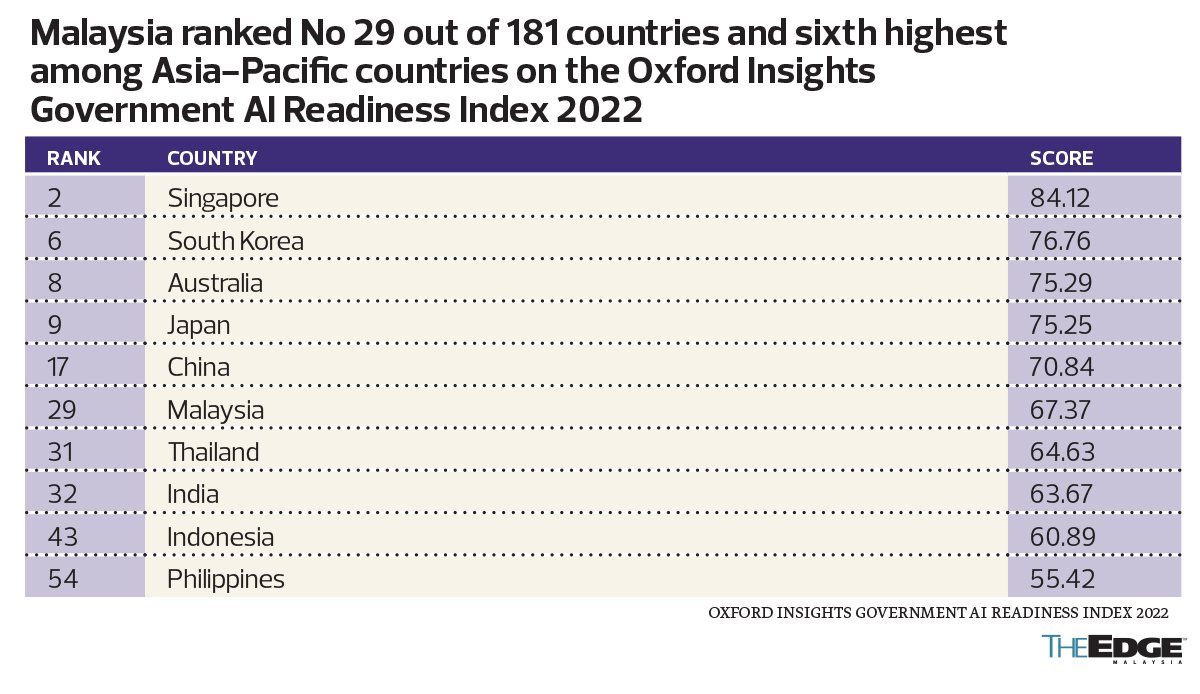 "In realising the NIMP 2030 objectives, we can emerge as a resilient nation that embodies prosperity, inclusivity and sustainability, while elevating the dignity of Malaysians, as envisioned by the Madani Economy framework," Zafrul said in his speech. "This is our great opportunity to transform our industries for the country's next economic take-off. This is our chance to prove to the world that together, we can execute this vision, so we can continue to position Malaysia as pro-business, pro-investment and as investors' viable gateway to Asean, and even Asia."
Anwar, who also gave a speech before launching the NIMP 2030, described the master plan as "a key component" of the Madani Economy that would "support the realisation of economic reforms" as it is "designed to drive Malaysia's trajectory as a global leader in industrial development, extend domestic linkages to create wealth across the nation as well as strengthen its position in the global value chain".
"Unlike the previous industrial transformation and three industrial master plans since 1986, the NIMP 2030 adopts a mission-based approach, a departure from the sectoral approach of the past. It is a horizontal policy, with well-defined missions that will galvanise not only the entire manufacturing ecosystem but also the whole nation to drive industrial transformation and realise our vision. The short window of seven years to 2030 [means we] must take a transformative and expeditious approach to achieve the goals," said Anwar, telling the audience he expected more mission-based projects to be introduced in the near future "as we expect the industry to embrace this new approach and realise the benefits it brings to the companies and the spillovers it creates for the economy".
As the manufacturing sector strengthens its position as a key driver of economic growth and prosperity, it is not only the private sector that benefits but also the people through high-skill and high-income jobs, he added, calling for a whole-of-nation approach. "This vision can only be successfully realised if we work together with unity. It is only with commitment to unity that we can fulfil our hopes."
For his part, Zafrul says Miti is committed to identifying "pain points and fix them" so that Malaysia will not fail in execution towards achieving the NIMP 2030 missions.
In his foreword in the NIMP, he acknowledges that the NIMP 2030 "is an ambitious plan" but added that he is "confident that with an effective implementation mechanism and support of all stakeholders, its objectives are highly achievable within the target time frame".
"Time is of the essence if we want to realise a more inclusive, holistic and sustainable Ekonomi Madani development for the greater good of the nation and our future generations. Miti looks forward to the whole-of-nation effort to ensure the success of the NIMP 2030."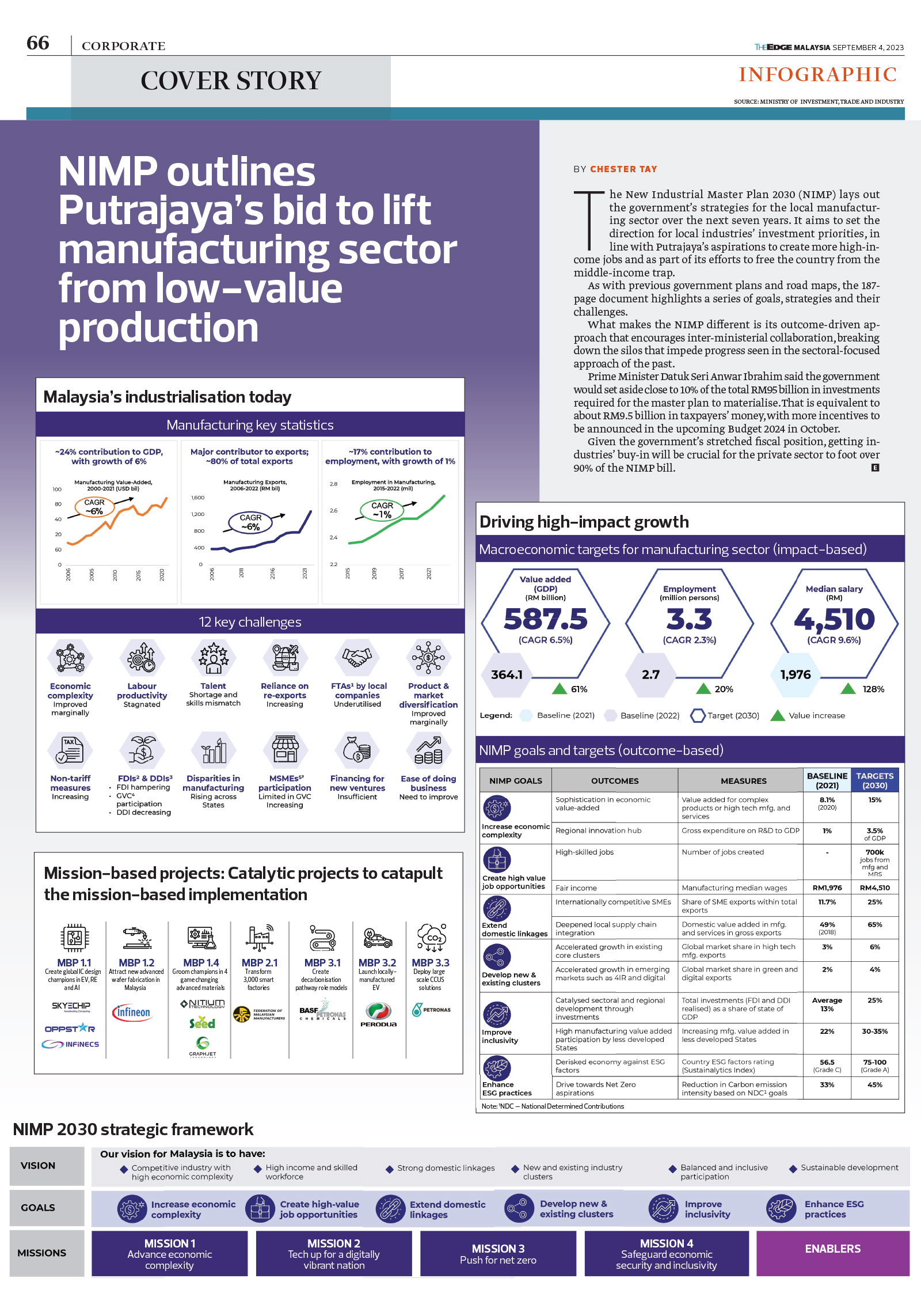 Source: The Edge Malaysia