Malaysian economy showing positive growth in transition to endemic phase – PM
21 May 2022
The Malaysian economy has shown positive growth since the country entered the transition to endemic phase, in turn bringing much relief to all sectors, including tourism.
Prime Minister Datuk Seri Ismail Sabri Yaakob said tourism was one of the main contributing sectors to the country's Gross Domestic Product (GDP).
Immigration Department statistics showed that as of May 12, Malaysia had received 604,457 foreigners since Malaysia reopened its borders on April 1, he said.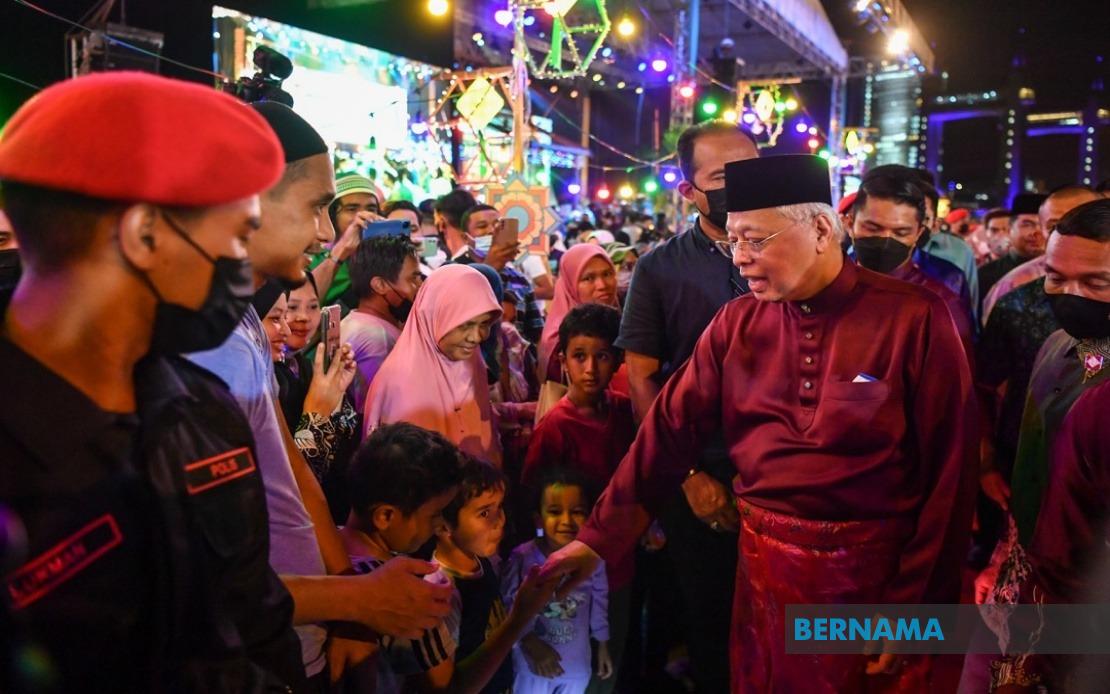 "A total of 93.8 per cent of them or 567,025 people were tourists," he said in his speech at the 2022 national-level Aidilfitri Open House at Dataran Drawbridge here tonight.
The prime minister said when the reopening of Malaysia's borders was announced, the Ministry of Tourism, Arts and Culture (MOTAC) had set a target of about two million foreign tourists this year with a revenue of RM8.6 billion.
Ismail Sabri said the government had allocated RM230 million in Budget 2022 under the Tourism Recovery Plan which provided benefits to arts, culture and heritage activists in the tourism sectors.
"I'm sure we can rise again to live in peace and harmony by working hard to improve the country's economy. All these efforts reflect our inclusivity, togetherness and gratitude as a big Malaysian Family," he said.
Meanwhile, the Prime Minister also expressed confidence that Terengganu was capable of achieving its target of recording three million local and foreign tourist arrivals this year.
"Terengganu has various unique tourism attractions, including the drawbridge, and through the Beautiful Terengganu campaign, we can see the beauty and uniqueness of the state. So, let's visit Terengganu where the land is beautiful, the cultures are interesting, and the people are so friendly and nice," he said.
In another development, he said Malaysians as a whole should be grateful as they could still enjoy peace and harmony in the country which was made possible by the political stability and cooperation from all members of the Malaysian Family while the world was facing serious geopolitical risks.
"The Russia-Ukraine conflict and the Israeli regime's brutality in Palestine, for example, should be taken as a lesson because if those conflicts were not resolved immediately, it could affect peace in the region and also the world economy.
"This is the importance of peace, which can only be achieved with mutual respect and the willingness to live together as a big family with various cultures and beliefs," he said.
Ismail Sabri also said he was happy to see Malaysians being able to return to their hometowns to celebrate Aidilfitri again this year with their parents, friends and relatives after not being able to do so for the past two years.
In fact, the Prime Minister also encouraged everyone to visit their family and friends throughout the month of Syawal to strengthen their friendships and brotherhood, while at the same time continue to practice self-control to prevent COVID-19 infections.
Also present were Terengganu Menteri Besar Datuk Seri Dr Ahmad Samsuri Mokhtar and Minister of Tourism, Arts and Culture Datuk Seri Nancy Shukri.
Source: Bernama