Malaysia e-commerce income jumped 17.1% y-o-y to RM279 bil in the third quarter 2021
10 Nov 2021
Malaysia's e-commerce income jumped 17.1% year-on-year (y-o-y) to RM279 billion in the third quarter of 2021 from RM238.2 billion earlier.
In a statement on Wednesday (Nov 10), the Department of Statistics Malaysia (DOSM) said that in terms of quarter-on-quarter growth, it maintained a positive trend of 4.3%.
From January to September, the e-commerce income recorded RM801.2 billion, an increase of 23.1% y-o-y.
Commenting on the Malaysia Digital Economy 2021 report, chief statistician Datuk Seri Dr Mohd Uzir Mahidin said that at the state level, e-commerce was driven by the industrial states, namely Selangor, Kuala Lumpur, Johor, and Pulau Pinang.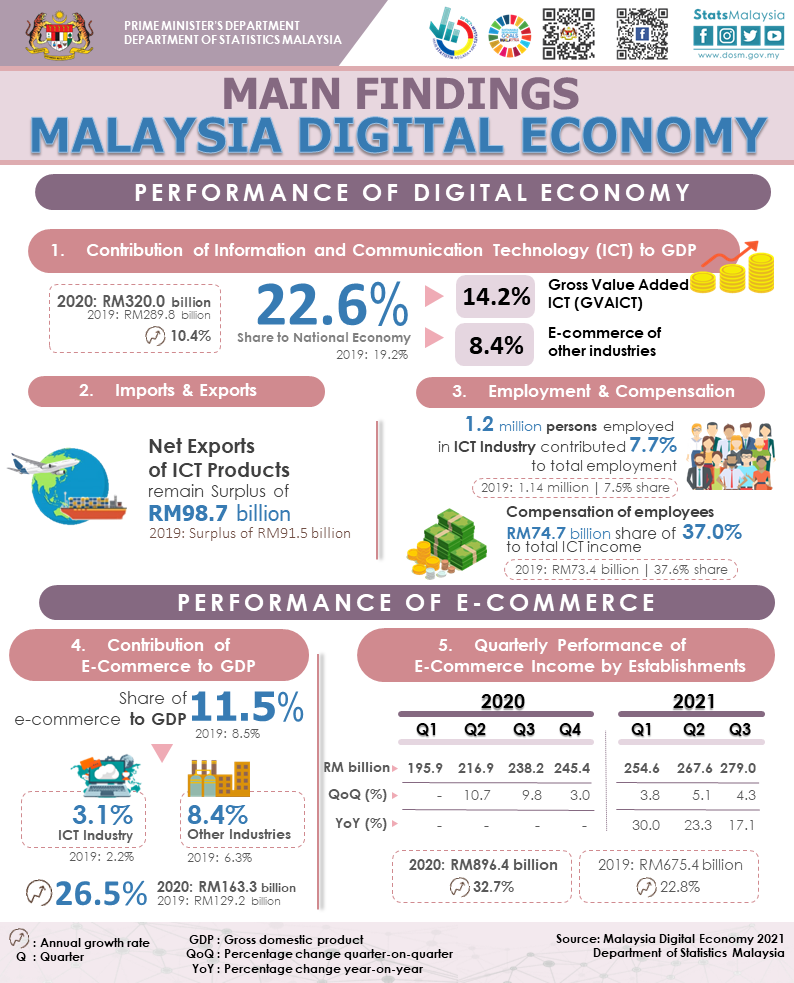 He said in view of industry, manufacturing and services sectors remained as the key drivers of growth.
"Indeed, the improved performance was attributed to the adoption of new normal during the Covid-19 pandemic, in which it boosted digital usage in Malaysia," he said.
The report also presented statistics on e-commerce and ICT's contributions to the economy, access and usage of ICT, and the performance of the ICT services sector.
Mohd Uzir said since the onslaught of the Covid-19 pandemic in Malaysia began in late January 2020, the Malaysian government enacted Movement Control Order (MCO) to slow the transmission of the virus.
"During the MCO in 2020, only 38.1% of establishments were operational, compared to 92.4% in RMCO (Recovery Movement Control Order).
"In terms of overall income, 79.6% of establishments reported a decrease during MCO, while 46.9% in RMCO.
"For e-commerce income, 19.1% of establishments experienced an increase during MCO, and 26.1% in RMCO," he said.
Mohd Uzir said ICT services which comprise the activities of publishing; motion picture, video and television programme production, sound recording and music publishing; programming and broadcasting; telecommunications services; computer programming, consultancy and related activities and information services recorded gross output RM163.8 billion in 2019, an increase of 5.7% when compared with 2018.
He said that in line with the rapid growth in gross output, the value of intermediate input and value added also increased, 5% and 6.4%, respectively, to record RM78.2 billion and RM85.6 billion for the year 2019.
"Moreover, in 2019, 86.2% of establishments used computers, while 85.2% used the internet.
"(Wilayah Persekutuan) Putrajaya had the highest percentage of computer and internet use, with both recorded at 99.9%.
"Meanwhile, in 2020, the percentage of individuals using computers was 80%, and the internet was 89.6%.
"(Wilayah Persekutuan) Putrajaya also registered the highest percentage of individual computer and internet usage, with 99.9% and 99.7%, respectively," he said.
Source: The Edge Markets