Malaysia can achieve GDP growth target
03 Feb 2021
PETALING JAYA: Malaysia is still on track to achieve its gross domestic product (GDP) growth target of between 6.5% and 7.5% for 2021 despite a further extension of the movement control order (MCO 2.0), as the various stimulus packages and impending vaccine rollout will help steer the country towards recovery.
Finance Minister Tengku Datuk Seri Zafrul Abdul Aziz said Malaysia had learnt some "valuable lessons" following the implementation of the first MCO last year and is optimistic that the current lockdown will not be as detrimental.
"The impact on the economy during the MCO in March 2020 was around RM2.4bil per day, but under the current one (MCO 2.0), it is about RM700mil per day. "Under MCO 2.0, we considered various sectors and how much they contributed to the economy and allowed five key sectors to continue to operate, " he said yesterday in a virtual programme "Menang Bersama: Rebuilding Malaysia's Economy Together, " which was moderated by Bursa Malaysia Bhd chairman Tan Sri Abdul Wahid Omar.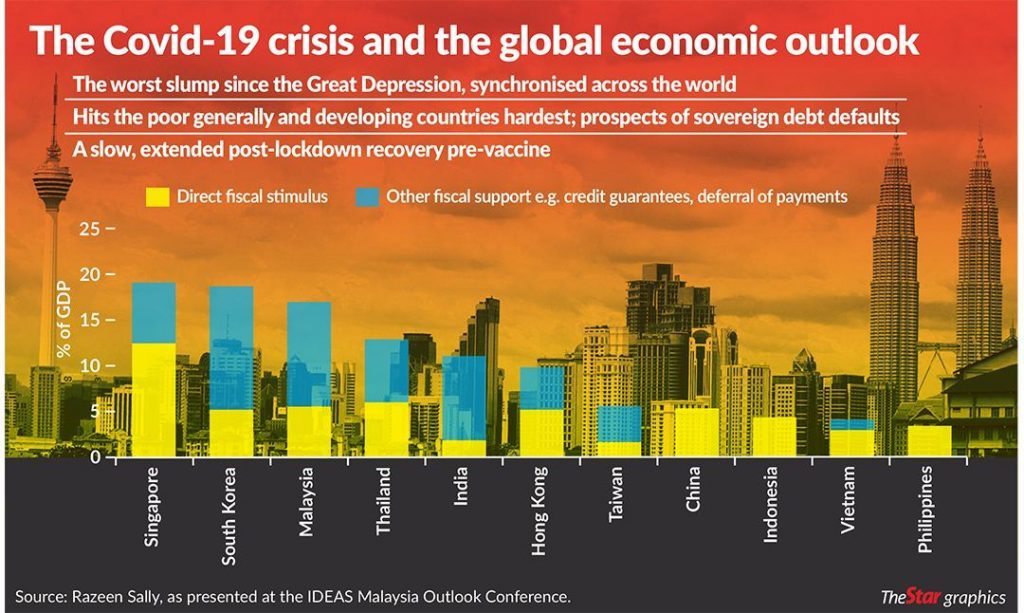 MCO 2.0, which was implemented on Jan 13, has been extended until Feb 18 for all states in Malaysia except Sarawak.
The five key economic sectors that have been allowed to operate are factories and manufacturing, construction, services, trades and distribution, and plantation and commodities.
Tengku Zafrul did say however that a further extension of the MCO will have an impact on the country's GDP growth target.
"For now, the 6.5% and 7.5% growth target will be maintained. The vaccine rollout will also be key in ensuring that our economy recovers."
Prime Minister Tan Sri Muhyiddin Yassin has said that the government is targeting to vaccinate more than 80% of its population or close to 27 million people by the first quarter of 2022.
Tengku Zafrul is confident that this target will be met.
"I'm optimistic about achieving that deadline. We are in agreement with Covax, Pfizer and AstraZeneca. We are also in negotiations with other potential producers."
Tengku Zafrul emphasised that the various stimulus packages will also help spur the Malaysian economy.
"The focus this year will also be on the rollout of the initiatives under the budget. It's still early in the year so we can repurpose the allocation.
"What's important is that whatever we spend is helping the economy and not going to waste."
Additionally, Tengku Zafrul elaborated how the local corporate sector could also help to beef up the Malaysian economy.
"With the right support from the shareholders, the board and the right execution, we can transform companies and have them contribute more. Today's government-linked companies are stepping up because they already have that foundation already built.
"Now we need to see how they can expand that by supporting their role as a nation builder as well."
Tengku Zafrul said one important way companies within the private sector could help is by embracing environmental, social and corporate governance (ESG).
"You need to embrace ESG and Bursa Malaysia is one of the lead proponents of that and embracing ESG will allow corporates to be more sustainable.
"Malaysian corporates have been great at being national champions. But listed and private companies need to have the aspiration to expand out of Malaysia. We need to see that happening more."
Tengku Zafrul said the private sector could also play a part in developing its human capital.
"Where the private sector can help is on human capital. I think investments in the right technology will allow them to get the right support from the government and equip them to train and ensure that our Malaysians are gunning for the kind of jobs where, at the end of the day, their livelihoods are better.
"Human capital is key because we want to move towards the fourth industrial revolution as a country and the corporates have a role to play in assisting that as well."  
Source: The Star