Jumping on the EV bandwagon
05 Nov 2022
ELECTRIC vehicles, or EVs in short, are the buzzword the world over. Locally, a growing number of listed companies have announced plans to get involved in the sector (see sidebar). Some are looking at building charging points, while others intend to distribute imported EVs in the Malaysian market.
There are also listed companies indirectly involved in the sector via manufacturing components for EVs.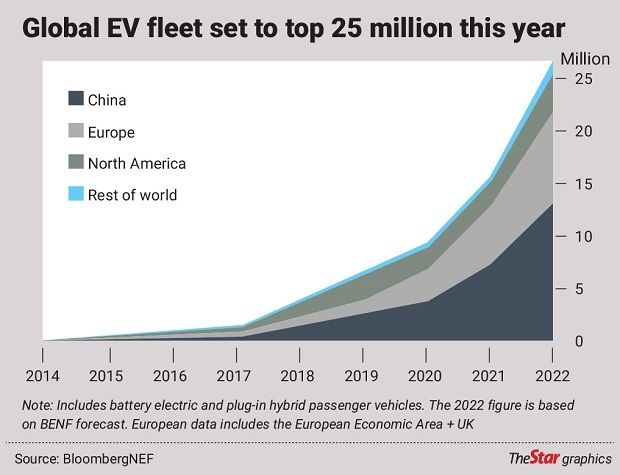 Globally and at home, the push for EVs is led by governments providing support in the form of policies based on the idea of reducing carbon emissions and increasing the use of renewable energy.
In Malaysia, there are import and excise duty exemptions for EVs. The exemptions will last until Dec 31, 2025 for locally assembled models, but only until the end of 2023 for completely built-up (CBU) vehicles. In the recently tabled Budget 2023, there is a proposal to extend the exemptions for CBUs by another year.
Some other countries have more robust EV policies. Thailand has a policy to move 30% of total automotive production to EVs by 2030, while the Indonesian government has set a goal for EVs to make up 20% of all domestic cars manufactured by 2025.
Singapore is even more aggressive, targeting to cease new diesel car registrations from 2025 and requiring all new car and taxi registrations to be of cleaner-energy models from 2030.
Not surprisingly, the take-up rate of EVs in Malaysia remains low. In 2021, it was reported that only 274 EVs were sold from a grand total of 508,911 units, which is a paltry 0.05%.
From January to May this year, 390 EV units were sold in Malaysia, with the percentage of EV to internal combustion engine or ICE cars increasing to 0.17%.
Globally, sales of EVs doubled in 2021 from the previous year to a new record of 6.6 million, a steep rise from the 120,000 units sold in 2012. In the first quarter of this year, two million EVs were sold, up 75% from the same period in 2021.
China, the biggest maker and user of EVs, saw EV sales hitting 3.7 million units from January to August this year.
In comparison, in the United States about 520,000 EVs were sold this year up to September.
EVs made up 6.1% of total car sales in the American market in the third quarter of 2022 as compared to only 2.2% in the corresponding quarter of 2020.
Closer to home, Thailand's Energy Minister Supattanapong Punmeechaow revealed this week that the country recorded a 223% increase in EV sales for the first nine months of 2022 to 13,298 units, compared to the period of January to September 2021.
In China, the motivation to move to EVs comes from its intention to cut its dependence on oil, as the country imports more oil than it exports. That and coupled with the fact that it has an abundance of the natural materials used to produce EV batteries.
China is spending a lot on EV subsidies.
Since 2009, US$14.8bil (100 billion yuan or RM70.2bil) in subsidies were provided to EV consumers in China. To help EV sales rebound in 2020 in the midst of lockdowns, the central government extended incentives as well as prolonged the purchase-tax exemptions of EVs throughout 2022.
Locally, experts familiar with EVs are offering varying views as to how the industry can become mainstream.
Industry players say that a specific roadmap from the government is essential.
Malaysia Automotive, Robotics and IoT Institute (MARii) chairman Datuk Phang Ah Tong notes that there are huge opportunities for Malaysia to tap into the EV eco-system.
"With EVs having a lot of electronic components and with Malaysia already having a solid semiconductor base, it is a shoo-in for the country to play into the space.
"It is best for Malaysian companies to aim to support EV development such as providing components, rather than to try and make and build our own EVs," he tells StarBizWeek.
Industry checks reveal that a number of China-based EV makers are scouring the region including Malaysia with the hope of setting up plants here or securing parts.
Some notable EV investments into Malaysia include the RM1bil that Fieldman EV Sdn Bhd is investing in Melaka to construct the nation's first EV assembly plant, and the RM7bil Samsung SDI Energy Malaysia Sdn Bhd invested to open its EV battery cell manufacturing facility in Seremban, which fully opened its doors in July.
Still, EVs are not mainstream in countries like Malaysia for one main reason. They cost more. Another problem is the lack of infrastructure, namely, sufficient charging stations.
Bermaz Auto Bhd group chief executive Datuk Francis Lee says with EV cars generally being priced at a minimum of RM150,000, there is insufficient volume to drive up the sector.
"We need a nation-wide policy to push the industry. Back home, as announced in Budget 2023, the government is planning to extend the import and excise duty exemption for CBU EVs to Dec 31, 2024, (from Dec 31, 2023), but they did not mention anything about the CKDs," says Lee.
Lee believes that the extension to 2024 for CBUs would instead encourage local auto players to import CBU vehicles, rather than look to assemble these vehicles.
"There has to be a commitment to the CKD programme, such as an extension of the duty exemption for another five or six years, perhaps," he says.
Datuk Thiruchandran Thiruchelvam from a local firm venturing into EV charging infrastructure called Charge N Go Sdn Bhd is more optimistic about the local EV scene, noting that prices will come down for EVs.
He says EV battery prices have dropped by almost 90% over the last 12 years due to improvements in battery technology and economies of scale. This is significant because the battery typically accounts for 40% to 50% of the cost of an EV, he adds.
"Many analysts forecast that EVs could reach price parity with ICE cars sometime within the next two to five years. Once that happens, we can see large-scale adoption of EVs," says Thiruchandran.
He is also encouraged by the fact that the deployment of EV charging infrastructure in Malaysia, while still at its infancy, has taken off as multiple charge-point operators have commenced the installation of both AC and DC chargers in condominiums and commercial buildings, as well as in public areas along highways.
"This is a good sign of the confidence that players in the industry are willing to invest in infrastructure despite the low number of EVs at present.
"The growth of the EV charging infrastructure will be in tandem with the number of EV cars and in more mature markets like the European Union, more than 300,000 chargers have been deployed," Thiruchandran notes.
He also expects a gradual increase in EV buses, lorries and bikes as the long-term drivers are the same, namely, advances in battery technology and falling battery prices.
He says: "For commercial vehicles such as buses and lorries, once key cost thresholds are reached, an EV would be the most economic option."
Environmental issues
But are EVs really environment friendly? The debate on this is not new.
Notes Bermaz's Lee: "We need to remember that about half of all electricity generators in Malaysia are powered by coal. By pushing for EV adoption, could that mean we are encouraging more coal usage?" he quips.
On the other hand, he notes that there is also the matter of older ICE vehicles that are still on our roads and which consume more petrol compared to newer cars, and hence emit more pollutants.
"It would make more sense if we encourage the use of 'green' electric cars, while on the other hand we find a way to reduce the number of older vehicles on our roads, similar to what Singapore is implementing," Lee suggests.
In terms of the pricing of EVs, it is notable that Sime Darby Motors Malaysia is targeting to bring in the Dolphin EV from Chinese EV manufacturer BYD Auto Co Ltd.
The Dolphin is estimated to be priced under RM100,000, becoming the most affordable EV in Malaysia. However, it should be noted that all cars including EV cars have to pass standards set by the Road Transport Department, which are based on some internationally set criteria.
Bermaz's Lee says that they are speaking with a few Chinese manufacturers such as BYD, Great Wall Motor Co Ltd, Changan Automobile Co Ltd and Foton Motor Co Ltd to ink out potential distributor deals.
Describing some of the challenges Bermaz is facing in its attempt to secure EV distribution contracts with Chinese producers, he says most of these companies expect immediate results in terms of volume, probably because that is the environment the much bigger Chinese market expects of its players.
Lee says, "In our discussions with these EV producers, we discovered that the immediate expectation they would want from us is volume. In other words, how many units we can sell. This is very short-term thinking, but brought about understandably by the massive and competitive Chinese market.
"We have the experience of distributing Mazda, Peugeot and Kia cars over here, and we are also doing our best to better educate the public, the government and various other stakeholders on how EVs work. We can work out a strategy for this, but it will be a longer-term project."
Fuel subsidy removal could boost EV usage
Another interesting factor to consider in the EV journey in Malaysia is the high possibility that the government will remove fuel subsidies.
Charge N Go's Thiruchandran notes that electricity as a fuel source is already cheaper on a per km basis relative to petrol and the only challenge is that the cost of an EV is more than the average ICE vehicle.
"Therefore, any reductions in the fuel subsidy will obviously increase the amount of comparative savings, making the EV more viable on a total cost of ownership basis," he opines.
On the other hand, Bermaz's Lee is of the belief that things may take a little more time and the execution of the subsidy removal is key.
"Firstly, we need to see how this subsidy removal is executed. Secondly, even if subsidies were removed and the price of RON95 were to increase to RM3 per litre from the current RM2.05, the M40 segment may still prefer paying more for petrol over buying an EV car, because the EV car is still not within their affordability range," he explains.
The lowest priced EV car at the moment, the Hyundai Kona, is priced around RM150,000, which translates to an instalment of about RM2,000 monthly, Lee says, and this may still be a burden to many in the M40 group.
The charging problem
Challenges related to the charging of EVs remain a problem. The general thinking is that there are not enough charging stations and it takes too long to charge EVs.
Home charging also requires homes to have three phased electricity wiring. Older apartment blocks do not have charging facilities, unlike newer developments.
Charge N Go's Thiruchandran, though, points out that the charging of an EV battery is similar to charging a mobile phone overnight. He says: "A relatively low-cost 7kW AC charger would be sufficient to fully charge most EVs overnight.
"Also, as most EVs have a range of between 300kms and 400kms on a full charge, the average user is not going to fully utilise this range within a day. Hence, they would just need a couple of hours every night on their home charger to top up their charge."
He also highlights that for long distance driving, an infrastructure of high-speed direct current fast chargers along highways is of course essential.
Interestingly, national power supplier Tenaga Nasional Bhd (TNB) has pledged to invest RM90mil to increase the number of charging points for EVs on expressways.
TNB says the rationale behind this investment is to solve the challenges of charging infrastructure, to better ensure that the anxiety of EV drivers on Malaysian highways can be dissipated.
"But we also require other parties such as highway concessionaires and the city councils to give their cooperation for the charging point operators to deploy our chargers on Malaysian roads," TNB Programme Management Office Project Director-Electric Vehicles Mohd Junaizee Mohd Noor tells StarBizWeek.
Mohd Junaizee says experts have shown that the battery technology will be affordable from 2025 onwards and this will bring the selling price of EVs to par with petrol-fuelled vehicles.
He adds: "This will be a turning point for the mass market, as they now have the option of a low-carbon mobility lifestyle. Also, we believe the recent incentives announced by the government (import tax and excise duty exemption) will surely be another catalyst to stimulate the take-up."
TNB recently announced an agreement with Gamuda Land Sdn Bhd – the property arm of Gamuda Bhd – to build two electron stations for EV charging in property development projects in Selangor.
One interesting point that Mohd Junaizee raised is this: all vehicles including public buses, lorries and trucks entering neighbouring Singapore will soon have to be only EVs.
This is because the city-state will no longer allow the registration of diesel-powered cars and taxis from 2025 onwards, he points out.
"Therefore, the requirement for the fleet industry such as buses, lorries and light vehicles in Malaysia to convert to EVs is getting more pressing," he says.
He notes that TNB is embarking on a group-wide effort to convert 30% of its fleet vehicles to EVs by 2030.
Source: The Star