Investment opportunities in Vietnam's economic zones
10 Aug 2018
Chew: Generally, for foreigners, the lease is 50 to 70 years, and [getting] 70 years is under very special circumstances. What the draft law is proposing is up to 99 years, which is quite lengthy.

Campbell: For a country of this size, it has a significant amount of industrial parks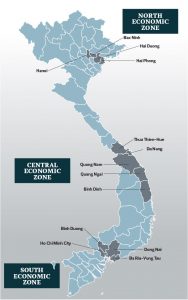 Vietnam is in the process of transitioning from an agricultural-based economy to becoming one of the most popular manufacturing and industrial countries in Asia. It currently has 356 industrial parks spanning 94,000ha, with more to be launched, said John Campbell, Savills Vietnam industrial service senior consultant.
"For a country of this size, it has a significant amount of industrial parks," he said during his presentation on 'Industry and logistics: current opportunities and outlook for Vietnam'. He and other experts from ACSV Legal Vietnam, VSIP, KPMG Malaysia and Vietnam, and Public Bank Vietnam were among the speakers at a talk, entitledPromising investment spotlight — Why Vietnam now? The event was co-organised by VSIP and Public Bank Vietnam. VSIP is one of the largest developers of integrated industrial parks and mixed-use areas in Vietnam.
Of the 356 industrial parks, 220 are operational and 73% occupied, which is "quite a healthy balance right now," said Campbell.
Vietnam is divided into three economic zones — North, South and Central, which is relatively new. "The north and south are the biggest," he added.
In Hai Phong in the north, where there are more import and export activities, Deep C Industrial Zones will be opening up 550ha of land.
In the south, a 1,000ha industrial park will be opening up in Phu My, which is located in Ba Ria-Vung Tau province in the southeast of the country.
VSIP will be developing a few industrial parks. In the north, there is the 500ha VSIP Bac Ninh II in Bac Ninh within 20km to 25km of Hanoi central business district. In the south, there is the 1,000ha VSIP Binh Duong III, close to Ho Chi Minh City.
"Bac Ninh is one of the provinces in the north that have been receiving a lot of interest in the past couple of years, especially since the occupancy in Hanoi has increased so much that there is not much land available," said Campbell.
"VSIP Bac Ninh is close to the central business district. This means that as much as it is built for manufacturing, it is also a logistics option due to its close proximity to the business district."
As for Binh Duong III, the location is great for investors as it is very close to Ho Chi Minh City. Binh Duong is also known as the manufacturing capital of Vietnam.
Special administrative economic zones
To attract investors, the Vietnamese government is proposing three special economic zones — Van Don, Bac Van Phong and Phu Quoc. According to ACSV Legal Vietnam senior associate Elaine Chew, the government is currently drawing up a draft law on special administrative economic units in Van Don, North Van Phong and Phu Quoc.
Special economic zones are a type of economic zone with a more liberal set of economic laws to foster growth and improve a location's competitiveness.
Under the draft law, preferential treatment will be given to identified projects in the special administrative economic zones, among which is that no investment projects will be required before organisations are established as well as tax preferential treatment. The enterprise registration certificate will be also issued within three to five days and the investment registration certificate within 15 days.
Under the draft law, the land leases for special administrative economic zones will be longer than normal — 70 years for a normal term lease compared with 50 years in other economic zones, while a special term lease will be 99 years.
"Land use rights are slightly controversial. Land in Vietnam is owned, operated and maintained by the state so there is no concept of ownership but rather the right to use the land in the form of a lease. Generally, for foreigners, the lease is 50 to 70 years, and [getting] 70 years is under very special circumstances. What the draft law is proposing is up to 99 years, which is quite lengthy. In some people's opinion, it is far too long," said Chew.
In general, she said, the idea behind the draft law is great but it remains to be seen whether it will be passed. "It is not without controversy, especially issues relating to cluster development and employee working conditions." She said the government has to find a diplomatic way to overcome the controversy and provide more clarity to enable the law to be approved.
Source: The Edge Markets
Posted on : 10 August 2018