Investment opportunities in ECER
21 Jul 2023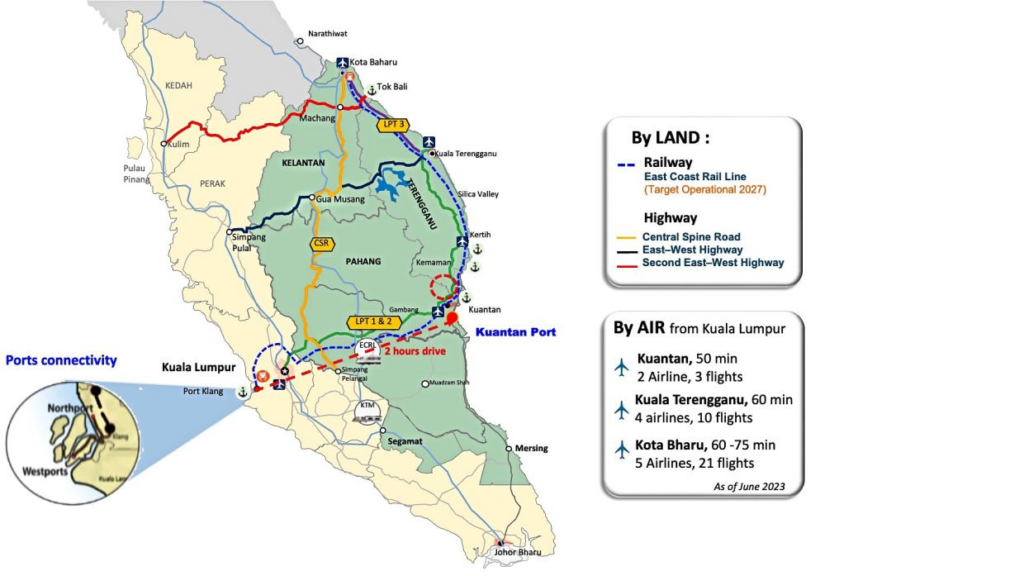 THE East Coast Economic Region (ECER) – a thriving economic corridor which covers Kelantan, Terengganu and Pahang as well as Mersing and Segamat districts in Johor – has swiftly established itself as an attractive investment destination for both domestic and overseas investors.
Blessed with natural resources, ECER is close to the financial centre in Kuala Lumpur. The enhanced connectivity and a comprehensive logistics network are also transforming the region, bringing it closer to major central economic hubs.
Kuantan Port expansion
At the heart of this transformation is the expansion of Kuantan Port into a deepwater port – a public-private collaboration between the government and Kuantan Port Consortium Sdn Bhd. Facing the South China Sea and strategically located at the centre of the ECER Special Economic Zone, Kuantan Port is well-equipped with port facilities and serves as a vital gateway for international commerce.
With a throughput capacity of 52 million freight weight tonnes per year when fully expanded, the port provides efficient trade and connectivity to Asean and the Asia Pacific region.
In addition to Kuantan Port, ECER has an efficient and integrated land transportation network.
The East Coast Expressway 2 (LPT2) and the East Coast Rail Link (ECRL) – currently under construction – play instrumental roles in connecting ECER to other economic centres. Once operational in 2027, ECRL will serve as a "land bridge" connecting Kuantan Port to Port Klang on the west coast.
The Economic Accelerator Projects along the ECRL route will spur economic activities by increasing traffic volumes of passenger and freight.
In addition to the Kuantan Port-Port Klang land bridge, the new International Land-Sea Trade Corridor that links Kuantan Port to Qinzhou Port enables access to markets in Western China and beyond."In the last 15 years, the East Coast Economic Region Development Council (ECERDC) has ensured the completion of strategic infrastructure projects which have served as catalysts for economic growth. This, along with ECER's attractive incentive package, has certainly increased the region's appeal," says ECERDC chief executive officer Datuk Baidzawi Che Mat.
Ready infrastructure
ECER offers a mature ecosystem, especially for the manufacturing as well as the oil, gas and petrochemical (OGP) sectors.
Industrial parks with ready infrastructure such as the Malaysia-China Kuantan Industrial Park, Pahang Technology Park, Pekan Automotive Park, Gambang Halal Park, Kertih Biopolymer Park and Pasir Mas Halal Park demonstrate ECERDC's mission to attract new investments that encourage transfer of technology and knowledge, and drive the population towards forming a creative and innovative community. Technology-intensive sectors that utilise Industry 4.0 will create knowledge-based jobs with higher remuneration.
The key manufacturing areas that the ECERDC is promoting are electric vehicles, renewable energy, medical devices, specialty chemicals, food and beverage, and digital technologies to ensure sustainable socio-economic growth for the rakyat in ECER.
Agribusiness projects
ECERDC is stepping up its implementation of agrofood@ECER via the anchor company model to establish commercial large-scale agricultural projects which implement modern technologies to enhance productivity and optimise land usage.
ECER has extensive land areas that are readily available for the cultivation of high-value crops. In Pahang alone, there are 1.4 million hectares of land available for agriculture activities. This strategy has proven to be successful and will continue to be replicated in ECER's agribusiness projects. Key projects under agrofood@ECER are ECER Dairy Valley, development of coconut plantation, fertigation, and Tok Bali fisheries transformation plan.
RV venture
With the emergence of a new lifestyle post-pandemic, ECERDC is spearheading efforts to turn the region into a recreational vehicle (RV) hub in Asean.
ECERDC has taken steps to attract established foreign players to explore investment and business opportunities in RV manufacturing and assembly, as well as establishing RV parks at ECER's tourist destinations.
Invest@ECER business forum
ECERDC held its inaugural Invest@ECER business forum on July 4 in conjunction with its 15th anniversary celebration at the Sultan Ahmad Shah International Convention Centre in Kuantan.
Over 300 delegates – including investors and representatives from chambers of commerce –engaged with the panellists on matters related to investment opportunities, besides seeking advice from financial institutions and government agencies such as Invest Pahang, Malaysian Investment Development Authority (MIDA) and MyExpats at the event.
"We remain committed in making ECER an ideal investment destination and the Invest@ECER business forum is one of many efforts by ECERDC to ensure continuous flow of investment into the region," says ECERDC chief operating officer Datuk Ragu Sampasivam.
Source: The Star