Economic, logistics and tourism spillover effects from WCE's opening
31 Jul 2023
WCE is expected to improve transportation efficiency, promote regional growth and contribute to the overall economic progress of the country 
EXPRESSWAYS are a vital factor in driving a nation's economic growth.
The North-South Expressway (NSE) in particular, which has been in use since the late 1980s, has significantly contributed to the country's rapid development, especially along the West Coast of Peninsular Malaysia.
However, due to the exponential growth in traffic volume and mobility demand, the NSE can no longer adequately serve the immense requirements, hindering the country's economy from expanding further. Thus, the government decided to build an alternative along the West Coast of the peninsula from Banting to Taiping to stimulate growth.
Universiti Putra Malaysia (UPM) Faculty of Engineering's Road Safety Research Centre head Prof Dr Law Teik Hua said the West Coast Expressway (WCE) was constructed with two primary objectives.
Firstly, it is to alleviate the heavy traffic congestion on the existing NSE by providing an alternative route for commuters and cargo; and secondly to serve as a complementary expressway to NSE, fostering the socio-economic development of the West Coast areas which have not been adequately developed thus far.
"By fulfilling these purposes, WCE is expected to improve transportation efficiency, promote regional growth and contribute to the overall economic progress of the country," Law told The Malaysian Reserve (TMR).
As of May 2023, 86% of the expressway has been completed. The outstanding sections are expected to open between 2024 and 2026.
He also noted that WCE has made significant contributions to the socio-economic growth of the region. In terms of enhancing business and financial activities, WCE has permitted easier transit and connection in the West-Coast zone by enhancing traffic mobility, which has positively influenced business and financial activities in cities and towns along the West Coast. Because of their greater accessibility, these cities and towns are now valuable contributors to the nation's economic growth.
Given that the expressway allows visitors to experience the region's scenic features and cultural sites, its greater accessibility will also result in increased tourism along the West Coast, generating economic benefits through hospitality and tourism businesses.
Furthermore, transportation of goods and products from the West Coast areas to the Klang Valley (a key economic hub) has become more efficient as travel expenses in terms of time and distance have decreased with the WCE. Thus, Law said, lowered logistics costs translates to reduced product pricing, which benefits both businesses and consumers.
The development of the WCE, as well as the subsequent growth in economic activities in the region, has resulted in the creation of additional job possibilities. This growth in employment supports the local economy and improves people's livelihoods. 
By reducing travel distances and costs to the Klang Valley, the WCE has enhanced the living environment in West Coast cities and towns. This promotes inter-regional travel and provides residents with greater access to services, job opportunities and facilities.
Last but not least, Law said WCE has helped to alleviate traffic congestion on the NSE due to some traffic being diverted to the former, resulting in smoother traffic flows and a more efficient transportation system.
Nonetheless, Law believes that a connecting route between WCE and the NSE should be built and improved, in order to strengthen cohesion between the two expressways. The integration, according to him, would have a greater overall impact on the nation's economic growth by developing a smooth and efficient transportation network that would allow people and goods to move more easily across different locations; as well as improve traffic management; and boost economic development along their courses.
"By considering and investing in these initiatives, the nation can harness the full potential of its expressway infrastructure to drive sustained economic growth and prosperity," he told TMR.
Additionally, Works Minister Alexander Nanta Linggi, during his work visit to Section 6 of the WCE recently, said the expressway is expected to be a catalyst for economic activities not just in the states of Selangor and Perak, but also for the region.
Logistics and Ports to Thrive
Northport (M) Bhd is anticipating significant potential in the logistics sector with the launch of WCE.
Due to its integration with the current highway network — namely the NSE, South Klang Valley Expressway (SKVE), New Klang Valley Expressway (NKVE), New North Klang Straits Bypass (NNKSB), Shah Alam Expressway (Kesas) and Kuala Lumpur (KL)-Kuala Selangor Expressway (Latar) — WCE will greatly improve cargo movement to and from its port, which streamlines goods transportation and leads to speedier cargo delivery.
WCE is also expected to reduce travelling time, which will result in cost savings for logistics companies and businesses by reducing fuel consumption, maintenance costs and overall transportation costs. The highway network will further improve supply chain efficiency, leading to reduced lead times, improved inventory management and enhanced customer service for businesses relying on timely deliveries.
Furthermore, the opening of WCE is expected to spur the development of new industrial parks, logistics hubs and distribution centres along the highway, centralising goods consolidation, storage and redistribution. As a result, it will establish a well-organised and efficient logistics network within the region.
With its highway network, WCE will integrate with existing rail, air and marine transport networks — promoting intermodal connectivity, optimising logistics operations and providing numerous cargo transportation alternatives.
The opening of WCE, according to Northport CEO Datuk Azman Shah Mohd Yusof, will present a huge opportunity for the port, with its connectivity to Port Klang via the Grand Sepadu Highway.
The 233km highway, stretching from Banting in Selangor to Taiping in Perak, will offer excellent transportation connectivity and efficiency for cargo movement to and from the port.
"The strategic linkage to various industrial areas along its route will allow hauliers, cargo trucks and logistics vehicles to access our port with ease and reduce travelling times, expediting the entire logistics process.
"Furthermore, WCE's integration with the existing highway network, including Plus, SKVE, NKVE, NNKSB, Kesas, Latar and others, will benefit Northport and strengthen Port Klang's position as the nation's gateway port with improved accessibility, efficient cargo movement and seamless integration into the national highway network," Azman Shah told TMR. 
Tourism Sector to Prosper
Tourism Selangor Sdn Bhd said the opening of WCE will definitely benefit the state tourism sector with its more accessible route. Its CEO Azrul Shah Mohamad said the opening of WCE will trigger further development of the tourism industry in Selangor, especially ecotourism and agrotourism.
For instance, the entire expressway with its 21 interchanges will attract more domestic tourists and make it easier to commute from one district in Selangor to another, since the highway runs throughout Perak and Selangor, including the Klang Valley, with five districts in Selangor involved.
Apart from that, the expected 10 exits/entrances of WCE in the state will make certain tourist spots di Selangor more accessible, namely Tanjong Karang for its Sungai Sireh agrotourism, Satay Hut (gastronomy) and Bukit Malawati (heritage and culture tourism).
The expressway, which connects to Sabak Bernam through the Tanjong Karang exit, enables KL residents to reach Sekinchan in around 30 to 40 minutes, compared to one and a half hours previously.
The accessibility to Sabak Bernam is believed will boost the Sabak Bernam Development Area (Sabda) project, which aims to further develop the town as a tourist area through its uniqueness of agrotourism.
On the upcoming tourism hotspots to be anticipated in the state from the opening of WCE, Azrul Shah said several spots detected to be trending in the future include Morib Beach, Bandar Palace, Jugra Hill and Pantai Cunang. Indirectly, it will positively impact tourism development, with more resorts and tourism facilities to be developed in the future.
"This will showcase heritage and cultural tourist products even more by highlighting historical monuments in the selected places because WCE's exits in Selangor, in particular, mostly passes through historic districts.
"For tourism growth, the focus will be mostly on the homestay and housestay concept, ecotourism and cuisine," he added.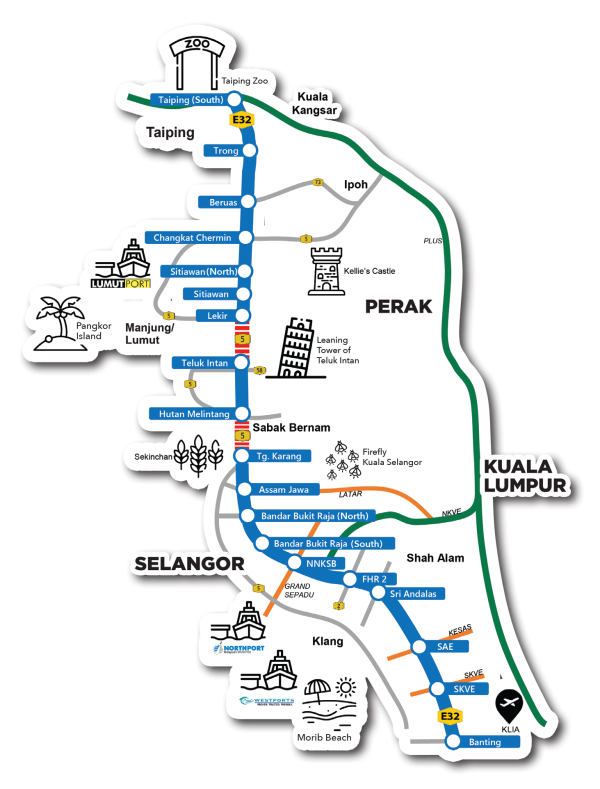 On the expectation of a tourism boost in the state, Tourism Selangor foresees that the agencies and local authorities involved have considered town planning and environmental protection measures.
On the other hand, the Perak state government recognises the importance of WCE and acknowledges its potential in driving economic growth and development in the state.
Tourism Perak Management Sdn Bhd told TMR that the state government has taken significant steps to develop tourism and create an environment that welcomes visitors through collaboration with relevant stakeholders, including the local councils, local businesses and communities, to enhance the infrastructure, services and experiences that cater specifically to the needs of travellers. Among the efforts taken include providing visitors with access to quality gastronomy such as halal cuisine, and encouraging the growth of local restaurants, hotels and food vendors.
Aside from benefitting the hospitality industry, Tourism Perak believes that WCE will bring a positive ripple effect on other sectors such as retail, transportation and local craftsmen.
"By promoting tourism, we create opportunities for local entrepreneurs and businesses to thrive — leading to job creation, economic diversification and increased income for the local community," said Tourism Perak.
From Taiping to Kuala Sepetang, Selama and Kerian, trending tourist hotspots in Perak include the Matang Mangrove Forest Reserve, Taiping Zoo, Maxwell Hill (Bukit Larut), Orang Utan Island, Selama's seven waterfalls and Pantai Pan Beach. Other than that, Kuala Kangsar, Pangkor Island, Kampar, Gua Tempurung and Gerik are also among the spots to be favoured by commuters who use WCE.
In conclusion, the WCE is expected to bring tremendous benefits to Malaysia in general. This demonstrates the need for new expressways in Malaysia based on population density to minimise traffic congestion in the city, shorten travelling time to enhance connection between one location to another, and better connection and utilisation of the existing network of highways and roads by Malaysians, especially the dreaded traffic jams during festive seasons and school holidays. 
Source: The Malaysian Reserve