E10 Speeds Up Investors' Operations
21 Oct 2022
Express Construction Permit is evidence of success of the collaborative innovation between the public and private sector resulting in factories starting operations within 10 months instead of the average conventional 24-month period.
The pilot project was first implemented in Kulim, Kedah, spearheaded by the Kulim Kedah Municipal Council (MPKK) in close collaboration with an investment company, and relevant technical agencies. The project was facilitated by the Malaysia Productivity Corporation (MPC).
Essentially, E10 enables an investor to begin operation in 10 months instead of the average 24 months by expediting a manufacturing plant's approval and issuance of business premises licences, which enables the construction process to begin in the earliest time frame and factories to start operation sooner.
The factory was ready to operate in July of 2021 after the pilot began in September 2020.
Located in the Kulim Industrial Corridor, the factory stood as a proof of concept of implementing E10 effectively.
The manufacturer saved RM9mil in compliance costs and was able to generate upfront revenue of RM840mil by being able to start its operations 14 months earlier than the average two-year timeline.
The pilot also brought a spillover effect with it, generating 2,500 new job opportunities for the community of the area.
What E10 has done is positioned Kulim as a business-friendly location for both domestic and foreign investors while local small and medium companies are presented with business opportunities to support the growth of the town.
The upturn of economic activities in Kulim has elevated the socioeconomic condition of the town, leading Kedah to emerge as the second highest state receiving investments in 2021, valued at RM68.3bil – with RM66.2bil of that amount being invested in the manufacturing sector.
Better agility, higher productivity
E10 yields a 140% increase in productivity. This improvement in productivity and 14-month time-saving capabilities are achieved through the agile regulation method, which enables regulatory compliance to be more flexible, non-repetitive or redundant, and more integrated.
This would in turn, reduce the investor's wait time as all the relevant authorities are involved from the initial stage of the construction project up to the issuance of the business licence.
Relevant government agencies have ditched the in-silo work processes and procedures and shifted to a project-based cohesive delivery process.
This helps boost the integrity of public service delivery as the processes and procedures are transparent, open and efficient – minimising bureaucracy and red tape which impose lengthy, unnecessary regulatory burdens and increases costs of doing business.
The agile regulation approach does not change any federal, state, or local policies and regulations related to construction and manufacturing sectors, nor does it disregard safety and security measures.
Investors must comply with the existing acts and regulations for the construction process of manufacturing plants, which include, among others, the applications of planning approval (kebenaran merancang), the Certificate of Completion and Compliance (CCC) and a business operation licence.
Some of the probable causes of delays in the development of a manufacturing plant are the repetitive but sequentially necessary procedures whereby each agency has its specific format in submitting documents, bureaucratic decision-making, and fragmented communication among and between authorities and industry players.
With E10, MPC and MPKK managed these challenges by assembling all relevant agencies and the investor in one go to scrutinise applications and record proper documentation.
Through this, relevant authorities were able to advise the investor on necessary preparations and procedures to expedite the approval process – regulatory implementation is more integrated, seamless and efficient.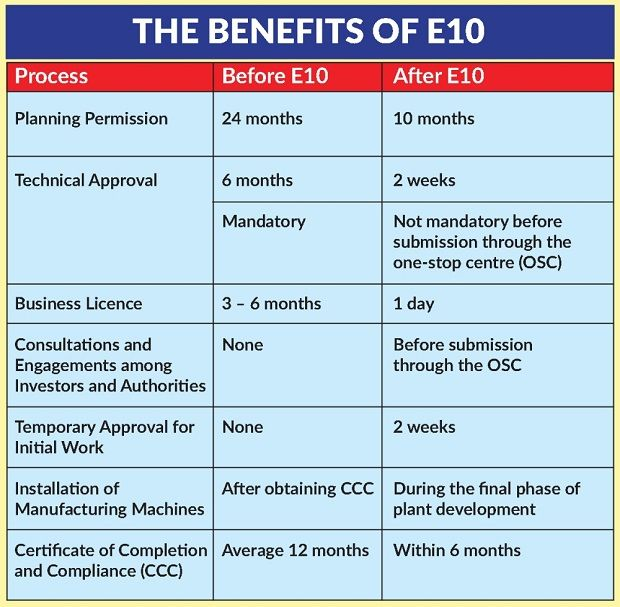 Behavioural insights
Behavioural insights is an approach combining psychology, cognitive and social science, and empirical evidence in understanding decision-making and human behaviour.
Adopting this paradigm transforms the respective public servant's mindset as a "regulator" to a "facilitator" with productivity and efficiency as the fundamental groundwork.
The shift also transforms the civil servants' work process to make customised decisions and actions based on consultation and facilitation by prioritising investors' needs and specific requirements.
However, this work culture change requires substantial and strategic leadership to steer the agency or department in this direction.
High positive impacts
MPC is currently disseminating and promoting the E10 concept to other states and locations through its regional offices.
E10 serves as an example of good regulatory practices and agile regulations which have become the foundations of the Kedah government's regulatory reform efforts according to Chief Secretary to the Government Tan Sri Mohd Zuki Ali.
Companies that enjoyed the benefits of E10 were AT&S, Risen Solar Technology, Everbest Biotech, Menicon, Ferrotec, Osram, Infineon and others.
Currently, the initiative has been expanded to the whole state of Kedah.
Pahang, Johor and Terengganu are beginning to implement E10 in selected localities as now the concept is strongly supported by evidence – the manufacturing plant and its streamlined process in just 10 months or the agreed timeline by investors and regulators.
It works and it yields high positive impacts but nevertheless, the take-up rate is still low among states and councils so far.
MPC is strongly urging other states and local councils to rise to the occasion, citing that MPKK has boosted its income sevenfold compared to prior years.
Moreover, investments have increased by 32 times in the state of Kedah with employment opportunities have improved twelvefold.
Source: The Star