Digital talent development requires multi-stakeholder engagement
18 Aug 2021
Building an agile and competent digital talent pool in Malaysia has been one of the strategic thrusts under the Malaysia Digital Economy Blueprint.
Both the government and private sector have agreed that greater collaboration is imperative in building a steady pool of digital talents to support the national digital transformation agenda under the MyDigital aspiration.
With talent being a key element under the MyDigital initiative to transform Malaysia into a digitally enabled and technology-driven high-income nation, the Strategic Change Management Office (SCMO) of the Economic Planning Unit (EPU) and the Social and Economic Research Initiative (SERI) have conducted a survey to seek input on efforts to see what are the challenges, opportunities and trends in the current workspace environment.
SCMO's chief executive officer, Fabian Bigar, stressed on the importance of the government, private sector, academia and all relevant stakeholders to move in tandem to create a constructive synergy in accelerating digital talent development.
The Digital Talent Survey had 70 respondents across micro, small and medium enterprises (MSMEs), as well as large companies too, representing a variety of sectors.
Approximately 46 per cent of the companies took part in the survey were from the technology sector, 13 per cent from the financial and insurance sector, and seven per cent represented both the healthcare and other professional services related industries. Some of the findings released during the event which was held on Microsoft Teams platform including skills gaps in the local labour market whereby respondents of the survey have identified to be the top two barriers to having adequate and sufficient digital talent; the second one is inability to attract specialised talent.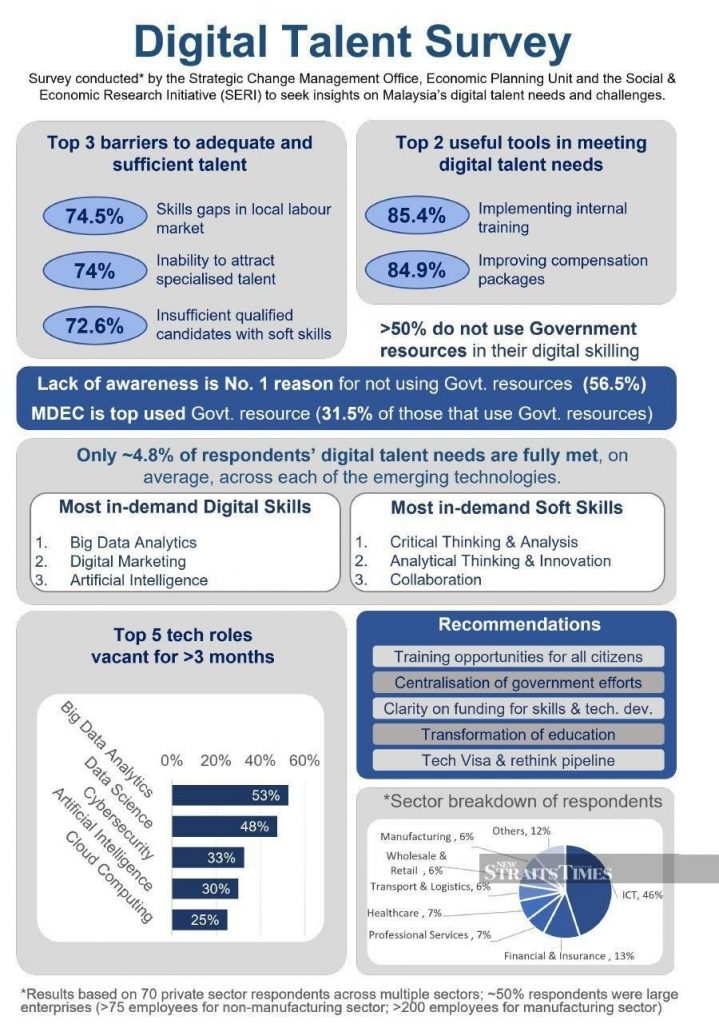 Also revealed is that employers have listed Big Data analytics and digital marketing as the two most sought after digital skills followed by Artificial Intelligence (AI), data science, cybersecurity, and cloud computing.
The survey also found that only an average of 4.8 per cent of the respondents feel that the existing labour market has fully met their digital talent needs where tech roles in areas such as Big Data analytics, data science, cybersecurity, AI, cloud computing tend to remain vacant for more than three months.
Although the digital talent pool consists of tech-related-positions, the survey also found that critical thinking and analysis, analytical thinking and innovation, and collaboration topped the list of soft skills employers seek, followed by English proficiency, and communication skills.
Closing the launch of the survey, SERI's chief executive officer, Dr Helmy Haja Mydin said that we must not leave behind anyone and to include everyone when we are upskilling, re-skilling, or cross-skilling the workforce ready for what the future workforce will be like.
"A global digital workforce, gig workers included, will need to meet the rigorous demands of the future of work. It is vital that we come together with clarity and commitment to strengthen and further existing initiatives to ensure everyone, wherever they are in Malaysia, are able to grow up or grow further with skills and opportunities."
The event was also attended by deputy director general (macro), Economic Planning Unit, Prime Minister's department, Dr Zunika Mohamed who delivered the opening remarks on behalf of EPU, urging everyone to move in tandem in order to achieve the level of collective impact that would make a significant difference, and deputy secretary general (Policy and International), Ministry of Human Resources, A. Maniam.
Source: NST