Data centres race to be green
23 Jan 2023
Here's a common, everyday situation: It is the end of the month and your groceries are running low but you do not have time for a trip to the supermarket. So you do the next best thing — pick up your phone, scroll through grocery apps or websites, and soon, your groceries are being prepped for delivery to your doorstep.
Today, the smartphone is akin to an additional limb as almost everyone is reliant on the internet, whether it is for mundane things like paying bills or navigating road traffic, or to stream shows on Netflix at the end of a long day.
What many do not realise is that these almost instantaneous digital interactions are possible because of the magnificent computing power in data centres.
It is estimated that 1.145 trillion megabytes (MB) of data was created every day in 2022. According to Finances Online, every minute, 41,666,667 messages are sent on WhatsApp, and 150,000 messages and 147,000 images are sent and received on Facebook. Meanwhile, Instagram users post about 347,222 stories every minute, while Netflix users stream 404,444 hours of video content every minute.
Data centres, which need copious amounts of power and water to cool down, were not initially built to manage this relentless stream of data. By some estimates, between 196 terawatt hours (TWh) and 400 TWh — about 2% of electricity worldwide — was used globally in 2020 to keep data centres cool.
This accounted for about 2% of the world's total greenhouse gas emissions.
Although data centres support many of the digital innovations being used to fight climate change, they may also require their own innovation-driven transformation. Vertiv Malaysia, in a media roundtable on data centre sustainability, revealed that 200 to 250 TWh of electricity was consumed by data centres in 2020; 37.1 gigawatts (GW) of clean energy agreements were purchased in 2021; 660 billion litres of water was used by data centres in the US in 2020; and the average data centre power usage effectiveness (PUE) in 2021 stood at 1.57.
PUE is the ratio of the total amount of power used by a computer data centre facility to the power delivered to the computing equipment, which means that for every megawatt of data centre, 1.57MW of power is needed to run it. Increasing that efficiency would mean that there is additional capacity generated.
"Most of our customers ask us how they can reduce power consumption within the data centres. We get questions like 'How do I reduce my water usage?' and 'How do I ensure that the data centre halls don't have hot spots?'," explains Vertiv Malaysia country manager Teoh Wooi Keat, adding that areas within a data centre that are exceptionally hot are typically more vulnerable to server shutdowns or errors.
The rollout of 5G will enable advanced technologies and, inevitably, the amount of data being transmitted will also grow exponentially. It is a reality we all have to face, says Teoh, because as long as people use smartphones, more data will be transmitted daily, which means centres will need to cope with the demand.
This is just one side of the coin. On the other side are enterprises that leverage public and private networks, and technologies such as the Internet of Things (IoT) and edge computing to deliver enhanced experiences by connecting people to real-time data that delivers meaningful insights and business outcomes.
Henrick Choo, CEO of NTT Ltd Malaysia, explains that private 5G networks in particular offer advantages such as speed, reliability, flexibility and security. With 5G, venues and industrial facilities can be optimised by reducing the need for cables, which can translate into cost savings on infrastructure and maintenance as well as productivity gains as machine mobility improves.
Sectors such as manufacturing and agriculture are expected to see the utilisation of IoT devices to ensure better yield. International Data Corp (IDC) estimates that there will be 55.7 billion connected IoT devices by 2025, generating almost 80 billion zettabytes of data.
As at 2022, Malaysia's data centre market size stood at 66MW. It is estimated to reach 157MW in 2027, representing a compound annual growth rate of 18.9% over five years. But this is just a conservative estimate and Teoh believes that the numbers will exceed the 2027 projection, taking into account the number of global data centre players that are entering the Malaysian market.
Microsoft, Bytedance and Sea Ltd represented early hyperscale demand. Companies like Amazon Web Services and Google also have a presence here. New data centre activities by companies such as YTL Power International Bhd — which plans to spend RM15 billion over several phases to develop its 500MW YTL Green Data Centre Park in Kulai, Johor — GDS Holdings Ltd and Keppel Data Centres are being seen. Currently, these players are very active in Johor, specifically in the Iskandar Puteri area, and development is going full speed ahead with no signs of stopping.
"Come rain or shine, data centres will continue to be built because demand is there and we, as the critical data infrastructure provider, are making sure that the infrastructure carries, stores and processes data. When this data moves to the data centre, we ensure that the data centre is ready to compute your request and return the result back to you via the same route, as well as ensure the availability of power to ensure a proper cooling of the infrastructure so it does not break down because of overheating," says Teoh.
"We will also see data users in the form of appliances as well, such as smart electrical appliances that are essentially IoT devices. So, from that perspective too, the amount of data usage will grow exponentially and at the end of the day, we will see a lot of infrastructure being built around this."
It is estimated that data storage and transmission in and from data centres use 1% of global electricity. This could rise to as high as 13% of the world's electricity by 2030, putting into question the real sustainable impact of data centres.
NTT has committed to net-zero emissions across its operations by 2030 (including 100% renewable energy in global data centres) and across the value chain by 2040. Meanwhile, Alibaba Cloud aims to have its global data centres run entirely on clean energy by 2030, starting with upgrades to five of its hyperscale data centres in China.
Vertiv, which designs, builds and services infrastructure to enable applications for data centres, has been receiving feedback from companies in Malaysia on the ways it is applying environmental, social and governance (ESG) practices. Teoh tells Digital Edge that as more companies start measuring their carbon footprint for business continuity, companies like Vertiv will need to innovate with the times so that their mission is in line with their clients'.
"We've been talking about new technologies [in this space] for the last five years but now we're seeing it all being deployed and applied in the data centre environment and seeing things become more efficient. And this is real; we're talking about saving megawatts of power as we continue to build more data centres in the region," says Teoh. He adds that Vertiv has a sustainability road map for 100% renewable energy and circular economy practices, among others.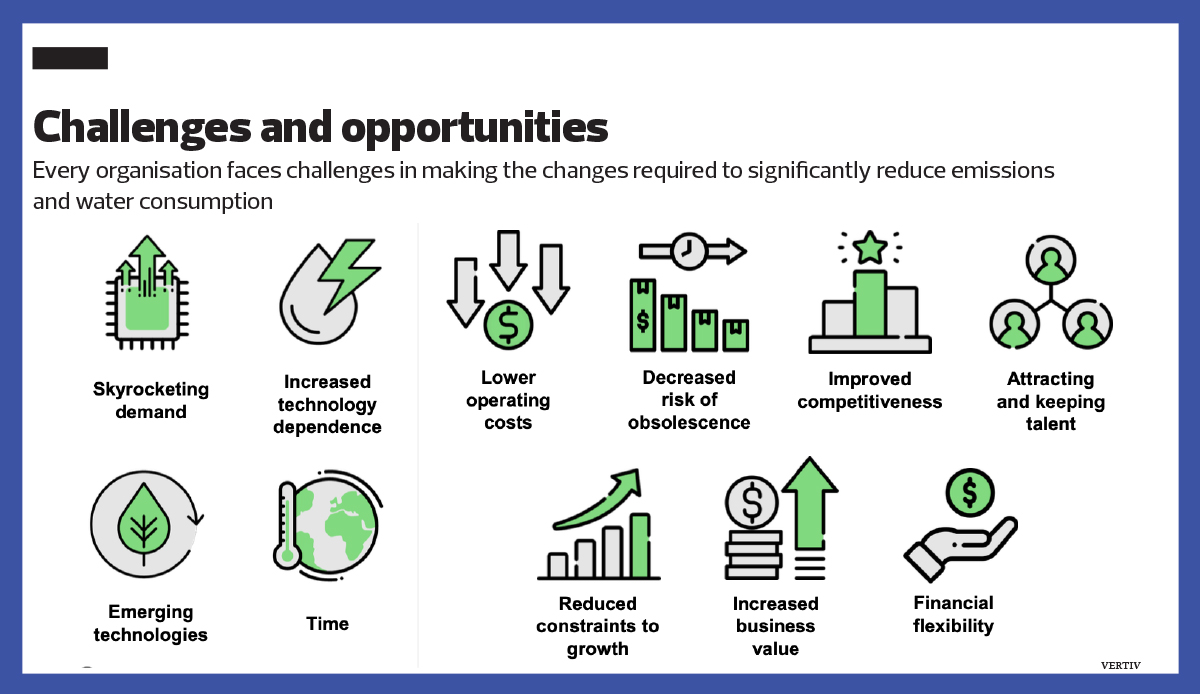 Efficiency is main goal
As demand for computing power increases with the utilisation of artificial intelligence (AI)-based software by businesses, data centre players must ensure that everything runs smoothly with no or minimal downtime. Efficiency — from a workflow and energy perspective — seems to be the top priority of most data centre players. Energy consumption is a major concern for companies as they want to reduce costs and the best way to do that is to ensure there are no gaps in the power supply.
"Optimising data centre power use is a high priority area for data centre managers. There is now an imperative need to put stronger emphasis on infrastructure enhancement and engineering ability — notably leveraging both electrical architectural design and mechanical engineering to address energy efficiency while extending the lifespan of certain mechanical components such as next-generation air cooling systems and adoption of green energy," says NTT's Choo.
"In tandem with this shift, there will be a growing adoption of AI technology to drive this agenda. An AI-based system learns and re-learns from the massive data that is collected from a huge number of sensors on energy consumption. The AI system then creates an algorithm or a model that looks to optimise the most efficient usage of energy."
Teoh concurs. Vertiv is working with its customers to deploy intelligent power management whereby they are rolling out scaleable uninterruptible power supply (UPS) solutions, both alternating current (AC) and direct current (DC) power, as 5G technologies will use more power than their predecessors.
"So, when a data centre is built — let's say it's a 200MW data centre — and if we have been supplying power and the efficiency goes from 95% to about 99%, that's a 4 [percentage point] increase in terms of efficiency, and when rolled out over the 200MW, that is a lot of power saved," he points out.
"Over the last 10 years or so, we have been one of the early ones to deploy and increase the efficiency of DC power systems from 95% to 96%, to 98% now. This is rolled out to telcos (telecommunication companies) migrating from 3G to 4G, and now 4G to 5G and guess what — the power keeps getting larger! We are seeing a lot more adoption by the telcos."
Cooling technology is also important to improve efficiency. Teoh explains that with the PUE of data centres at 1.57 currently, increasing efficiency would mean additional capacity is generated. Innovation within data centres in the region has managed to keep the PUE at around 1.3 or less, meaning greater efficiency.
"Power and cooling is just one [part]. The critical infrastructure area will help companies become more sustainable, more efficient. The rest of it will be the software and optimisation, so we're talking about AI software for automation, after which we will put it in a suitable operating environment to maximise server functionality in those data centre environments," he says.
"We have been incorporating AI, predictability and maintainability as part of our total infrastructure solution, and also deploying robotics functionalities on how to maintain the data centre to help the customers become a lot more efficient and sustainable."
The challenge will be convincing people and businesses alike to migrate away from static onsite servers and traditional thinking when it comes to data management and their digital strategies, to adopt the next generation of computing. Kun Huang, Alibaba Cloud Intelligence general manager in Malaysia, explains that between cloud infrastructure and on-premise deployments, the former is the superior choice and the future of computing and digitisation.
Kun says, however, that governments have a role to play in urging companies that have not adapted to new technologies to do so. Governments' push towards this revolution in computing is key in the adoption process.
NTT's Choo adds that it is essential for the government to be open to the drafting of public policies within the technology industry and working together with leading industry professionals and companies to further regulate the use of information, all while ensuring that a valid, strong and trustworthy cybersecurity policy is in place.
Businesses and individuals from all over the world are experiencing the accelerated growth of digital connectivity, especially with 5G deployment. As digital investment and demand for data capacity continue to increase, providing access to reliable connectivity will remain critical to accelerating economic and social growth.
Choo says emphasis on better security is important. The growth of IoT and Industry 4.0 has already added an additional layer of security threat to data and facilities. In fact, attacks targeting industry more than doubled in the technology sector, according to the NTT Global Threat Intelligence Report 2022.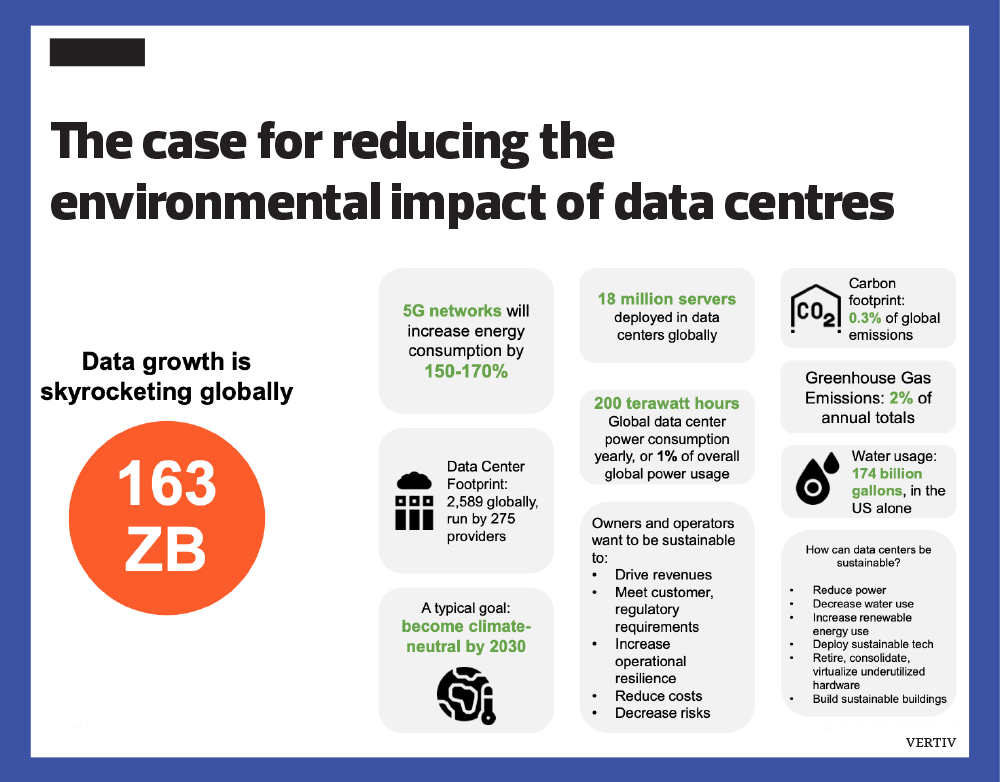 To sustainability and beyond
The sustainability work does not stop here. Companies are continuously carrying out research and development (R&D) to further reduce the amount of energy used by data centres or focus on clean energy sources that can handle the capacity required.
Vertiv offers a liquid immersion cooling solution for high density-data centres. The solution was developed in partnership with GRC (Green Revolution Cooling) and is a single-phase immersion cooling solution that can support high-density loads of up to 100kW per rack, utilising warm water. It uses the ElectroSafe dielectric liquid coolant, an odourless, non-toxic, single-phase coolant that is both electrically and chemically inert and has 1,200 times the heat capacity of air. This higher heat capacity means that servers with high heat densities can be cooled more effectively, reducing cooling energy costs by up to 95%.
"It is able to optimise performance so that the GPU (graphics processing unit) and the CPU (central processing unit) can overclock itself and, depending on which type of server it is, you can overclock 130% to 140%, enabling high volume, low latency transactions.
Companies are also looking to generate energy onsite via renewable energy sources such as solar or wind because the closer the source energy, the lesser the energy lost while in transmission.
"For example, if the plant is in Johor and we are in Kuala Lumpur, companies will have to compensate for the loss while it is being transmitted from one state to another. If energy is locally generated, energy loss will be lower and efficiency will be higher," Teoh explains.
He adds that a lot of its customers have sustainability and ESG targets and one of the things they are looking to do is to remove gensets and use hydrogen to replace fuel cells. They have started looking into the supply chain to incorporate green hydrogen technologies for the purpose of decarbonisation.
"Green hydrogen is new, even in Europe. They are the most advanced [in this space], but we are already in discussion with some Southeast Asian customers and are innovating in the space. This is just one example and is a good solution, but also presents various challenges in the supply chain," says Teoh.
Source: The Edge Markets