Chip cycle to extend on demand
08 Apr 2022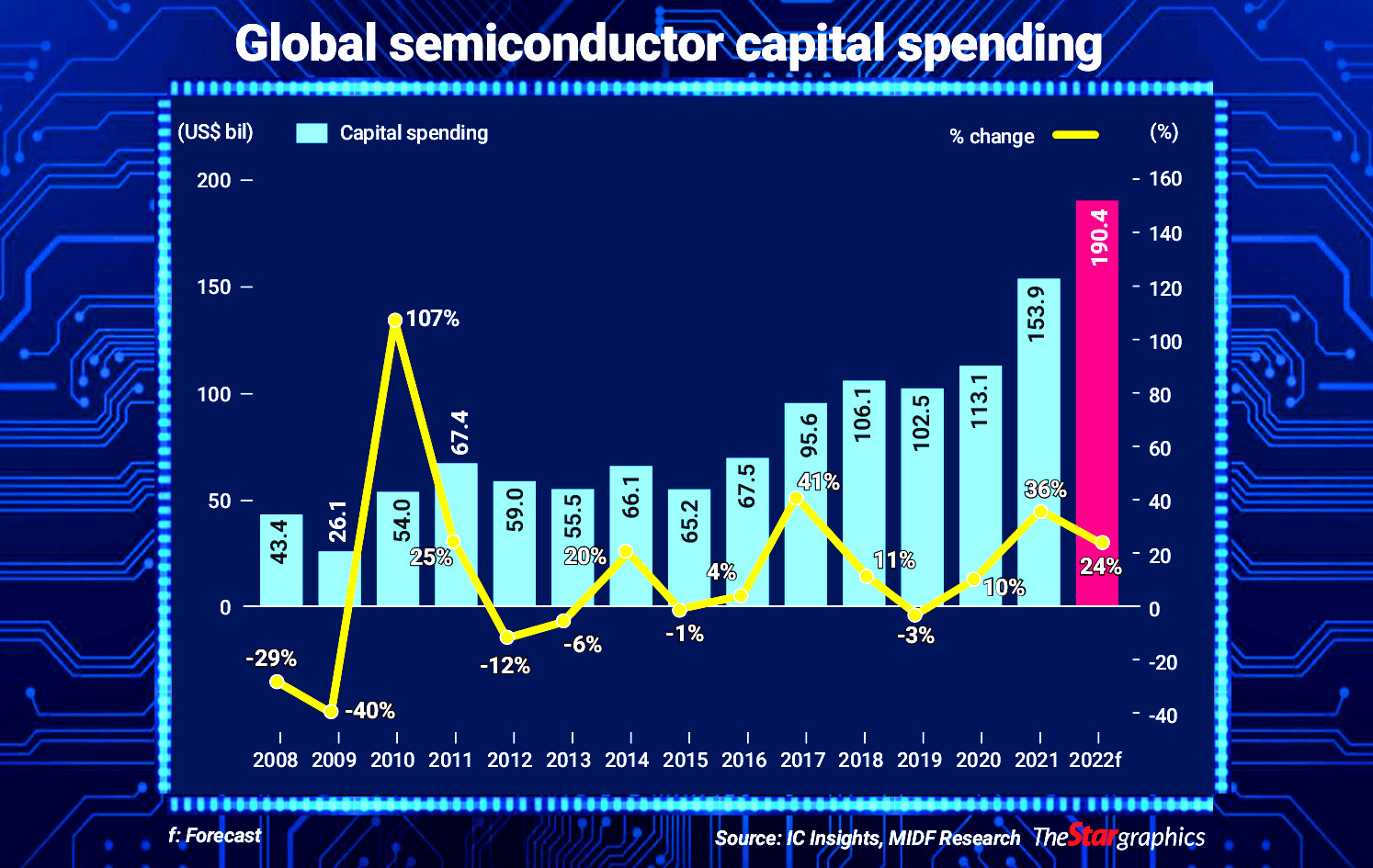 The current semiconductor cycle, which has continued for more than two years, may not peak anytime soon.
With the growing adoption of 5G and the innovation in the metaverse segment, the global demand for semiconductors is expected to remain strong.
TA Research noted that the upcycle, powered by the smartphone boom, is within range of the past three upcycles over the past decade. The past semiconductor cycles ranged from 20 to 32 months, to an average of 27 months."We view that the upcycle has potential to extend its run and could possibly extend beyond the average cycle, considering how the structural growth in chip demand today is being fuelled by multiple secular technology trends.
"They include 5G, artificial intelligence, big data, cloud computing, the Internet of Things, and robotics which have gained prominence faster than before in an increasingly digitalised world following the onset of the pandemic," the research house said yesterday.TA Research, which remains "overweight" on the semiconductor sector, said that the recent retracement of the technology sector's valuations was induced by fears over rising interest rates and further inflationary pressures sparked by geopolitical tensions.
Nevertheless, the lower valuations present a compelling buying opportunity for investors, it said.
"Most companies within our semiconductor universe are currently trading in line with or below their five-year average price-to-earnings ratio, namely Inari Amertron Bhd, Unisem (M) Bhd, Malaysian Pacific Industries Bhd and Elsoft Research Bhd.
"We opine that our ascribed valuations are justified by their strong sales pipeline and earnings growth prospects anchored by their expansion roadmap and robust balance sheet. Importantly, we expect them to continue benefiting from the global structural growth in chip demand alongside the ongoing acceleration in digitalisation and proliferation of secular technology trends including vehicle electrification," it said.
In February 2022, global semiconductor sales grew 3.4% month-on-month and 32.4% year-on-year (y-o-y) to a new record-high US$52.5bil (RM221.5bil).
The industry has chalked 25 consecutive months of year-on-year growth, and in the last 11 months, growth rates have hovered above 20% y-o-y.
Year-to-date, semiconductor sales were up 32.3% y-o-y to US$104.5bil (RM441bil).
For 2022, the World Semiconductor Trade Statistics forecast global semiconductor sales to grow by 8.2% y-o-y to reach a successive record high of US$601.5bil (RM2.5 trillion).
Quoting IC Insights, MIDF Research said the capital expenditure in the semiconductor segment could grow by double-digit between 2020 and 2022.
It pointed out that increased levels of capital expenditure are essential across the entire semiconductor value chain to meet the demand for semiconductors from all sectors of the economy.
"After growing by 36% y-o-y in 2021, semiconductor industry capital spending is forecast to rise by 24% y-o-y in 2022 to a new all-time high of US$190.4bil (RM803bil), up 86% from just three years earlier in 2019.
"If capital spending increases by more than 10% in 2022, it would mark the first three-year period of double-digit spending increases in the semiconductor industry since the 1993 to 1995 period," it said.
MIDF Research, which remained bullish on the technology sector, highlighted that the adoption of 5G and innovation of the metaverse would, among others, be top semiconductor growth drivers over the next five years.This could in turn contribute to the increase in smartphone demand, continued cloud infrastructure expansion driven by artificial intelligence, machine learning and other leading-edge technologies and automotive, of which the industry is expected to experience hockey-stick growth of electric vehicles.
The research house's top pick semiconductor companies are Inari Amertron, Unisem and Globetronics Technology Bhd.
Source: The Star