Boom in wood manufacturing sector
05 Apr 2022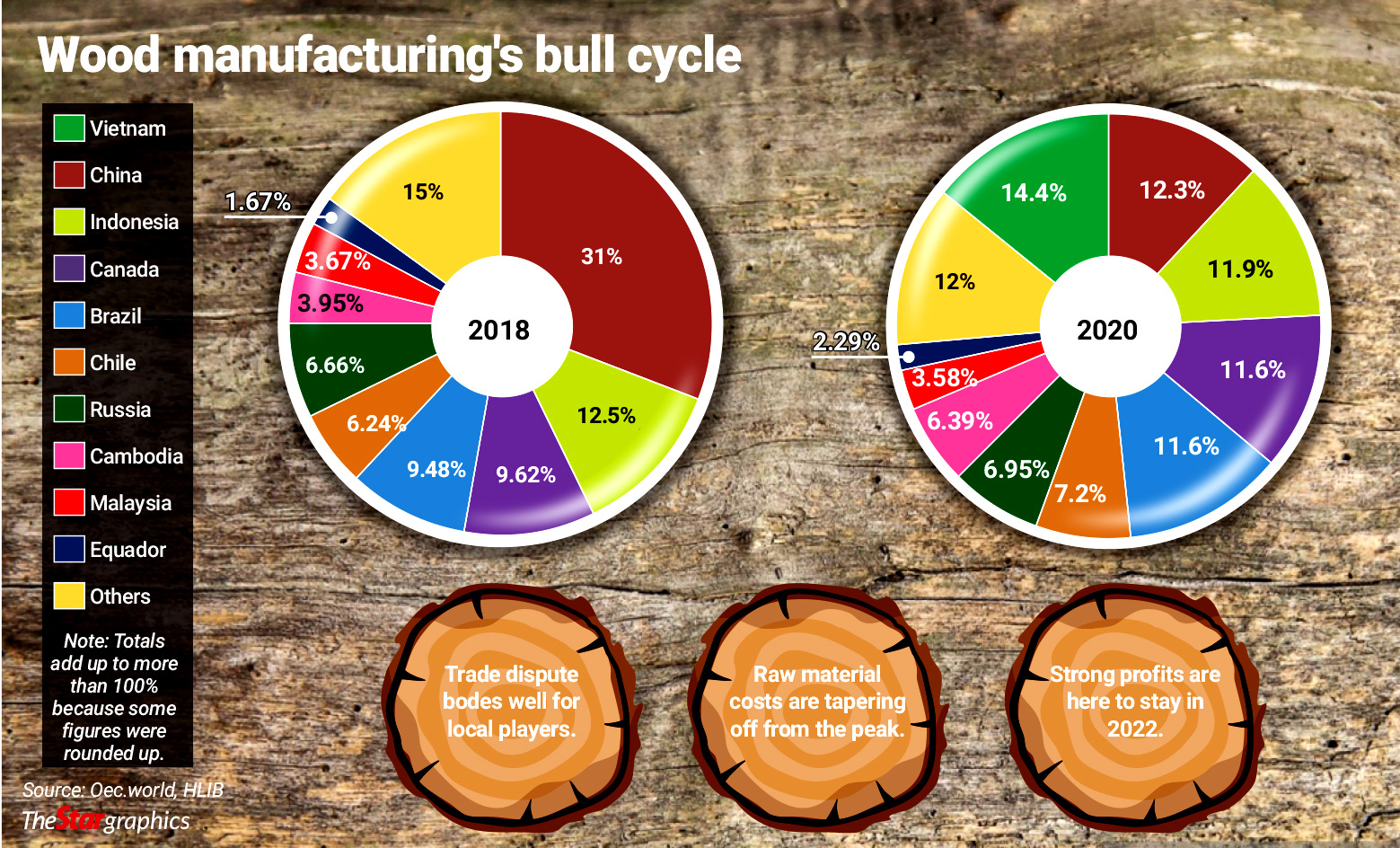 Bursa Malaysia-listed companies producing panel boards are expected to enjoy strong profits in 2022 on the back of an upcycle in the wood manufacturing sector.
The ongoing Russian-Ukraine conflict, which has led to Russia banning the export of wood and forest products to the West, could see buyers sourcing alternative suppliers from countries in this part of the region such as Vietnam, Indonesia and Malaysia, according to Hong Leong Investment Bank (HLIB) Research.
The research firm said that recent trade disputes have bode well for local players in the sector amid firm demand for furniture and wood-based products from countries including the United States.
"The US-China and US-Canada trade wars as well as the Russia-Ukraine conflict have exacerbated the global supply demand imbalances. To recap, China, Canada and Russia were ranked among the top five exporters of wood products worldwide in 2019," it said in a report yesterday.
It pointed out that the US market share of imported wood products from China had plunged significantly from 31% to 12.3% in just two years after the US-China trade war began in 2018. The US housing market is a top importer of plywood, veneered panels and sim laminated wood in 2020, accounting for 17% of the market share.
Another factor boding well for the local panel board players is that raw material costs, which had gone up due to ongoing supply disruptions and labour shortage, are tapering off from the peak, according to the research house.
However, manufacturers were able to offset the hike in raw material prices from the higher average selling prices (ASPs) of wood products because of the robust demand.
Adhesive prices, which make up 20% to 30% of the medium-density fiberboard (MDF) and plywood player's cost, had peaked in January and continued to move downward amid easing urea prices and a decline in Global Supply Chain Pressures Index, said the research firm.
"With the cost coming down but ASPs remaining firm, it may boost panel board producers' bottom line significantly during this boom cycle as reflected by the recent earnings from the companies under our coverage, such as Heveaboard Bhd, Evergreen Fibreboard Bhd and Focus Lumber Bhd.
"All in, we believe the strong profits from the panel board players are here to stay, at least for 2022.
"We tactically prefer companies producing panel boards as they are deemed to be the prime beneficiaries from the commodities upcycle.
"As for furniture players, we continue to like Lii Hen Industries Bhd and Homeritz Corp Bhd, given their attractive valuation, coupled with above 5% dividend yield," added the research firm.
The research firm said Evergreen share price "still more legs to go as the current rally has likely yet to fully price in the potential upside in its upcoming earnings" as the company appeared poised to benefits from post-pandemic trends of hybrid working and buying furniture online, which has made light-weight or flat-packed furniture popular.
Meanwhile, it finds Focus Lumber's valuation, at a price earnings (PE) of 6.3 times and 5.6 times for FY22-FY23, undemanding and deserves a re-rating given favourable tailwinds.
In the case of HeveaBoard, it said the stock's risk-reward profile was turning more attractive now after tumbling 32.4% from 52-week high of 74 sen to 50 sen at March 30.
This is supported by undemanding valuations of 8.3 times FY23 estimated PE and 0.66 times price to book, plus underpinned by a strong 29% earnings per share compound annual growth rate from FY20-FY23.
The group also has a favourable environmental, social, and governance profile due to its exposure in a sustainable industry, it added.
Source: The Star