Big demand for skilled workers in E&E sector
22 Feb 2023
Despite expectations of a global economic slowdown in 2023, a survey shows that almost half of the electrical and electronics (E&E) companies in Malaysia remain focused on recruitment to cope with talent shortages and high turnover rates.
Malaysia Semiconductor Industry Association (MSIA) president Datuk Seri Wong Siew Hai pointed out that the talent shortage meant that the majority of respondents in the survey are still struggling to attract new talent (specifically engineers) while more than half of the companies expect to suffer from high employee turnover rates of above 10%.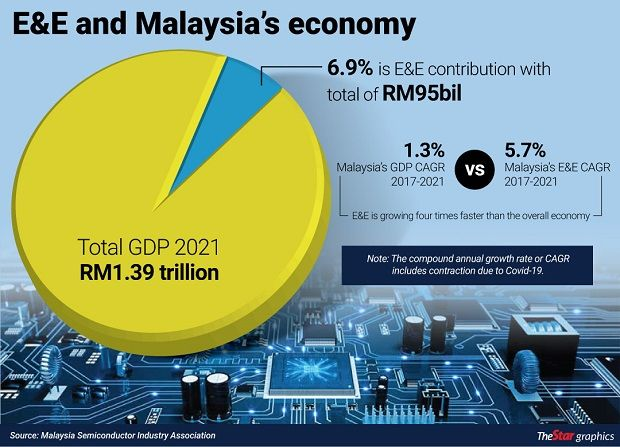 "This indicates strong continuous demand for high value and highly skilled talent (in the E&E industry)," said Wong at the launch of the inaugural MSIA 2022 E&E Survey yesterday at Malaysian Investment Development Authority.
According to Wong, the country is facing a shortage of engineering talent for the two reasons.
"One, the number of students who are pursuing science and engineering is dropping. And, we are losing talent to other countries," he said.
Also present were Deputy Minister of International Trade and Industry Liew Chin Tong and Deloitte Consulting (South-East Asia) executive director Jan Thomas Nicholas.
The survey, commissioned by MSIA and produced collaboratively with Deloitte Malaysia, featured responses from 93 MSIA members.
It was conducted from February to June 2022, followed by a refresher survey in December 2022.
The survey's respondents represent companies with operations in the country as well as headquarters in Malaysia, China, India, Japan, Singapore, Taiwan, Germany, The Netherlands, Norway, Sweden, Switzerland, Canada and the United States.
With over 200 members located in 10 states, MSIA members account for over 50% of the country's E&E sector.
MSIA members encompass the entire value-chain ranging from design to chip fabrication and manufacturing, assembly, packing and testing as well as electronic products including solar technology, automotive components, automation equipment, raw materials (including substrates) and global business services.
Meanwhile, regarding market sentiment heading into 2023, half of the survey's respondents expect a decline in orders.
However due to the wide variety of E&E product segments, a quarter of respondents still expect an increase in orders.
Also, two-thirds of respondents indicated that they are still pushing ahead with capital expenditures and investments as planned.
Wong pointed out that the long-term outlook for semiconductors and electronics continue to be extremely bright.
"E&E companies remain focused on recruiting, retaining and developing talent, as well as on supply chain resilience, digitalisation, Industry 4.0 and environmental, social and governance initiatives," he said.
Wong added that Malaysia had attracted E&E investments of RM186.2bil since January 2020 (2020 – RM15.6bil; 2021 – RM148bil; and from January to September 2022 – RM22.6bil).
"This reflects the long term prospects of the industry and businesses confidence in Malaysia as a location for semiconductors and electronics. Some of the investments have already started operations and more will be operational in 2023 and 2024," he said.
Wong noted that Malaysia is one of the key players in the global semiconductor industry with 7% of the total global semiconductor trade flowing through Malaysia and a 13% global market share in chip testing and packaging.
He added that the E&E industry is a major contributor to Malaysia's economy, and it is the country's biggest export sector with exports of RM593bil in 2022, accounting for 38% of total exports.
Wong said the industry also accounts for 78% of Malaysia's external trade surplus of RM255bil, and continues to attract the highest level of investments (foreign and domestic), with a record-breaking investment of RM148bil in 2021, comprising 76% of the country's total investment in the manufacturing sector.
The E&E industry employs about 590,000 Malaysians and indirectly provides employment for millions of Malaysians in other industries.
Also, E&E companies generate multiplier effects within the economy with RM23.7bil of payments made to Malaysia-based suppliers in 2021.
The survey's respondents identified 12,000 suppliers with annual spending on goods and services of at least RM100,000 while the average estimated annual spend per supplier is RM2mil.
"This is why I refer to the E&E industry as the golden goose of Malaysia. It must be constantly nurtured, so that it remains relevant and competitive," said Wong.
He explained that the country's E&E industry has moved beyond just manufacturing, into higher-value and high-skilled activities such as design and development and global business services.
"Malaysia is the regional and global headquarters or centre for many of these manufacturing and services activities, with many Malaysians holding global and regional leadership roles," he said.
Wong pointed out that the average monthly salary in the E&E industry is RM6,450 or twice the Malaysian average.
"However, only 0.3% of the E&E workforce hold an advanced degree, indicating potential for further growth," he said.
Wong added that recent semiconductor policy developments in the United States had added another layer of uncertainty to the outlook for the industry.
"Global companies are assessing the potential impact of the United States' CHIPS Act and export controls, and how they can mitigate the impact. There is a window of opportunity for Malaysia to capture investments, business opportunities and sales orders," he said.
Wong reiterated that talent has become the number one challenge for the E&E industry in Malaysia.
"Globally, there is a war for talent," he said.
Wong said for Malaysia's E&E industry to be globally competitive, there is a need for closer partnerships between government, industry, and universities.
He said the association's proposals include the government providing incentives for critical foreign talent to work in Malaysia, as well as allowing foreign students studying in Malaysia to complement local talent.
Other proposals include talent development by industries (such as upskilling and training initiatives) as well as talent development through government initiatives (such as MyBrain scholarships for master's and doctorate degrees).
Source: The Star